It may be unauthorised, but Nick Broomfield's story of a beautiful diva's descent into drugs is certainly respectful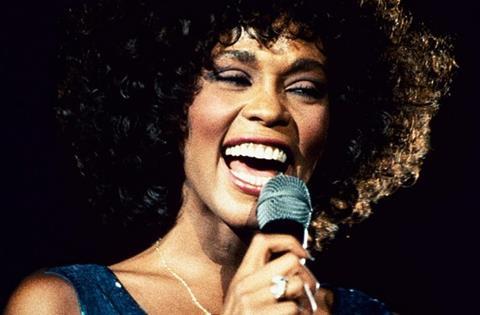 Dirs. Nick Broomfield, Rudi Dolezal. US/UK. 2016. 111 mins
The little we know for certain about the life and death of Whitney Houston – at the age of 48 after a long battle with drugs, in a bath at the Los Angeles Hilton – is enough to predict that Nick Broomfield's unauthorised documentary Whitney 'Can I Be Me' will be a sad, sad story. It doesn't disappoint. Long for a doc, at 111 minutes, comprehensive - for the most part - Whitney foreshadows Amy, with the added top-note that the singer's 24 year-old daughter would die in similar circumstances less than three years later. Showbusiness eats its young, and their offspring as well.
This should be required viewing for all those who might seek to follow Houston's path to fame and fortune - and their families
The first of two documentaries about Houston, who died in 2012, and a Showtime/BBC Two-financed production, Whitney: Can I Be Me? launches at the Tribeca Film Festival. Sold by Content Media, it is set for a limited UK theatrical run in mid-June. For all that it is unsupported by Houston's family - unlike Kevin Macdonald's upcoming doc, bought by TWC - it is also markedly respectful. Broomfield steps back from the type of interventions which made 1998's Kurt and Courtney so pointed. Then again, he doesn't need to say much: nobody comes away from Whitney looking good. Her beloved father's deathbed lawsuit brings back memories of Mitch Winehouse, and then some.
With the exception perhaps of the singer's former personal assistant and lover Robyn Crawford (who appears in archive footage), Houston's family and associates are presented as complicit in her downfall. Broomfield mixes up old interviews with new, puts current-day voices over old clips and vice versa, and relies very heavily on previously unseen footage from Whitney's giant, global 1999 tour, the My Love Is Your Love, 64-date gig in which rumours of drug use started to leak out and Whitney, dressed in Dolce & Gabbana, began to slowly, publicly crack.
This tour forms the backbone of Whitney 'Can I Be Me' and is its strongest element. Troubled though she was, the extent of Whitney's talent and beauty, the physical workout and exertion and effort she put into her show, are impressively clear. Her complicated relationship with her husband, Bobby Brown, her feelings for and exploitation of her daughter, and even the former gospel singer's relationship with God himself, are also apparent.
The most surprising part of Broomfield's doc for the uninitiated is how Whitney, presented by her record label and the media as pop royalty, a light-skinned gospel-singing breakout beauty who was the cousin of Dionne Warwick and the daughter of the ferocious Cissy Houston, was really a girl from the hood. Aged four when her family left Newark for East Orange after the riots, she was taking "drugs" with her brothers by her early teens (whether this was pot or harder drugs isn't specified: what is clear is that she was into stimulants long before she met the boozy Bobby Brown, and their addictions fed each other). Broomfield doesn't appear restricted, with early footage showing Whitney singing at church, and her mother taking the credit for her talent.
The Arista mogul Clive Davis, feted at Tribeca's opening night film and credited with discovering Whitney, appears here, but in archive footage only. He acknowledged that he tried to break out Warwick and Aretha Franklin in their day, but that Whitney was the only act able to transcend race, like Beyonce after her, and command a record seven consecutive number one songs in the US and the best-selling debut album by a woman in history. She was an unparalleled match of natural beauty with talent – her first ambition was to be a model .
The rest, however, is a familiar tale: the family she supported, the entourage, the record label demands and the drug problem which would consume her. Unique elements of a sad and sorry story include her perceived rejection by the black community for being too 'white': Broomfield posits that Whitney being booed at the 1989 Soul Train Awards led her directly to the more "street" Brown. Her doomed friendship with Robyn also comes to the fore, alongside her rise to stratospheric fame with the success of The Bodyguard in 1992. By 1995 she suffered her first cocaine overdose while making Waiting to Exhale, four years before the tour Broomfield extensively documents.
Broomfield backs himself into a corner by relying so heavily on this footage: structurally, Whitney tracks back from the 911 call at the Hilton Hotel to a childhood in Newark, Whitney's discovery, and relationship with Bobby Brown. There's even time for the queasy encounter on French TV between a young Houston and the drunken Serge Gainsbourg. Yet there were almost 13 years between the My Love Is Your Love tour and Houston's eventual death. Broomfield is respectful inasmuch as only one sequence is shown of a clearly intoxicated Houston in Atlanta, and none of her daughter Bobbi Cristina from this period. Yet the imbalance does make his film feel incomplete, and the concert footage seem overbearing.
Having said that, there's little joy to be taken from 111 minutes of watching a beautiful, talented woman being preyed upon and picked apart, and it's hard to ask for more - one wonders what is left to be said in Macdonald's upcoming feature. Whitney 'Can I Be Me' delivers yet another tragic lesson in the toxic mix of fame and talent and children: it should be required viewing for all those who seek to follow this diva's path to fame and fortune. After which, it's sad to say, few would want to be her.
Production companies: Passion Pictures, Lafayette Films
International sales: Content Media, jonathan.ford@contentmediacorp.com
Producers: Nick Broomfield, Marc Hoeferlin
Executive producers: Marc Hoeferlin. John Battsek, Shani Hinton, Charles Finch, Ben Silverman, Patrick Holland
Cinematography: Sam Mitchell
Editor: Marc Hoeferlin
Music: Nick Laird-Clowes