Kiyoshi Kurosawa pays tribute to the master of suspense in this elegant pre-War drama set in Kobe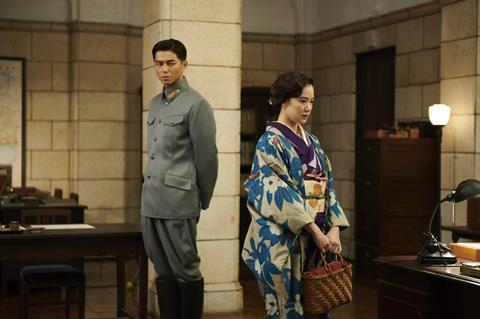 Dir. Kiyoshi Kurosawa. Japan. 2020. 115 mins.
Prolific Japanese writer-director Kiyoshi Kurosawa is still best known for his eccentric exercises in dark fantasy, often with a low-key apocalyptic thrust (Pulse, Bright Future). But he has also ventured into surprising areas – as in 2016's French-language drama Daguerrotype – and he makes a new and ambitious departure in Wife of a Spy, a period drama with distinct Hitchcockian overtones. Indeed, Kurosawa was the only non-Western contributor to Kent Jones's 2015 documentary Hitchcock/Truffaut, musing on the cinematic language of the English master, and here he very much channels Hitchcock – although, where most acolytes take the Vertigo path, Kurosawa's film is more in the vintage of Suspicion and Notorious.
Like Hitchcock's woman-in-peril dramas of the 40s, the drama is very much about loyalties, trust and betrayal
A film of sober elegance and control, Wife Of A Spy never quite delivers on the tautness of its build-up, but it is beautifully executed and features a number of teasingly ambivalent performances, notably from lead Yu Aoi as a woman who finds herself in a moral maze that makes those faced by Hitch's wartime heroines look like kids stuff. Among cinephiles, the film will consolidate Kurosawa's profile as a director of considerable mastery, and niche export prospects look healthy.
Set in 1940, the film is co-written by Ryusuke Hamaguchi, whose own epic-length Happy Hour and 2018 Asako I & II have been among Japan's most prominent recent art-house exports. Wife of a Spy is set in Kobe, where businessman Yusaku Fukuhara (Issey Takahashi) receives a visit from old friend Taiji (Masahiro Higashide), now a military policeman, who warns him to be careful about his Western connections. Indeed, Yusaku and his wife Satoko (Yu Aoi) live a very Western lifestyle – Yusaku's fondest wish is to return to the States, which he once visited – and, seemingly unaware of history's gathering storm, spend their time insouciantly making home movies, spy stories with Yusaku as a masked femme fatale, together with Yusaku's nephew Fumio (Ryota Bando). But when Yusaku and Fumio take a business trip to Manchuria, after which Fumio departs and a woman is found dead, Satoko begins to wonder whether her husband is involved in spying – as does the increasingly ruthless Taiji.
The plot develops through twin MacGuffins – a mysterious document and an incriminating roll of film – and an intrigue involving an international case of whistleblowing. Kurosawa and his co-writers cannily set the drama against the background of Japan's actions in China, and of imminent developments in the course of the Second World War. Questions of approved Japanese culture in this period are cleverly played out in such touches as Yusaku's visit to Taiji's office, not just wearing a kimono but also altering her walk.
Like Hitchcock's woman-in-peril dramas of the 40s, the drama is very much about loyalties, trust and betrayal, with Yusaku caught between love for her husband and for her country, shaded by hints of an attachment to Taiji. Quite how her allegiances shift in this complex pattern doesn't perhaps feel entirely coherent, with one jump in Yusaku's motivations somewhat awkwardly suggesting a beginning of psychological breakdown – although what follows confirms this to troubling effect, conveyed affectingly and compellingly in Yu Aoi's performance, which adroitly shifts colours throughout.
It should be said that, if he's hoping to be truly Hitchcockian, Kurosawa misses the opportunity for genuine suspense on two occasions – one involving a chess board, the other a tense moment on board a ship. But suspense may not be his main intention, as the film shifts into a more contemplative picture of emotional, moral and political factors playing out between a quartet of lead characters.
Working in a retro mode that recalls both Ang Lee's Lust, Caution (although without the lust) and Lou Ye's Venice competitor of 2019 Saturday Fiction, Kurosawa has come up with a commanding piece, with Tatsunosuke Sasaki's cinematography and Norifumi Ataka's production design eschewing the epic and keeping things on a tight, intimate scale, maximising an austere palette of earth browns and beiges. The film-within-a-film theme works elegantly too, the self-reflexive cinematic dimension heightened by references to Mizoguchi and to Sadao Yamanaka's 1936 film Priest of Darkness.
Even if the drama doesn't entirely play out satisfactorily, losing momentum somewhat once the key to the mystery is laid bare, Kurosawa's admirers will be happy to see him shifting into an altogether more dream-like mode in the coda, which shows Yusaku, and her nation, a few years on – and you don't have to be a scholar of Japanese history to guess where that takes them.
Production companies: NHK, NHK Enterprises, Incline, C&I Entertainment
International sales: Nikkatsu Corporation, international@nikkatsu.co.jp
Producers: Keisuke Tsuchihashi, Takashi Sawada, Satoshi Takada, Tamon Kondo
Screenplay: Ryusuke Hamaguchi, Tadashi Nohara, Kiyoshi Kurosawa
Cinematography: Tatsunosuke Sasaki
Editor: Hidemi Lee
Production design: Norifumi Ataka
Music: Ryosuke Nagaoka
Main cast: Yu Aoi, Issey Takahashi, Ryota Bando, Masahiro Higashide