A lively, confident debut from Hungary's Hajni Kis about an ex-con reconnecting with his daughter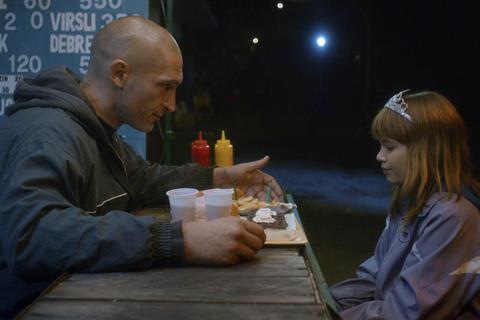 Dir: Hajni Kis. Hungary/Slovakia. 2021. 98 mins.
A brace of outstanding screen newcomers considerably elevates Wild Roots, a lively and confidently-handled feature debut by Hungarian filmmaker Hajni Kis. Debuting in the East of the West competition at Karlovy Vary — and the winner of the Works In Progess award at last year's festival — this Hungarian-Slovakian co-production has theatrical potential in those countries, especially Hungary where co-lead Gusztav Dietz enjoys a measure of tabloid-celebrity status. Elsewhere, this is a viable festival prospect, with the excellent work of rangy Dietz (as hotheaded ex-con bouncer Tibi) and his diminutive co-star Zorka Horvath (as Tibi's estranged 12-year-old daughter Niki) a safe bet for awards recognition.
This is a fast-moving and energetic affair.
The screenplay, co-written by Kis with Fanni Szanto, is not the enterprise's strong suit — plausibility issues dog several key junctures. The most notable of these comes just before the 20-minute mark: Niki, having ingeniously tracked down her dad to his place of work in a low-rent nightclub, just happens to be right there on the dance floor when he assaults a drunken customer and very nearly beats him to death.
Up until this eventful night, Niki had no relationship with Tibi, who spent four years in jail after causing the death of his partner Edina in an alcohol-fuelled car crash. Raised by Edina's aged mother (Eva Fusti Molnar), and carefully shielded from knowledge of these tragic events and from the volatile Tibi, Niki is a spirited, independent-minded and resourceful kid. She quickly strikes up a bond with — and of course awakens long-dormant vulnerabilities in — her glowering, swaggering, genuinely alarming papa.
A successful MMA fighter nicknamed "Shark" (and husband of former Miss Europe, Zsuzsanna Laky) with minimal acting experience before this film, Dietz is entirely believable as the shaven-headed, athletic, heavily-tattooed Tibi. The planes of his striking features set off by ice-blue eyes, he conveys subtle touches of wry humour lurking behind an intimidating exterior; even the way he wolfs down food is amusingly savage.
Horvath, meanwhile, copes superbly with her role's tougher demands: there is one especially notable sequence late on, in which Niki is quizzed about the nightclub assault. This features an impressively long take, with no cuts, during which the youthful performer hits every emotional beat with aplomb. The emotional finale, meanwhile, feels moving rather than manipulative specifically because of the chemistry Dietz and Horvath have successfully developed and sustained. Casting director Barna Samuel and his team deserve considerable kudos for unearthing the pair.
For Kis, meanwhile, Wild Roots should function as a more-than-serviceable calling card, not least in terms of the sterling work she elicits from her inexperienced leads — it thus fulfils the promise of her 2016 short Beautiful Figure, nominated for a Student Academy Award. Featuring vibrant cinematography by Akos Nyoszoli (considerably augmented by Salma Levente's digital coloring), this is a fast-moving and energetic affair with a smattering of music-video-esque stylistic flourishes — propelled and energised throughout by Oleg Borsos' busy electronica-inflected score, plus several well-chosen soundtrack cuts.
Production companies: Proton Cinema, MPhilms
International sales: m-appeal, films@m-appeal.com
Producers: Julia Berkes, Balazs Zachar
Screenplay: Fanni Szanto, Hajni Kis 

Production design: Anna Nyitrai
Editing: Vanda Goracz
Cinematography: Akos Nyoszoli

Music: Oleg Borsos

Main cast: Gusztav Dietz, Zorka Horvath, Eva Fusti Molnar, Mikolt Szelid, Viktor Kassai