Family ties prove a deadly bind in this impressive Danish debut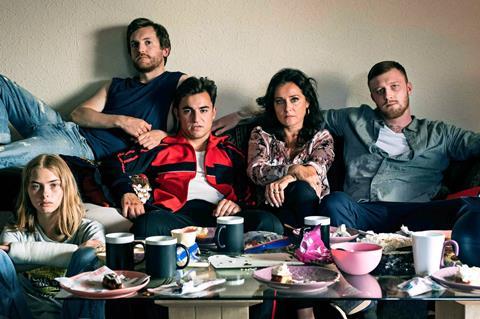 Dir. Jeanette Nordahl. Denmark. 2020. 88 mins.
Wildland partners Denmark's leading actress Sidse Babbett Knudsen with the country's freshest talent, 17 year-old Sandra Guldberg Kampp: it's an intriguing dynamic which propels this female-twist on Animal Kingdom directed by another notable newcomer, Jeanette Nordahl. While there's an undoubted familiarity to the bones of this crime family drama, there's enough added nuance to fascinate, something which is further enhanced by a clear directorial voice drawing strong work from all departments.
Making her debut, Nordahl eschews obvious choices
Comparisons are odious, yet Wildland's Australian roots are impossible to ignore. But this Danish drama about a 17 year-old girl who moves in with a criminal clan headed up by a brassy family-focused matriarch is, like David Michod's film of a decade ago, destined to impress. Premiering at Berlinale's Panorama, it should enjoy a healthy festival run and there's arthouse potential even outside Nordic territories where it seems destined for success. Making the adoptee a girl adds a snaky sexual threat which results in a more subtle drama than might be expected from its tagline.
Narrative contrivances are unavoidable, and there's a strong sense that Wildland suffers in part from being under-written, but eventually these reservations shift aside. After the death of her alcoholic mother in a car crash, young Ida (Guldberg Kampp) is left without a guardian. Her long-estranged Aunt Bodil (a more muted performance than expected from Babbett Knudsen) is eager to take Ida in, despite the girl's desire to live independently. Denmark's hapless social services aren't up to running Bodil through the country's criminal database and happily send Ida off to a bright suburban nowhere where her glossy aunt runs a network of criminal activities (a club, loan sharking, etc) from an anonymous bungalow.
Bodil is inappropriately close with and protective of her three sons: steroid-fuelled Mads (Besir Zeciri); cold enforcer Jonas (Joachim Feljstrup) and the wayward, damaged druggie David (Elliott Crosett Hove) whose babyish girlfriend Anna (Carla Philip Roder) seems like a potential ally for the lost Ida. Initially seduced by the warmth of the family she has never had, and too young to realise how inappropriate and wrong every single one of these relationships are, Ida becomes part of the business, roaming around Nowhere, Denmark, collecting on debts and racking up her own moral ones.
Making her debut, Nordahl eschews obvious choices. The anonymity of the countryside setting, the isolation of the clan (there is no outside influence at play from any higher-ups), the low-key level of the violence. She also employs a devious little flashback, changed-perspective device, which unsettles. And most of all, she draws strong performances from all of her leads, particularly Feljstrup and Crosett Hove as the good son/bad son, all menace and troubled stares, the dark and devious backstory of this family expressed in their dead eyes rather than overt dialogue. All of which is emphasised by a score as insidious as the damage Bodil has inflicted on all those who have the misfortune to surround her.
Production company: Snowglobe
International sales: BAC Films
Producers: Eva Jakobsen, Katrin Pors, Mikkel Jersin
Screenplay: Ingeborg Topsoe
Cinematography: David Gallego
Production design: Helle Lygum Justesen
Editing: Michael Aaglund
Music: Puce Mary (aka Frederikke Hoffmeier)
Main cast: Sidse Babbett Knudsen, Sandra Guldberg Kampp, Joachim Feljstrup, Elliott Crosett Hove, Besir Zeciri, Carla Philip Roder