The world-beating Japanese women's volleyball team of the 1960s roars colourfully back to life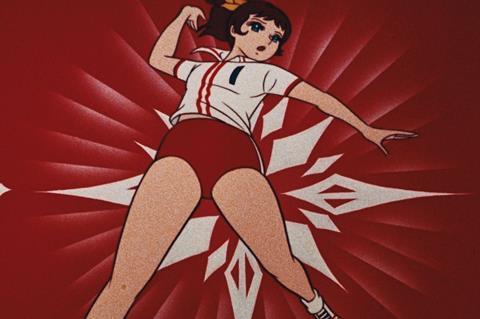 Dir/scr: Julien Faraut. France 2021. 100 minutes
The curveball cinematic career of Julien Faraut continues to quietly delight via his third sport-themed feature-length documentary Witches Of The Orient. A world premiere in the Big Screen competition at Rotterdam, it lovingly chronicles the all-conquering exploits of a female volleyball team from Japan in the first half of the 1960s. While this French production may lack the marquee-name factor of Faraut's unlikely 2018 festival breakout John McEnroe: In the Realm of Perfection — which scored theatrical distribution in several territories — it's still a solid crowdpleaser elevated by Faraut's mildly experimental streak.
Wonderful archival materials
The writer-director's approach to his material always feels fresh, as befits an individual whose route to film-making was highly unorthodox. A history graduate, he started working in the well-stocked archival department of France's elite athlete-training and sports-research institute INSEP in 2003. His ten documentaries assembled from the archive's holdings (including 2013's 80-minute Regard neuf sur Olympia 52) made little impact beyond the non-fiction circuit. The McEnroe film, minutely analysing passages of the 1984 French Open final, quickly established his name internationally.
Faraut and McEnroe editor Andrei Bogdanov once again unearth and showcase wonderful archival materials, chiefly newsreel reports and documentaries shot during the team's 1960-64 heyday. Colour celluloid footage of sparkling clarity shows the players for Nichibo Kaizuka, which started out as an Osaka textile factory team, in their punishingly arduous training regimes supervised by enigmatic, martinet coach Hirofumi Daimatsu. Members of this team would go on to form the Japanese national side, victorious in the Tokyo Olympics of 1964 and dubbed "the Oriental Witches".
These training routines are dramatised and stylised in passages from Eiji Okabe's youth-oriented anime Attack No.1, a film and TV series from 1969/70 inspired by the Olympics triumph and play out at considerable length, often moodily augmented by new electronica-heavy music by K-Raw and Jason Lytle, or existing tracks by the likes of Portishead.
The film is at its most strikingly effective when the editors alternate quickly between one archival source and another, emulating the lightning-paced brilliance displayed on court. It's hard to inject much in the way of drama when one is dealing with an uninterrupted winning streak of 258 games, of course, but the last sections of the 1964 Tokyo final against the USSR do attain a surprising level of intensity.
Calmer interludes are provided by glimpses of the genial surviving members of the team, who gather for one of their regular reunions and reminisce about their global fame. And it's all very pleasant. No particularly valuable or surprising insights emerge from Witches Of The Orient, which prefers to foreground retro aesthetics rather than the minutiae of volleyball lore or tactics. As such, the film perfectly palatable for those without even a passing interest in the sport — or, indeed, in sport at all — though aficionados may become quickly bemused by Faraut's creatively whimsical flights of fancy.
Production company: UFO Production
International sales: Lightdox, hello@lightdox.com)
Producer: William Jehannin
Editing: Julien Faraut, Andrei Bogdanov
Cinematography: Yamazaki Yutaka
Music: Jason Lytle, K-Raw