Dir/sc. Bart Freundlich. 2016. US. 109 mins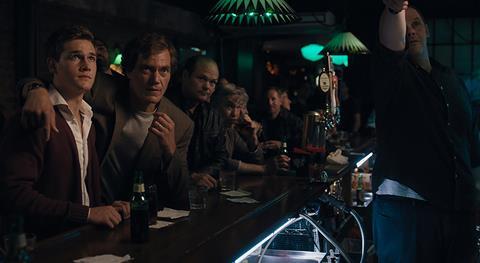 Wolves merges the worlds of high-school basketball and high-stakes gambling into a coming-of-age tale steeped in echt New York City machismo. Written and directed by hometown filmmaker Bart Freundlich, the movie was an obvious choice for the Spotlight section of this year's local Tribeca Film Festival. Sadly, it's no slam dunk. Save the highly predictable decider, the on-court battles are satisfyingly fast and fierce, but the tension they generate is undercut by the labored Oedipal melodrama that contains them.
Wolves is unquestionably at its strongest in the basketball sequences, skillfully staged by Freundlich and kinetically edited by Joseph Krings.
There's indisputably a crowd-pleasing aspect to Wolves (named for a Manhattan private-school hoops team) that will attract sports-loving American moviegoers undeterred by clichéd characterisation and schematic plotting. But it doesn't help the film's commercial prospects that its protagonist, Anthony Keller (Taylor John Smith), the Wolves' aggressive captain and star shooter, is charmless off the court.
He can mix it with the streetball players who partake in the extra-physical – and rap-scored – games played at the public West 4th Street "Cage", and he finds a mentor there in a canny old pro (played by the great classical actor John Douglas Thompson, who gives the sharpest performance here). Otherwise, Anthony is dull company – except to his doting mother Jenny (Carla Gugino) and his smitten girlfriend Victoria (Zazie Beetz). On this showing, the good-looking Smith has none of the jock swagger exuded by, say, the young Mark Wahlberg.
Not that Freundlich's script permits it. A taciturn hunk to begin with, Anthony has been stunned into passivity by his relentlessly antagonistic father, Lee (Michael Shannon, unusually mannered here) – and is, in fact, symbolically emasculated by him in a not-so-casual one-on-one practice ahead of the climactic game that will determine both their fates. Victory will translate to a Cornell University basketball scholarship for Anthony. For gambling addict Lee, a Judas who has backed the Wolves' opponents to win so he can pay off the thugs to whom he owes $200,000, it's potentially a life-or-death matter.
Lee is a disgruntled college writing teacher and blocked novelist with a massive chip on his Noo Yawk shoulders concerning his hard-drinking male identity. Jenny, Anthony's optimistic champion, is a fashion school grad who works hard managing a men's clothing store so she can save for his college fund – money her husband squanders on betting.
There's a strong dose of Hamlet in the Keller family dynamics. Though dad doesn't show up for Anthony's games, he resents the supportive role played in his son's life by his ex-basketball-playing Uncle Charlie (Chris Bauer). A late revelation, voiced by Charlie, explains why Lee bullies Anthony.
Freundlich successfully intensifies the drama in scenes that pinpoint repressed longings in discomfiting behaviour. When, for example, Anthony is showering at home, the smiling Jenny – wearing a slinky black slip-dress – enters the bathroom without knocking and sidles up behind her half-naked son to squeeze and kiss his shoulders. After Anthony and Victoria go nearly all the way in his room and the girl leaves the apartment, Lee makes a point of sniffing his son's fingers and saying, "That's my boy!" Incidents in the young couple's increasingly bumpy romance – involving a pregnancy, a break-up, and Anthony's involvement with a school basketball groupie – have a rote and tangential quality that lack the unsavoury but intriguing tang of the attention paid Anthony by his parents.
Wolves is unquestionably at its strongest in the basketball sequences, skillfully staged by Freundlich and kinetically edited by Joseph Krings. The director's sixth feature is too emotionally inconsistent, however, to top his 1997 debut The Myth of Fingerprints, one of American indie cinema's key dysfunctional family dramas and still his most memorable work.
Production company: Process Media
International sales: Sierra/Affinity, nick@sierra-affinity.com
Producers: Tim Perell, Bart Freundlich
Executive producers: Bill Koenigsberg, Erika Pearsall, Erica Steinberg
Cinematographer: Juanmi Aspiroz
Editor: Joseph Krings
Production design: Elizabeth Jones
Music: David Bridie
Main cast: Taylor John Smith, Michael Shannon, Carla Gugino, Chris Bauer, John Douglas Thompson, Zazie Beetz, Wayne Duvall, Samuel Ray Gates