Dir: Choi Dong-hoon. South Korea. 2009. 136 mins.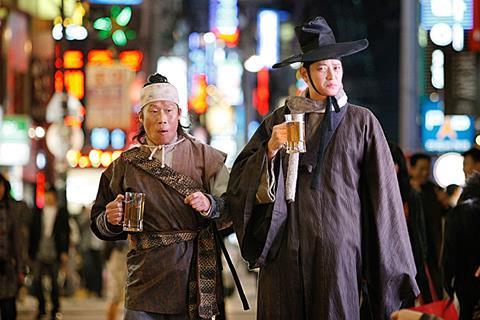 Medieval Taoist wizards run amok through modern-day Seoul in Woochi, a handsomely mounted but somewhat unfocused fantasy blockbuster from South Korea. With much for the eye to contemplate but little to quicken the pulse, the film bears the mark of a lesser work by a talented commercial director.
Woochi opened strong over the Christmas holiday in its native Korea, selling 1.8 million tickets in its first five days. It has pre-sold to a handful of Asian and European territories, but the biggest draw for international audiences is likely to be its genre credentials and lead actor Gang Dong-won's fan following in Asia.
The film opens with an extended sequence set 500 years in a mystical past, when the impish young wizard Woochi (Gang) is blamed for the murder of his master and sealed into a painted scroll. In 2009, goblins disguised as humans threaten to wreck havoc on the modern world, and a group of desperate Taoist elders decide to release Woochi and his sidekick Chorangyi (Yoo Hae-jin) from his magical confinement.
Director Choi Dong-hoon, responsible for previous hits Tazza: The High Rollers (2006)and The Big Swindle (2004), is famous locally for his narrative inventiveness, linguistic wit and skill in handling ensemble casts. However despite its distinctive characters and generally strong acting performances (particularly by Yoo and villain Kim Yoo-suk), Woochi lacks the smarts and drive of his previous work. It is also much too long at 136 minutes.
Visual effects, supervised by Jo Yong-suk, and the film's action sequences choreographed by Heo Myeong-haeng and Jung Doo-hong are both executed with skill and creativity.
To sign up for Screen's weekly Reviews Newsletter with all the week's new releases, international openings and full festival reviews delivered free to your mailbox every Friday, please click HERE
Production companies
Zip Cinema
Domestic distributor
CJ Entertainment
International sales
United Pictures in association with M-Line Distribution
+82 2 3443 8842
Producers
Katherine Kim
Lee Tae Hun
Lee Eugene
Screenplay
Choi Dong-hoon
Cinematography
Choi Young-hwan
Production design
Cho Hwa-sung
Music
Jang Young-kyu
Main cast
Gang Dong-won
Kim Yoon-suk
Lim Soo-jung
Yoo Hae-jin
Baek Yoon-sik
Yum Jung-ah