A dead body unites three French prostitutes who cross the border every day to work in a Belgian brothel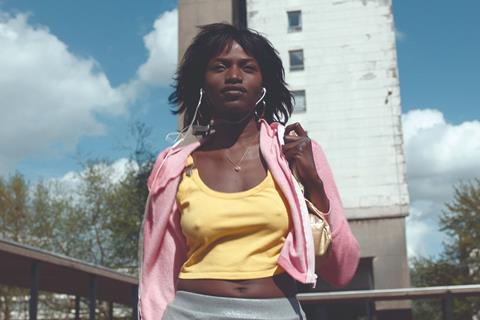 Dirs. Frédéric Fonteyne, Anne Paulicevich. Belgium/France. 2020. 90 mins
Three rain-lashed figures struggle to coax the plastic-shrouded body of a fourth into a shallow grave in the opening scene of this study of female friendship against the odds. We can speculate about who is doing the digging, and who ends up as shrink-wrapped meat in the mud, but it's not until the film has explored the same few days from the points of view of three different sex workers that the question of the opening scene is finally answered. The mystery element is a less successful component in a picture which works best when it catches the camaraderie, banter and fractious energy between the off-duty prostitutes hanging out and watching TV in the brothel where they work.
It's a pity that a screenplay which deals with the everyday life of prostitutes struggles to find anything for them to talk about together other than sex.
Working Girls, which has the more connotative and ironic title Filles de joie in French, represents the second feature film collaboration between Frédéric Fonteyne and Anne Paulicevich. The first, Tango Libre, which Paulicevich co-wrote and Fonteyne directed, won the Special Jury Prize in Venice Horizons 2012, and the Grand Prix at the Warsaw Film Festival the same year. This picture marks a job shuffle: Paulicevich both wrote and co-directs a project which she researched extensively during numerous visits to brothels. It's an honest, if sometimes strident, three-way portrait which gains much from its deft juggling of character arcs. It should find further festival interest, but the uneasy tonal jump (which is heralded when one character unexpectedly produces a gun) and overwrought tendencies might limit its potential.
The three women whose stories we follow are Axelle (Sara Forestier), Conso (Annabelle Lengronne) and Dominique (Noémie Lvovsky). All three live in France – Axelle and Conso are neighbours in the same housing project – but share a secret life, travelling each day across the border to Belgium to work in a legal brothel. Not exactly top tier, but high-end enough to offer a loyalty card (free fellatio with six visits) and magnums of overpriced champagne, it's an establishment where the women can safely earn the money they need to survive.
Wisely, Working Girls is markedly more interested in which goes on in the living room than in the bedrooms. However it's difficult to make a film about sex workers without focusing on their bodies, and there are shots in which the women can seem needlessly objectified. Likewise, it's a pity that a screenplay which deals with the everyday life of prostitutes struggles to find anything for them to talk about together other than sex.
The first life we delve into is Axelle's. A stressed single mother of three wilful kids, she hands over their care every day to her blowsy, strung-out mother. It's a precarious existence which tips over into disaster when an incident at school leads her violent, estranged husband (Nicolas Cazalé) back into her life. Next door, Conso is basking in the adoration of a client-turn-boyfriend who drapes her with diamond necklaces, then invites her to a celebratory gangbang to mark the fact that his wife had just given birth to a son. And middle-aged Dominique frets about her teenage daughter's burgeoning sexuality, stalking her at night and launching into fiery arguments.
There's an unpredictable, often explosive energy to the filmmaking which sweeps us along, paving over the cracks between the scenes which can seem disjointed. The women are each other's support in the chaos and insecurity that swirls around them. And ultimately it's this, the mismatched sisterhood, that we engage with, whether or not we care about which awful man ends up buried in a building site.
Production companies: Versus Production, Les Films du Poisson, Prime Time
International Sales: Be For Films, festival@beforfilms.com
Producers: Jacques-Henri Bronckart, Olivier Bronckart, Yaël Fogiel, Laetitia Gonzalez, Antonio Lombardo
Screenplay: Anne Paulicevich
Editing: Chantal Hymans
Cinematography: Juliette Van Dormael
Production Design: Eve Martin
Music: Vincent Cahay
Main cast: Sara Forestier, Noémie Lvovsky, Annabelle Lengronne, Nicolas Cazalé, Sergi Lopez, Jonas Bloquet