Dir: Bryan Singer. US. 2016. 142mins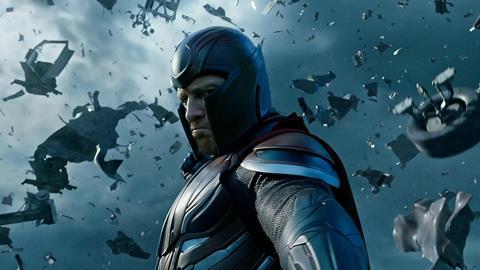 The need for family, the struggle to accept oneself, the challenge of letting go of the past: these have been the dominant themes of the X-Men franchise since the original 2000 film, but they've rarely resonated as deeply as they do in X-Men: Apocalypse. In the era of the supersized superhero movie, the standard objections apply — there are too many characters, and not always enough time to balance emotional nuance with the-world-hangs-in-the-balance stakes — but even when this sixth instalment stumbles under the weight of its own grandeur, director Bryan Singer invests the proceedings with real feeling, always anchoring the action in the exploits of his noble, flawed mutants.
The X-Men adventures keep getting bigger, but Singer works extremely hard to ensure that, even when they're not always better, they continue to thrill sufficiently
Hitting some territories (such as the UK) as early as May 18, Apocalypse will be released across most of the globe by the end of the month, with China scheduled for early June. This is the third big Marvel film of the year, following the surprise smash Deadpool (also from Fox) and Disney's Captain America: Civil War. 2014's X-Men: Days Of Future Past pulled in nearly $750 million worldwide — a reasonable target for this new film, which adds Oscar Isaac to its already formidable cast. Could comic book fatigue hamstring Apocalypse? Perhaps, but good reviews and stellar word of mouth ought to encourage even those tiring of superhero antics to see at least one more of these blockbusters.
Taking place 10 years after the principal events of Days Of Future Past, Apocalypse brings us to 1983 as the X-Men face a new threat in the form of Apocalypse (Isaac), an ancient, seemingly invincible god-like figure who wants to eradicate humanity and rule the planet, drawing on the powers of the mutants around him. Once again, the wise, kindly Professor Xavier (James McAvoy) must square off with his friend-turned-nemesis Magneto (Michael Fassbender) as they take sides in this battle. Magneto wants to help Apocalypse destroy the human race, whom he's always despised for what they did to his parents in the concentration camps years ago.
That plot description summarises Apocalypse's narrative, but as with Days Of Future Past, it doesn't come close to enumerating the different characters on both sides of the conflict — not to mention the developing interpersonal dynamics between some of them. (For instance, you'll need to remember what transpired in previous films between Nicholas Hoult's Beast and Jennifer Lawrence's Mystique, or between Xavier and Rose Byrne's CIA operative Moira Mactaggert.) Finding room for a Wolverine cameo while also laying the groundwork for the future relationship between Scott Summers (Tye Sheridan) and Jean Grey (Sophie Turner), Apocalypse is chock-a-block with protagonists, and it's a credit to Singer and screenwriter Simon Kinberg that they keep this potentially unwieldy story hurtling forward.
Singer has directed four of the six X-Men films — he didn't helm 2006's X-Men: The Last Stand and 2011's X-Men: First Class, generally thought to be the weakest instalments in the franchise — and from the start he has connected strongly with the characters' feelings of being misfits and outsiders, their mutant powers making them extraordinary but also filling them with a sense that they're abnormal. The fact that Apocalypse continues to explore this terrain can lead to rehashed character beats — in any X-Men movie, one mutant will inevitably assure another mutant that their mutation is what makes them special — and so a certain amount of thematic familiarity is unavoidable. And yet, Singer's unwavering emphasis on his heroes' scarred psyches and the ways they try to find solace remains poignant, infusing the spectacle with heart. We root for Xavier and his team to defeat the bad guys, but we also understand the internal motivations that are driving them, too.
That said, Apocalypse works on such a broad canvas, arguably even grander than Days Of Future Past's, that the individual performances aren't as potent as one might expect from such an impressive ensemble. Fassbender, who takes the role played by Ian McKellen in the original trilogy, continues to be the new series' standout, playing Magneto as a profoundly sensitive man who has turned evil in reaction to the cruelty he has experienced. (More heartbreak awaits him in Apocalypse, and Fassbender makes the pain ache.) But Lawrence remains oddly muted as Mystique, a mutant we're meant to recognize is a natural born leader, except that the Oscar-winning actress isn't particularly compelling in the role.
Likewise, Isaac, who has radiated charisma in everything from Inside Llewyn Davis to Star Wars: The Force Awakens, isn't just buried in makeup as Apocalypse — his voice has been digitally altered as well, leaving him little room to bring this fearsome villain to life. Apocalypse is imposing and stoic, but it nonetheless feels like a bit of a missed opportunity to deprive such a forceful actor of the chance to imbue this galvanic figure with wit or menace.
Evan Peters, as the young, impetuous Quicksilver, is one of Apocalypse's highlights, as he was in Days Of Future Past. For a second straight X-Men film, Singer provides him with a signature sequence that shows off the kid's super-speed with good humour and bravura craftsmanship. And Sheridan exudes some of the same square-jawed heroism that James Marsden brought to Scott Summers in the original trilogy, although Turner doesn't possess Famke Janssen's allure or complexity in the role of the tortured Jean Grey.
Despite those drawbacks, Apocalypse is still massively entertaining, the filmmakers not always able to perfectly execute their ambitions but always striving for a richer emotional tenor than is usually achieved in superhero movies. With top-notch effects and a driving, sweeping score from composer John Ottman, Apocalypse feels legitimately epic. (And costumer designer Louise Mingenbach and production designer Grant Major have a ball outfitting the characters and their backgrounds with period-specific, early-'80s décor.) The X-Men adventures keep getting bigger, but Singer works extremely hard to ensure that, even when they're not always better, they continue to thrill sufficiently.
Production companies: Marvel Entertainment, TSG Entertainment, Bad Hat Harry, Kinberg Genre, Hutch Parker Productions, Donners' Company
Worldwide distribution: Twentieth Century Fox, www.foxmovies.com
Producers: Simon Kinberg, Bryan Singer, Hutch Parker, Lauren Shuler Donner
Executive producers: Stan Lee, Todd Hallowell, Josh McLaglen
Screenplay: Simon Kinberg, story by Bryan Singer & Simon Kinberg & Michael Dougherty & Dan Harris
Cinematography: Newton Thomas Sigel
Production design: Grant Major
Editors: John Ottman, Michael Louis Hill
Music: John Ottman
Website: www.foxmovies.com/movies/x-men-apocalypse
Main Cast: James McAvoy, Michael Fassbender, Jennifer Lawrence, Oscar Isaac, Evan Peters, Nicholas Hoult, Rose Byrne, Tye Sheridan, Sophie Turner, Olivia Munn, Lucas Till, Kody Smit-McPhee, Ben Hardy