Horror anthology featuring four individual stories written and directed by female filmmakers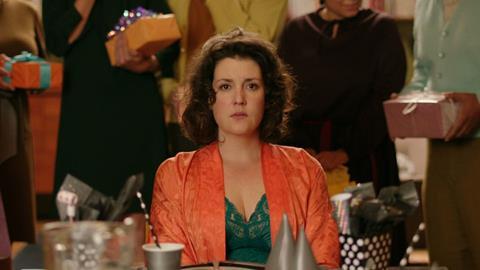 Dirs. Roxanne Benjamin, Karyn Kusama, Annie Clark, Jovanka Vuckovic. USA, 2017. 80 mins
Anthology horror films have been a staple since Richard Oswald's Unheimliche Geschichten (Uncanny Tales) in 1919; perhaps following the tradition of the many writers (Edgar Allan Poe, H.P. Lovecraft, M.R.James) who specialise in short stories rather than novel length nightmares. Lately, the form has had a revival, yielding modest franchises (V/H/S, ABCs of Death) and one-offs (Tales of Halloween, Holidays, Southbound).
A trim, evenly-paced 80 minutes, XX is one of the more consistent contemporary horror anthologies
The hook of XX, however, is that its director-writers are all women. A female-skewing angle is evident; three of four stories have desperate mothers (with no-help husbands) struggling to protect children, while an Evil Dead-style monster quickie (albeit with a girl ghoul) is also in the mix. Approaches vary from quietly chilly psycho-terror to effects-driven shock. In lieu of a frame story, Mexican animator Sofia Carrillo contributes opening titles and creepy segments in the style of Jan Svankmajer or the Quay Brothers; animated playthings, dead birds, stop-motion rotting fruit.
'The Box', written and directed by Jovanka Vuckovic, is an adaptation of a short story by token XY creative Jack Ketchum. On the subway, Susan (Natalie Brown) and children Jenny (Peyton Kennedy) and Danny (Peter DaCuhna) sit next to a mystery man who carries a box wrapped in red paper. Danny asks what's inside and is allowed a peep. Afterwards he won't say what he saw, but quietly stops eating, worrying Susan and infuriating her husband. From this Twilight Zone hook, the story takes an affecting turn as a perhaps-unnatural condition besets the family, leading to an unsettling, ambiguous punchline.
'The Birthday Party', directed by Annie Clark (aka musician St Vincent), is a sit-com coloured horror comic farce. Mary (Melanie Lynskey) goes to extremes to give daughter Lucy (Sanai Victoria) a memorable seventh birthday despite her husband, who has inconveniently just poisoned himself. With bright, brittle performances (all the women have stylised, strange hairdos) and Lynskey struggling with a corpse in a giant panda costume, this is at once funny and agonising.
Roxanne Benjamin, who contributed an episode to Southbound, plays a more conventional horror game in 'Don't Fall', in which four young people camp near the wrong petroglyphs and nervous Gretchen (Breeda Wool) is most affected by a standard curse. An anecdote rather than a story, this stretches to disturbing monster effects and literal jump scares and, while less classy than its sister-pieces, it adds a needed dose of genre fun.
Karyn Kusama (Jennifer's Body, The Invitation), contributes 'Her Only Living Son'. An unofficial sequel to a famous book/film property (and oddly paralleling its little-known TV movie follow-up), this is something between a revisionist take and fan fiction. Cora (Christina Kirk) has more than the usual single mom struggles as her son Andy (Kyle Allen) nears eighteen. She is not so much disturbed by his We Need to Talk About Kevin mean streak (and horny toenails) as the way his intolerable behaviour is surprisingly tolerated by teachers and neighbours. Kirk and Allen are good in complex roles, but this is the episode which seems most like a sketch for a feature, with an especially truncated ending.
A trim, evenly-paced 80 minutes, XX is one of the more consistent contemporary horror anthologies. When the project was first announced, other contributors (Jennifer Lynch, Mary Harron, Jen & Sylvia Soska) were mooted. They get thanked in the end credits (which includes a dedication to the late Antonia Bird, of Ravenous), raising the possibility of further XX instalments.
Production companies: XYZ Films, Scythia Films (The Box)
International sales: Magnolia Pictures & Magnet Releasing acquisitions@magpictures.com
Producers: Daniel Bekerman, Roxanne Benjamin, Todd Brown, Chris Harding, Karen Shaw, Nick Spicer, Travis Stevens,
Screenplays: Jack Ketchum, Jovanka Vuckovic, Roxanne Benjamin, Annie Clark, Karyn Kusama
Cinematography: Ian Anderson, Tarin Anderson, Patrick Cady
Production designers: Sally Baxter, Jen Dunlap, Anastasia Mansaro
Editors: L Gustavo Cooper, Josh Ethier, Kelli Krysh, Courtney Marcilliat, Aaron Marshall, Zach Wiegmann
Main cast: Natalie Brown, Jonathan Watton, Melanie Lynskey, Seth Duhame, Casey Adams, Breeda Wool, Kyle Allen, Mike Doyle