Omar Sy stars as a famous French writer who returns to his roots in Senegal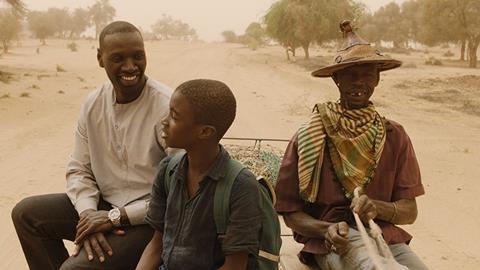 Dir. Philippe Godeau. France. 2018. 103mins.
A France-born actor of Senegalese heritage makes his first trip to his "homeland" on a book promotion tour, and ends up taking a dusty road trip over two or three days with a self-assured young admirer in Yao. Despite the innate (but here tamped down) charisma of Omar Sy as Seydou Tall and the adorably natural Lionel Basse as Yao, a schoolboy who travels 387 kilometers on his own to get Tall's autograph, all narrative developments are so low-key and leisurely that for long stretches, snails seem to be the target audience. Kind-hearted but basic to the point of being bland, the film has been sold widely to international territories.
It's hard to say whether young viewers will sit still for such a slow-to-unspool semi-adventure
One of 14 films released in France the same week as Green Book, there's no danger of Yao being accused of being a white saviour tale. That said, because he's thoroughly European in his attitudes, Africans tell Seydou he's "a Bounty" — a chocolate bar that's dark on the outside and white on the inside.
Seydou, who is separated from his wife, is slated to travel from Paris to Dakar with their 6-year-old son whom he sees every other weekend. But on departure day, the boy has an ear ache that precludes flying. Or that's what the underwritten wife claims. Seydou sets off solo with the coast clear to contemplate what it means to be a father. Intrepid 13-year-old Yao presents his beat-up copy of Seydou's book — a goat ate some of it — for signing and Seydou, who has a plane back to Paris scheduled, feels he should make sure that Yao gets home safely. A cab driver assures Seydou that he can get them to the village and get the adult back to the airport in time, so Seydou abandons his other responsibilities and hires the cab.
So begins a pattern whereby the major activity of locals between Dakar and Yao's village up north seems to be telling Seydou to take it easy and not worry. Will he make the flight or will he be led to his ancestral roots that he wasn't clamoring to discover?
It's hard to say whether young viewers will sit still for such a slow-to-unspool semi-adventure. The closest thing to intrigue is when a thief runs through an open air market and the locals beat him soundly. There are lots of shots of fabrics being sold in stalls and of goats crossing roads. The landscape and people of Senegal are presented with respect but it's difficult to care whether Seydou gets in touch with his roots or not because he's such a cipher.
"Is he really somebody famous?" curious villagers ask as they crowd around the napping Seydou. A knowledgable young woman says "In France there's Charles de Gaulle and (soccer legend Zinedine) Zidane and Seydou Tall." But it's Yao who comes across as the most talented. He's a gifted artist who sums up events on their journey in a sketch book.
Gloria (singer Fatoumata Diawara), an overly vivacious woman from Mali — which she describes as "A beautiful country where things aren't good right now," — hitches a ride with Seydou and Yao only to make a peculiar decision at one juncture.
The one refreshing element here is that Yao doesn't wish to swap his circumstances or to use Seydou as a stepping stone to a presumably better life in Europe. Yao is perfectly happy to live in his village so long as he can borrow books by Jules Verne from the Nelson Mandela Library and dream about one day becoming an astronaut on a mission to Mars or a deep sea diver. Oh yes – when he mentions that he has never seen the sea, it's an exceedingly safe bet that the two travel companions will end up frolicking in the surf before the film is over.
Production companies: Pan-Europeenne, Korokoro, France 2 Cinema
International sales: Wild Bunch, sales@wildbunch.eu
Producers: Philippe Godeau, Omar Sy
Screenplay: Philippe Godeau, Agnes de Sacy
Editor: Herve de Luze
Cinematography: Jean-Marc Fabre
Music: M (NOTE — one letter is correct)
Main cast: Omar Sy, Lionel Basse, Fatoumata Diawara, Germaine Acogny