Idris Elba makes his dynamic directorial debut with this involving drama set in 1970s Jamaica and 1980s London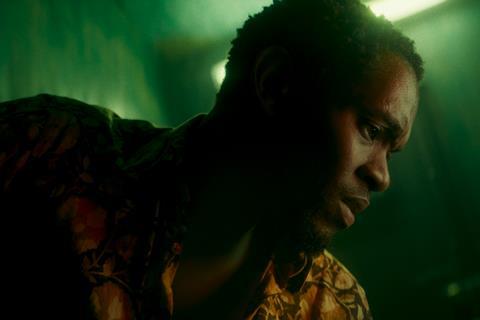 Dir. Idris Elba. UK. 2018. 101mins
Actor/producer and part-time DJ Idris Elba now adds director to his resume with Yardie, an adaptation of Victor Headley's 1992 novel about a young drug courier which begins on the mean streets of Kingston, Jamaica in 1973 and concludes on the even meaner backroads of East London in the 1980s. It's an alluring, muscular debut soaked in authenticity in both its settings; attractive lead performances and cameos draw the viewer into a story which has a clearly intended significance in a modern London ridden by knife crime. Although Elba stretches the narrative to its limits, this is a nicely-shot, -cast and -told period story of black Britain – when so few exist – with a geniality that cuts through some of its bleaker moments.
Idris Elba has made a film with the desire to entertain running through its DNA
Clearly framed for the big screen, Yardie (a term used to describe Jamaican immigrants in the 1970s) stands to do well in the underserved UK community, where it could mirror the commercial success of Noel Clarke's '..hood' series while attracting warm notices from serious outlets. Elba's fanbase is wider than that, however, and innovative marketing – as well as a thumping soundtrack – could win further audiences in Anglo markets, particularly the US. Use of Jamaican patois is taxing on the ear, however, and could prove a hurdle: subtitles or some explicatory device might help on occasion. Charismatic lead actor Aml Ameen, who made such a strong impression in Kidulthood, stakes his claim to stardom here.
Ameen plays D (for Denis), a young boy (initially played by Antwayne Ecclestone) first seen in the green countryside and bleached, dusty Kingston streets of Jamaica, 1973. With no parents in evidence, D relies on and idolises his older brother Jerry Dread (Everaldo Creary), a peace-loving Rasta whose attempts to reconcile warring gangsters suffers predictably disastrous results. D ends up running errands for drugs – and music – impresario King Fox (Sheldon Shepherd).
With a colour palette which blends the burnt oranges of the shanty shacks of Trench Town with the colour-pop yellow and green Jamaican colours of the schoolgirl uniforms, Yardie seems to come from Jamaica, as opposed to just being shot there. During a funeral, a traditional nine-night celebration, D sabotages the ritual and Kingston haunts him as he goes forward.
Yet when the action moves to London in 1983, there's also a solid sense of place – the punks, the squats, the reggae and dub soundclashes and the unswept streets of black Hackney in Thatcher's Britain also securely anchor the action. A night-time chase on foot is thrilling. D's childhood girlfriend Yvonne (the equally charismatic newcomer Shantol Jackson) has moved to the city with their daughter, and when a drugs deal goes badly wrong with insane gangster Rico (a brilliantly unhinged performance from Stephen Graham), he flees to her apartment.
Ameen and Jackson make a gorgeous couple, set in 1980s trappings and giving British viewers a vision of period cinema and reflection of themselves in a past which isn't entirely white. Yet the chemistry is good amongst all the cast — Lady Macbeth's Naomi Ackie shows her versatility in a small part. D makes a stylish, yet not terribly convincing, 1970s drug dealer, forming a bond with local musicians headed by Sticks (Calvin Demba) who use the Turkish mafia to shift cocaine to white yuppies (who "always pay on time"). The plot may be moored in drug-dealing, but it's really all about revenge, as D pursues justice at the cost of everything else in his life and starts a war in London.
Particular attention has been paid to the soundtrack, with the score by Dickon Hinchcliffe (Tindersticks), and David Hill acting as creative consultant. Sit near the back of the room as the speaker-stacks do their work because Idris Elba has made a film with the desire to entertain running through its DNA: it's a righteous debut.
Production companies: Warp Films, StudioCanal
International sales: StudioCanal
Producers: Robin Gutch, Gina Carter
Executive producers: Dan MacRae, Danny Perkins, Joe Oppenheimer, Hugo Heppell, Mark Herbert, Mary Burke, Ben Roberts, Idris Elba
Screenplay: Brock Norman Brock, Martin Stellman, from 'Yardie' by Victor Headley
Cinematography: John Conroy
Editor: Justine Wright
Music: Dickon Hinchcliffe
Main cast: Aml Ameen, Shantol Jackson, Stephen Graham, Fraser James, Everaldo Creary, Sheldon Shepherd, Naomie Ackie, Calvin Demba