Eye-opening documentary about Chinese fashion designer Guo Pei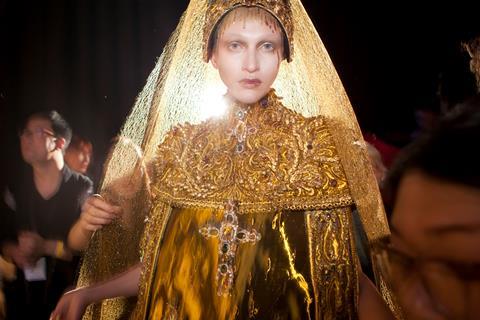 Dir: Pietra Brettkelly. New Zealand. 2018. 94 mins
"I'm a designer, not a nation," argues Chinese fashion phenomenon Guo Pei. But in this account of her conquest of the industry's most exclusive bastian – Paris's Chambre Syndicale de la Haute Couture – it's hard not to see a commentary on China's global influence. Yet Pietra Brettkelly's film is too polite to treat this milieu, rarefied to the point of being ridiculous, with anything other than intricately embroidered kid gloves.
A fly on the wall approach encourages the audience to make up their own minds about Guo's drive to earn recognition
The insight into the closed world of haute couture is intriguing. It's an entity which is trademarked and is as jealously protected by the French as the right to stick a champagne label on a bottle of fizzy plonk. The snobbishness of the institution places our sympathies firmly with the charismatic Guo. But for all this, the film, which is a little too easily dazzled by the bonkers excesses of Guo's designs, will struggle to claim much of an audience outside of individuals with a vested interest in fashion. Appetites will likely be keenest in territories in which Guo Pei's work is best known; a showstopping gown worn by Rihanna at the 2015 Met Ball notwithstanding, Guo remains primarily celebrated in her home country.
Guo's is a formidable success story. The daughter of two Communist party members, she received her education at No 2 Light Industry School, Beijing — a fact which prompts elegantly raised eyebrows and genteel incomprehension among the Western style press who interview her. The title of the film comes from her grandmother's style rule, which suggested that yellow, and more specifically gold, should be avoided, as it was too closely associated with the former ruling classes. But for the new Chinese ultra-rich, that's a plus point.
Guo's business, we learn, was bankrolled by her husband, and given the opulence and intricacy of her designs – a single dress can take upwards of two years to make – that's quite an investment. "He is my wings. I wouldn't be able to fly without him," smiles Guo. "Don't fly too high," mutters her husband, mindful of the fact that, with a cost of up to $1 million and accessorised with around thirty-five kilos worth of glittery spangles, Guo's frocks are not exactly rushing off the clothes rails.
She does, however, have a dedicated band of VVIP customers; "ordinary women" she assures the Baudelaire-quoting official of the Haute Couture Commission. When meet them in her salon. — like Dior, she says, she prefers to display her gowns in an intimate setting — these "ordinary women" barely bat an eyelid over the 115,000 euro price tag on a silk tunic.
A fly on the wall approach encourages the audience to make up their own minds about Guo's drive to earn recognition from the Paris fashion elite. It's fair to say that there is a hint of Zoolander about the "pink crocodile skin and artificial fluffy leather" excesses. Brettkelly respectfully refuses to mine the material for humour, even when Guo is talking up her religion-inspired collection which includes an outfit which looks like a giant fabergé egg with a crucifix mounted on top like a mobile phone mast and was inspired by her "knowledge of God".
Production companies: Libertine Pictures
International sales: The Film Sales Company eamon.murphy@filmsalescorp.com
Producers: Pietra Brettkelly, Richard Fletcher, Naomi Wallwork
Screenplay: Pietra Brettkelly
Editing: Nicolas Chaudeurge, Margot Francis
Cinematography: Jacob Bryant
Music: Tom Third
Cast: Guo Pei, Philip Treacy, Wendi Murdoch, Godfrey Deeny