A young Sudanese boy struggles with a prophecy that proclaims he will die when he reaches the age of twenty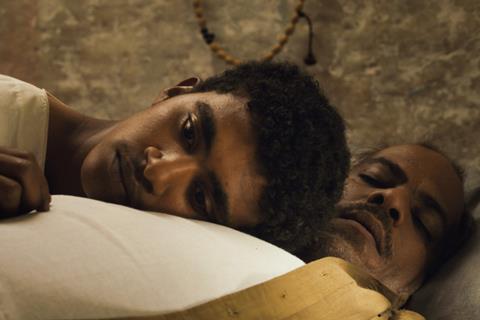 Dir/scr. Amjad Abu Alala. Sudan-France-Egypt-Germany-Norway-Qatar. 2019. 103mins
Cursed by a prophecy about his demise, a Sudanese boy struggles to experience life in Amjad Abu Alala's sensitive and stirring debut. With his protagonist's unfortunate plight predicted by religious superstition, the Dubai-born Sudanese writer/director sharpens this fable-like coming-of-death tale into a moving commentary on unwavering compliance; a clear portrait of Sudan during its 30 years of authoritarian leadership. Thoughtfully ominous, the feature makes both an emotional and visual imprint — and, playing Toronto after winning Venice's Lion of the Future award, is certain for further festival attention.
Working with cinematographer Sébastien Goepfert, Alala favours showing more than telling; frequently
The first Sudanese title to earn a gong on the Lido, that accolade should prove a drawcard for programmers; however, it's the movie's mature musings on an existence caught between two extremes that deserves ample notice. Alala is well aware that audiences will instantly feel for his fated character, who is damned by a Sheikh's decree at his naming ceremony, and yet the filmmaker lets the full weight of the situation sink in slowly. Whether trying to relish normality while knowing you're going to die, or searching for freedom under an oppressive regime of faith, wandering through limbo is a process of constant uncertainty and adjustment.
Both as a child outcast (played by Moatasem Rashed) dubbed "the son of death", and then a studious young man (Mustafa Shehata) burying his woes in the Quran, Muzamil is as stuck as he is unmoored. While forever marked by his foretold end, which everyone in his village knows about, his youthful questioning begets an eventual case of teenage listlessness. Left to care for Muzamil alone when his father (Talal Afifi) can't cope with the ostensible death sentence, the child's devout mother Sakina (Islam Mubark) struggles too, but hardly helps his growing malaise. When she's not fussing overprotectively, barely letting him out of her sight, she's either attempting to convince local religious leaders to rescind the prophecy, or preparing for his funeral.
Adapting a short story by Egypt-based Sudanese writer Hammour Ziada, Alala and co-scribe Yousef Ibrahim (Haneen) take Muzamil through classic rite-of-passage terrain, albeit coloured by the portentous prediction. The boy grapples with his taunting peers, pines for a future with neighbourhood girl Naima (Bunna Khalid), gets a delivery job at the local store and, through the latter, finds a father figure in booze-swilling cinephile and cameraman Sulaiman (Mahmoud Elsaraj). Each step along the way shakes Muzamil's acceptance of his fate, even his traumatic altercations, which hardly comes as a surprise. Still, his is a deeply perceptive rather than episodic journey of discovery.
Working with cinematographer Sébastien Goepfert (As I Open My Eyes), Alala favours showing more than telling; frequently, through the movie's vivid, foreboding imagery, viewers glean a greater insight into Muzamil and Sakina's inner conflict than the characters possess themselves. Although highly symbolic, dreamlike sights pepper its frames — a recreation of the Pieta among them — You Will Die at Twenty is at its most striking whenever it lingers inside the central pair's modest home, or lets them wander by the Nile. These are loaded scenes too, placing Muzamil in dark hallways or against enveloping waters, but they're equally eye-catching and effective.
Just as impressive are the film's key cast members, all screen newcomers, with Rashed, Mubark and the particularly memorable Shehata tussling with Muzamil's untimely destiny via internalised performances. Tasked with wading through life yet not quite living it, they each convey this burden in different but always affecting ways — as does the livelier Elsaraj, offering a reminder that even an existence filled with regrets is worth experiencing.
Production companies: Andolfi, Transit Films, DUOFilm AS, Die Gesellschaft DGS, Station Films Cinema Production Co. Ltd
International sales: Pyramide International, constance@pyramidefilms.com
Producers: Arnaud Dommerc, Hossam Elouan, Ingrid Lill Høgtun, Michael Henrichs, Amjad Abu Alala, Mohammed Alomda, Linda Bolstad Strønen, Marie Fuglestein Lægreid
Screenwriters: Youssef Ibrahim, Amjad Abu Alala, from the short story by Hammour Ziada
Cinematography: Sébastien Goepfert
Editing: Heba Othman
Production design: Rasha Fares
Music: Amine Bouhafa
Cast: Mustafa Shehata, Islam Mubark, Mahmoud Elsaraj, Bunna Khalid, Talal Afifi, Amal Mustafa, Moatasem Rashid, Asjad Mohamed