Dir: Shinkai Makoto. 2016. Japan. 106 mins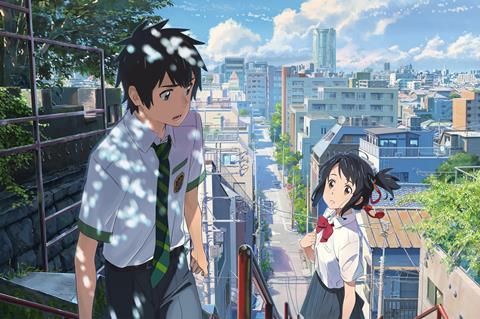 A teen romance which juggles science fiction, a body swap device and themes inspired by classical Japanese literature, the striking animation Your Name looks set to be the film which propels rising star of Japanese animation Shinkai Makoto to international prominence. The tale of Taki, a teenage boy in Tokyo, and Mitsuha, a high school student girl in a picturesque but sleepy rural village,who mysteriously and repeatedly change bodies, this is a film which handles its high concept with confidence, and a winning balance of comedy and emotional punch.
Extremely positive word of mouth should generate significant buzz around this gorgeously-realised title
The film, which was released in Japan this August, has already far surpassed box office expectations. It is the first non-Ghibli, non-series animation to earn over 10 billion yen. Your Name's cumulative total currently stands at $126 million, a figure that places it in the same box office league as the films of the now retired animation legend Hayao Miyazaki. Without the Ghibli name to recommend it to overseas audiences, distributors will likely trade on the press coverage of Your Name's success in Japan, much of which anoints Shinkai as the heir apparent to Miyazaki's crown.
Extremely positive word of mouth and critical support will likely help the film build momentum. Festival berths – Your Name follows a San Sebastian screening with a gala slot in Busan and then plays in the main competition of the London Film Festival – should generate significant buzz around this gorgeously realised title.
Shinkai, whose previous films include The Garden Of Words and 5 Centimeters Per Second, has said that a 12th century Japanese story called Torikaebaya Monogatari, about a brother and sister, both with the mannerisms of the opposite sex, was one of his main influences. And certainly, the device of putting a girl in the body of a boy and vice versa is mined for a great deal of comedy. "You sure do like your boobs," says Mitsuha's little sister, when, finding himself in a girl's body yet again, Taki can't resist giving himself a quick grope. Meanwhile, Mitsuha as Taki offers to mend a coworker's torn skirt, darning it and decorating it with a cute embroidery of a hedgehog. The added femininity in Taki when Mitsuha is in control makes him more attractive to the opposite sex than he was as a tongue-tied adolescent boy.
The film opens with an arresting shot of a meteor falling to earth – it's a story element which will go on to have central importance in this fascinating narrative tangle. But at the start of the picture, it mainly serves to showcase the heart-swelling loveliness of the animation. Shinkai recreates Tokyo with an eye that picks up both the quotidian details but also captures the play of light which brings a glistening, limpid clarity to the streets. Something as simple as a shot of a sliding door, repeated throughout the film, takes on a visual lyricism.
Although they have no memory of what happens to their own bodies when they swap, Mitsuha and Taki develop a system to exchange information using their smartphones. They also work out a set of ground rules: no boob groping is one. But the emotional connection that builds between them is derailed by a shocking discovery involving the comet and a past tragedy. In an intricate, looping, woven timeline, Taki must try to save the girl he knows inside out but has never met. The positive response in Japan is perhaps not surprising: in a country more prone than most to natural disasters, the desire to be able to turn back time has a particular resonance. But this picture has the kind of magic that will travel.
Production company: CoMix Wave Films Inc.
International sales: Toho Co., Ltd y_kikuchi@toho.co.jp
Producer: Kawamura Genki, Takei Katsuhiro
Screenplay: Shinkai Makoto
Animation: Ando Masashi
Editor: Makoto Shinkai
Original score: Radwimps
Main cast: Kamiki Ryûnosuke, Kamishiraishi Mone, Nagasawa Masami, Narita Ryô, Hanazawa Kana, Ichihara Etsuko