Dir. Kaouther Ben Hania. Tunisia/UAE/France/Qatar/Lebanon, 2016, 94 mins.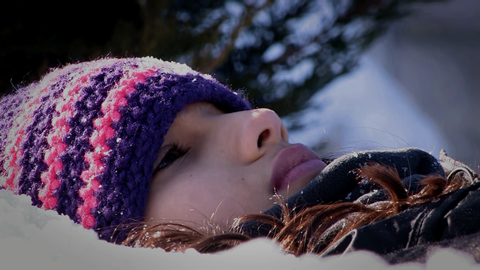 Watching how children grow is an education, something Michael Apted's The Up Series continues to prove every seven years. Director Kaouther Ben Haria (2013's Challat of Tunis) follows a nine year-old girl named Zaineb over six years in this appealing documentary, as her life undergoes momentous change. Picking up after the camera after the death of her father, Ben Haria follows Zaineb as her mother reconnects with an old flame who has moved to Quebec.
The camera mainly acts as a bystander as the clues about Zaineb's destiny begin to mount up.
Ben Hania's documentary, which picked up top prize in the Carthage festival for Arab and African cinema last month and screens in Dubai this week, charts young Zaineb's odyssey from Tunis to Canada – from life as a religious schoolgirl in Tunis to a more challenging, cosmopolitan teenager. The story, which came to Ben Hania via a family relationship, is involving as the viewer contemplates the barely-understood scale of what is happening to Zaineb as her world turns on its axis. Certain for further festival berths, this intimate documentary should work best on the small-screen with viewers who have shared Zaneb's journey.
Ben Hania works the camera herself, and the scale is decidedly personal – despite its titular focus on snow (which young Zaineb claims to hate) the film boasts scant footage from outside the family's various apartments, either in Tunisia or Canada. (The main exceptions are the tearful school farewell to Zaineb as she leaves her homeland forever, her front garden after a downfall, and a sequence where she tries to teach her mother to ice-skate). Instead, the camera mainly acts as a bystander as the clues about Zaineb's destiny begin to mount up.
Zaineb misses her father dreadfully. Soon, however, her mother starts to make cheerful phone calls and before long – even though the aim is to take it slow – there are visits, during which a tearful child begs her mother not to go out on a date with this divorced dad. There's another suspicious stranger in the mix as well: a boisterous step-sister named Wijdene, who is also unhappy with developments.
Ben Hania is a cousin of Zaineb's mother, and she turns out to be extremely lucky in her protagonist. Young Zaineb, all dressed in pink hearts when we meet her, is a smart and open girl who tends to wear her heart on her sleeve – and isn't bothered by the proximity of the camera, often stopping to ask for help. This continues to the present day, where the pink has long gone and Zaineb's world has changed yet again. Editing is sympathetic here, and the use of music nicely restrained in a quality documentary package which hints at the political and religious elements to Zaineb's destiny rather than make overt statements.
Production companies: Cinetele Films, Thirteen Productions
International sales: Autlook Film Sales, welcome@autlookfilms.com
Producer: Habib Attia
Cinematography: Kaouther Ben Hania
Editor: Samuel Lajus, Nadia Ben Rachid
Music: Sarmad Abdelmajid
Featuring: Zaineb Khelifi, Wided Khelifi, Wijdene Hamdi, Maher Hamdi, Haythem Khelifi