Adele Exarchopoulos stars as an endlessly on-the-move flight attendant in this Critics Week film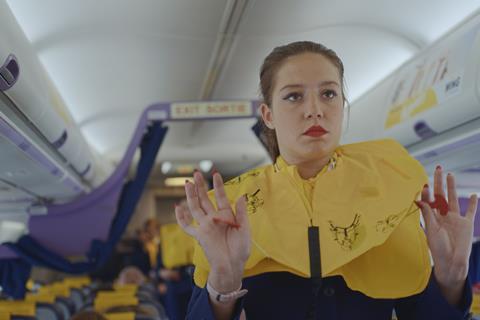 Dirs/scr: Emmanuel Marre, Julie Lecoustre. France/Belgium. 2021. 115mins
A life in perpetual motion is the surest way to avoid confronting reality in Zero Fucks Given (Rien a foutre). The first feature from collaborators Emmanuel Marre and Julie Lecoustre may have a catchy title but the film itself is a modest, somewhat mundane tale of a young woman whose public face conceals a private anguish. A moving lead performance from Adele Exarchopoulos is the film's strongest selling point.
Working life on a low-cost airline provides an interesting backdrop
Marre and Lecoustre have taken some of their inspiration from observing the cabin cew on a low-budget flight to Spain. The film largely uses a non-professional cast, weaving real flight attendants into the story. Indeed, the writer/directors have revealed that they sought a flight attendant to play the central character before casting Exarchopoulos. She plays Cassandre, a woman of impeccable professionalism who works for low-cost airline Wing. It is all part of a day's work to charm awkward customers, serve food, promote the special offers in duty free goods and send every passenger on their way with a smile. It is a smile that never reaches her eyes and the film is very much about appearances and reality.
In any social situation, Cassandre is never entirely present in the moment. We see her on the edge of conversations and watch her being nudged into nights out or a lazy afternoon at the pool. Exarchopoulos is particularly good at conveying the sense of melancholy wrapped around Cassandre. For all her resilience, she never looks far from tears.
Based in Lanzarote, Cassandre appears to lead a glamorous life as she travels the world, staying in hotels, living without consequence or care. Tinder provides all the hook-ups she could want but none of the tenderness that she craves. She is almost a budget equivalent of George Clooney's gadabout in Up In The Air (2009). Some of the film's most memorable images are of her smartly dressed, with flawless hair and make-up. The camera follows her relentlessly as she totters in high heels through the grounds of another anonymous hotel at the crack of dawn. She can look like the loneliest woman in the world.
Working life on a low-cost airline provides an interesting backdrop but it feels as if Marre and Lecoustre have allowed a fascination with this aspect of the film to overpower the central story. They offer a quasi-documentary immersion in company procedures, showing training exercises and the requirements to secure promotion to a cabin manager, including sustaining a winning thirty second smile to wow the passengers. That is the basis of a telling montage where Cassandre cannot keep the sadness from her face.
Early on we learn that Cassandre's mother has recently died. Cassandre's commitment to the job and willingness to work any and all holidays has become a way of avoiding her family. When circumstances force her to return home, the film really comes into focus. The more we learn of what she has refused to face, the more the film connects. There are some charming, soulful moments as Cassandre catches up with old friends or relives memories with her father and sister. Her return to life is quietly touching but it is a long time coming in Zero Fucks Given.
Production company: Wrong Men, Kidam.
International sales: Charades sales@charades.eu
Producers: Francois-Pierre Clavel, Benoit Roland
Cinematography: Olivier Boonjing
Editing: Nicolas Rumpl
Production design: Anna Falgueres
Main cast: Adele Exarchopoulos, Alexandre Perrier, Mara Taquin, Arthur Egloff