Dir/scr: Ivan I. Tverdovsky. Russia/France/Germany, 2016.  87 mins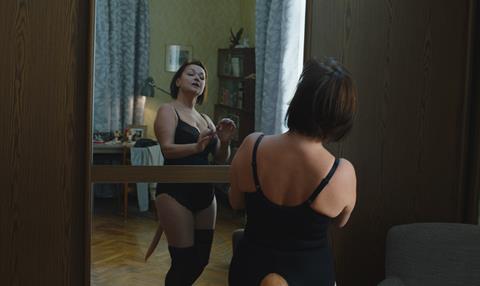 A life of quiet desperation is transformed into something much less ordinary in Zoology (Zoologiya), the second feature from Russian director Ivan Tverdovsky following his award-winning debut Class Corrections (2014). Tverdovsky's affinity with the outcast is underlined once more in the story of a middle-aged woman faced with the consequences of daring to stand out from the crowd for the first time in her drab existence.
Natasha starts to grow a tail and no matter how odd this may seem, it could be the best thing that ever happened to her
A thought-provoking contemporary fairytale peppered with bone-dry social satire, it builds into a plaintive, thought-provoking work. The freshness of Tverdosvky's vision and the captivating central performance from Natalia Pavlenkova should readily catch the eye of festival programmers following the film's international premiere at Karolvy Vary. It might also perhaps give this modest film a shot at attracting theatrical interest from distributors supportive of distinctive rising talents.
Natasha (Natalia Pavlenkova) works as procurement manager at a zoo. She has more friends among the caged animals than her mean-spirited colleagues who regard her as an object of ridicule, ripe for bullying. When she faints in the office, they consider it an inconvenience rather than a cause for concern. There is a weary resignation in Pavlenkova's performance that immediately wins our sympathy for Natasha, who stays at home with her mother and just seems to be going through the motions of a life.
Natasha starts to grow a tail, and no matter how odd this may seem it could be the best thing that ever happened to her. She appears unperturbed by its appearance and comes to regard it as a special secret. It is the catalyst for great change. Like a latter-day Sleeping Beauty, she suddenly comes alive and behaves like a different person. Attracting the attentions of younger doctor Petya (Dmitri Groshev), she starts to wear make-up, dress differently and go out into the world.
A moment of unguarded joy dancing in a club with Petya is reminiscent of Paulina Garcia's self-realisation in Gloria and Pavlenkova sparkles at the chance to portray Natasha's vivacity.
Tverdovsky and production designer Vasily Raspopov are very good at depicting the world that Natasha is rebelling against. The whole film seems structured around a palette of steely blues and slate greys, whether that is the contrast between sea and sky where Natasha lives or the colour scheme in all the institutions she visits. Every wall seems painted in the same shade of inoffensive blue, everything points towards bland uniformity. In that world, Natasha's tail is the splash of colour that makes her different. In a Russia so enamoured of conformity, she could just as easily be an outspoken critic of the Putin regime, an atheist or gay. Tvardovsky's point is to celebrate difference rather than suppress it.
The price Natasha pays for being an individual comes in the reactions of the people around her. There is a Greek chorus of elderly gossips in the doctor's waiting room, eternally eager to share stories of a woman believed to be in their neighbourhood, marked by the sign of the devil. A priest refuses her communion, her mother paints the walls of their flat with red crosses and the burden of being "different" gradually becomes unbearable.
A complex tale told in a compact fashion, Zoology extracts all the pathos from Natasha's story. It has a sense of conviction and wit to it that allows us to suspend any disbelief and accept the concept of a woman growing a tail. It succeeds in large part because of the rich, emotional performance from Pavlenkova in a dream part that allows her to run the gamut from stone-faced stoicism to joyous liberation. It is a performance that should earn her and the film a good deal more attention.
Production companies: New People Film Company, Arizona Films, Movie Brats
International sales: New Europe Sales jan@neweuropefilmsales.com
Producers: Natalia Mokritskaya, Mila Rozanova, Uliana Savelieva
Cinematography: Alexander Mikeladze
Editors: I Ivan I. Tverdovsky, Vincent Assman
Production Designer: Vasily Raspopov
Cast: Natalia Pavlenkova, Dmitri Groshev, Irina Chipizhenko, Maria Tokareva