Dir/scr: Mozez Singh. India. 2015. 115mins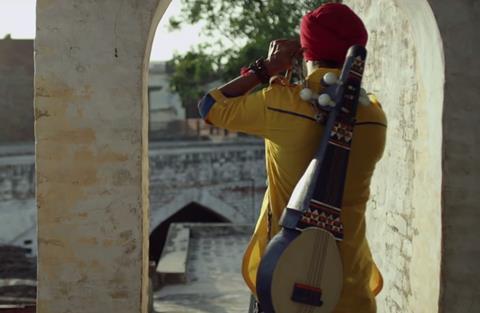 Opening this year's Busan International Film Festival (BIFF), the producer Mozez Singh's feature debut is a vibrant and occasionally delightful coming-of-age drama about an ambitious young man who moves to Delhi in a quest to find success in life, but begins to question what that might actually mean. Despite its familiar premise, Zubaan finds a nice balance between musical and drama elements, which should make it more accessible and appealing to even those unfamiliar with Hindi cinema, pushed by its exposure at Busan.
Zubaan (which means mouth, or language), conveys a theme which is easy to identify with regardless of culture or nationality.
Zubaan's narrative centres around Dilsher (Vicky Kaushal), a stammering child born to a dirt-poor Punjab family in Gurdaspur but determined to find prosperity and change his fortune. He seeks out – at all costs – the hard-nosed businessman Gurcharan Sikand (Manish Chaudhari), whom he once encountered as a young boy.
When they do eventually meet again in Delhi, Gurcharan seemingly remembers Dilsher after he shows him a pen the CEO had given him and hires the boy to work at corporate headquarters in Dubai, to the great displeasure of his wife (Meghna Malik) and son Surya (Raaghav Chanana).
As Dilsher earns Gurcharan's trust and takes on more responsibility at the company, the businessman's son becomes increasingly jealous and tries to make life more difficult. Yet despite the material wealth he begins to acquire, Dilsher can't help but reflect on his life and that of his father, who performed Sikh music.
Dilsher also comes into contact with a singer, Amira (Sarah Jane Dias), which provides a romantic and musical thread for Zubaan. This slots into the narrative relatively smoothly, despite some of the musical numbers being somewhat stylised - making them occasionally look like over-produced pop music videos.
Technically, however, Zubaan is a highly polished production. Swapnil Sonawane's camerawork is excellent, featuring, as might be expected from a contemporary musical drama, numerous tracking and crane shots – all of which are orchestrated to compliment the film's strong, swooping soundtrack.
Performances are solid across the board. Vicky Kaushal demonstrates further promise as the lead following his role in the acclaimed Cannes title Masaan, while Sarah Jane Dias (Angry Indian Goddesses) is an ideal fit as Amira, not least when she starts singing. Manish Chaudhari (Blood Money) is well cast as the stern company head whose protegees desperately seek his approval.
Fortunately, the film, which is produced by Guneet Monga (The Lunchbox) doesn't become too schmaltzy on its way to a familiar message – the quest for what is important in one's life without being distracted by materialistic desires that may or may not bring happiness and success. This admittedly doesn't break any new ground, but Singh's debut (his writing and producing credits include 2004's White Noise) conveys a theme that is easily identifiable regardless of culture or nationality.
Production Companies: Sikhya Entertainment, Metamozez Entertainment
International sales: Sikhya Entertainment (guneet@sikhya.in)
Producers: Guneet Monga, Shaan Vyas, Mozez Singh
Screenplay: Mozez Singh, Thani, Sumit Roy
Cinematography: Swapnil Sonawane
Editor: Deepa Bhatia
Production designer: Khyatee Kanchan
Music: Ashutosh Phatak
Main Cast: Raaghav Chanana, Vicky Kaushal, Sarah Jane Dias, Manish Chaudhari, Meghna Malik