Dir: Josh Johnson. US. 2013. 94mins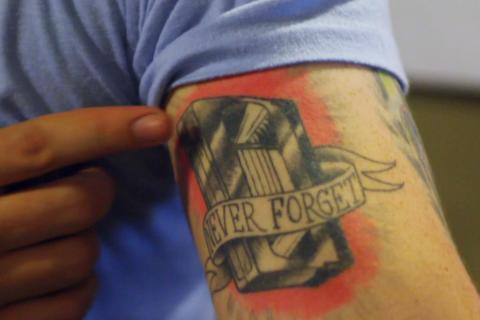 A thoughtful and entertaining elegy to the joys of the VHS tape, from its poor picture quality and ropey pan-and-scan through to is inventive marketing, colourful packaging and sheer breadth of titles available, Josh Johnson's documentary Rewind This! celebrates not just the fan-boy collectors but also the product that changed the face of the film business.
Rewind This! is a charmer of a documentary that will strike a chord with audiences who have grown up with the format.
An easy fit into SWSW, where it had its world premiere, the film even opens with VHS collector Ben Jousan (proudly wearing his SXSW staff shirt) trawling through a flea market in Grand Prairie, Texas, for VHS gems…well, action films featuring Dolph Lundgren ideally.
The film engagingly spends much of its first third with the collectors and their often vast selection of VHS tapes. There is some mild debate about the qualities of Betamax or VHS (which won over essentially because it was cheaper and could record for longer) before dwelling on the libraries of film fans who grew up with video players and the world of re-watching films at will.
From one fan who colour codes her tapes through to another who fastidiously alphabetises (as well as horror fan Dormarth who takes the crew up to his 'Attic of Horrors', where he subdivides his collection into genres and even has a section for 'pre sell-out (Wes) Craven') and onto owners of stores that specialise in VHS tapes, the film celebrates both the collector and the collection.
Filmmakers such Frank Henenlotter (whose film Basket Case became a VHS cult), Charles Band, JR Bookwalter and Roy Frumkes (who actually hates the format), whose films had a new life thanks to the format (especially when it went to sell-through rather than just rental), and about how VHS changed the ability to make and distribute films (especially of the genre variety). Meanwhile actress Cassendra Peterson (who starred as horror icon Elvira) and Visitor Q actress Shôko Nakahara talk about how the format helped their careers.
The film slows a little in its central section while celebrating the 'heroes' of the VHS era – such as homegrown monster movie maker Rocky 'The Rock' Nelson, who churns out super low-budget horror films and at a screening of his films at The Alamo in Austin sets about doing press-ups and engaging in some evangelical self-promotion – but hits its stride again when detailing the work of former bootleggers as well as archivists and academics.
But what shines through is the sheer love some have for the format…for the unique personality of tape; to see what some friends might have taped over, and the sheer joy of tracking down a long lost movie. Rewind This! is a charmer of a documentary that will strike a chord with audiences who have grown up with the format – it may bemuse children of the digital revolution, but the place VHS has in film history – as much for creating an ability for fans to catch up on films and movie stars as for the millions of dollars it fed into the industry - is secure.
It is directed with a sure enthusiasm by Josh Johnson, while Josh Freda's 1990s style soundtrack complements the film perfectly.
Production company: Imperial PolyFarm Productions
Sales contact: Cinetic Rights Management, www.cineticmedia.com
Producers: Carolee Mitchell
Executive producers: Panos Cosmatos, Freddie Fillers
Associate producers: Neil Wilson, John Carpenter, George Hickman, Jay Hawkinson, David Moore, Jesse Kale, Marc Walkow
Cinematography/editor: Christopher Palmer
Music: Josh Freda
Website: www.rewindthismovie.com
With: Atom Egoyan, Cassandra Peterson, David "The Rock" Nelson, Jason Eisener, Chris Strompolos, Frank Henenlotter, Lloyd Kaufman, Kevin Tenney, Charles Band, Mamoru Oshii