Dir/scr: Bahman Ghobadi. Turkey-Kurdistan. 2012. 103mins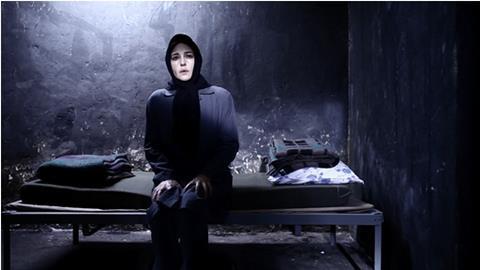 Bahman Ghobadi's first non-Iranian film takes him one step further away from the basically realistic, even if essentially poetic, approach of his earlier films. A tragic love story, a fierce indictment against the Islamist regime in Tehran, but most of all, a lyrical elegy replete with symbolical visions accompanying the poems on the soundtrack, Rhino Season (False Kargadan) is a natural for film festivals, though an award or two could certainly help it through to a respectable art house distribution.
Slow and often contemplative, the film gains much of its force from its effective images.
Inspired by the fate of a family friend, Kurdish poet Sadegh Karmangar, the film tells the story of Saleh (played by veteran Iranian megastar Behrouz Vossoughi), a poet released from jail after 30 years, who goes looking for his wife, Mina (Monica Bellucci), now living with her two children in Istanbul.
A celebrity during the Shah's reign, Saleh, a Kurd, was falsely accused of writing anti-Islamic poems and thrown into jail with his wife, who was accused of having assisted his crimes. All this happened when their former driver, Akbar (Yilmaz Erdogan), who had fallen obsessively but hopelessly in love with Mina, became a leading figure of the Islamic Revolution and wasted no time wrecking his vengeance on the couple.
The film takes place mostly in the present. Saleh is given the address of his wife, who had been released from jail 20 years before him and left Iran after having been told that he had died in prison. He looks at her lodgings from a distance, wondering whether and how to approach her, with the plot constantly slipping in and out of flashbacks showing the cruel, sadistic, tortures both of them endured behind bars, and featuring splendidly photographed suggestive images which are often more eloquent than whatever the script can put across.
Indeed, one has to read this film mainly from the symbols strewn through it, many of them familiar from earlier Ghobadi films. The almighty nature represented by one enormous tree in the heart of the forest, spreading its branches in all directions; sea waves smashing against the rocks or solitary figures walking into the horizon on a bare, flat, salt lake. Then there are all the reminders of Ghobadi's earlier films: the turtles raining out of the sky (Turtles Can Fly), a horse putting his head into Saleh's car and looking at him dejectedly (A Time For Drunken Horses) or the cats in an Istanbul street (No One Knows About Persian Cats). All this underlines the sadness and despair of two lives destroyed by the whim of one person and the full support of the regime he serves. But far more than political, this is a very personal picture, a kind of tribute paid by Ghobadi to his departed friend.
Slow and often contemplative - after all Saleh spends much of the time just gazing at Mina's house - the film gains much of its force from its effective images, often filtered into colour patterns stressing the harshness or the desolation they are supposed to portray, and from the flights of Ghobadi's poetical fancy which endow it with a particular quality of its own.
Monica Bellucci, better known as a glamour icon, commendably downplays this aspect of her personality offering an introvert, minimalist, performance, while the striking faces of the two men opposite her convey everything that has to be said better than any dialogue could.
Production companies: Mijfilm, BKM Film
International Sales: Wild Bunch, www.wildbunch.biz
Producer: Bahman Ghobadi
Cinematography: Touraj Aslani
Editor: Valerie Loiseleux
Main cast: Behrouz Vossoughi, Monica Bellucci, Yilmaz Erdogan, Caner Cindoruk, Belcem Bilgin, Beren Saat