Dir: Tim Story. US. 2014. 99mins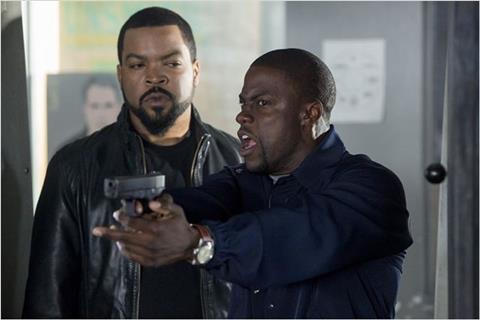 An inert buddy cop action comedy that induces more sighs than hilarity, Ride Along tries to wring laughs from an attempt to curry favor with a future in-law, but only manages to serve as a showcase for what 50 percent effort and even less imagination looks like. In a movie full of exasperating missteps given the talent involved, it's perhaps most frustrating that, even though its story is admittedly rather lazily built around the accepted public personas of its two stars (Ice Cube's glowering and Kevin Hart's voluble nattering), no one involved can figure out how to put an interesting twist on that formula or remain true to the characters they establish.
The whole thing tracks rather remarkably as an exercise in boilerplate narrative, almost like a computer-generated placeholder first draft. Missed is the chance for a comedic collision of competing notions of masculinity.
Hart has had growing success with his stand-up concerts, Feel My Pain and Let Me Explain, which grossed $7.7 and $32.2 million domestically in 2011 and 2013, respectively. And distributor Universal obviously feels somewhat confident about Ride Along's prospects, or least sees these characters as franchise-worthy; a sequel is already tentatively in development. But strong opening weekend competition (with Jack Ryan: Shadow Recruit, Devil's Due and The Nut Job all opening on more screens) and word-of-mouth considered tepid at best should justifiably doom this as a substantive launch for Hart's above-title movie career. International theatrical returns additionally seem dim.
Ride Along unfolds in Atlanta, where high school security guard Ben Barber (Hart) is ready to propose to his girlfriend, Angela Payton (Tika Sumpter). Ben figures the fact that he's recently been accepted into the police academy will placate Angela's gruff, hard-charging cop brother James (Ice Cube), who doesn't seem to respect him. James, however, assumes that he can break Ben's spirit by taking him out on a shift with him.
Their training day coincides with an ongoing investigation surrounding a mysterious criminal, Omar (Laurence Fishburne), who everyone takes great pains to mention has never been seen. As James ferries Ben around and exposes him to a series of perils both manufactured and real, he also keeps in touch with two of his colleagues (John Leguizamo, Bryan Callen), feeding them clues on the case that he and Ben manage to dig up.
The much-tinkered-on script — credited to four writers, and based on an original story by Greg Coolidge — represents all kinds of awkward, cobbled together nonsense. From the tired, connect-the-dots plot that James and Ben investigate ("I think there's a shipment coming in") to James' perpetually irked police lieutenant boss (Bruce McGill), who's given dialogue like, "I can only cover your ass so much!," Ride Along consistently lacks surprise or distinctive shading.
In fact, once it works its way past a few early, forthright references to Training Day and in-jokes at the expense of Ice Cube's musical career ("Today was a good day"), the whole thing tracks rather remarkably as an exercise in boilerplate narrative, almost like a computer-generated placeholder first draft. Missed is the chance for a comedic collision of competing notions of masculinity.
The lack of any other dimension of personality other than ill-tempered keeps James nominally rooted. But the story's nadir is reached when Ben — an avid first-person shooter fan whose knowledge of weapons from videogames comes in handy — shoots a man during an interrogation in order to gain information, and then experiences no pang of repulsion or regret to match how overwhelmed he is during other scenes with bursts of real-life violence.
Ride Along's penultimate showdown has to rank as one of the longest non-ironic conversations amongst armed, at-odds parties ever put to screen, and the entire movie then culminates in a scene in which a supposed super-criminal pauses during a fistfight to try to open a duffel bag and verify his stolen money.
It's this last bit that is most emblematic of the movie's maddening, dumbed-down visual construction. Director Tim Story and cinematographer Larry Blanford scarcely take advantage of the film's location shooting, apart from various establishing shots of Atlanta. Most of the movie exhibits an extraordinarily boxy and unimaginative framing. Notable amongst these scenes are poorly staged action sequences in a strip club and the obligatory abandoned factory which serves as the setting for a gun deal.
Hart, who has made a name for himself via forceful shows of personality in ensembles like Grudge Match and Think Like a Man (the latter also directed by Story), here tries on probably his most fleshed-out character to date, to not entirely convincing effect. There are two interesting scenes in which he gives a glimpse of a more thoughtful interpretation of Ben, but he clearly lacks a strong directorial checking and otherwise overrelies on his affected, motor-mouthed shtick.
Ice Cube, meanwhile, in delivering a scowling performance vacuumed free of any rascally charm, tries to position himself as the straight-man counterweight to Hart's caffeinated act, but the material is tired, and does him no favours.
Production companies: Cube Vision, Rainforest Films
US distribution: Universal Pictures
Producers: Ice Cube, Matt Alvarez, Larry Brezner, William Packer, Chris Bender, J.C. Spink
Executive producers: Ronald G. Muhammad, Nicolas Stern
Associate producer: Dianne Ashford
Screenplay: Greg Coolidge and Jason Mantzoukas and Phil Hay & Matt Manfredi, based on a story by Greg Coolidge
Cinematography: Larry Blanford
Editor: Craig Alpert
Production designer: Chris Cornwell
Music: Christopher Lennertz
Special effects supervisor: Michael Lantieri
Website: www.RideAlong.com
Main cast: Ice Cube, Kevin Hart, Tika Sumpter, John Leguizamo, Bryan Callen, Bruce McGill, Laurence Fishburne, Gary Owen, Jay Pharoah, David Banner, Dragos Bucur