A troupe of Charlie Chaplins went for a tramp on the London streets to shoot a short film.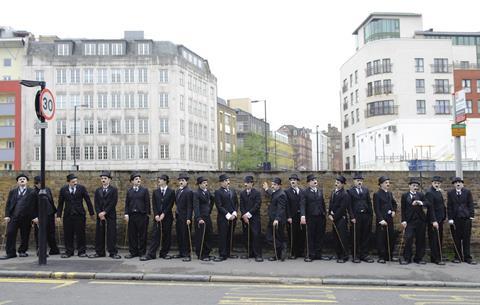 The short was made to launch Virgin Media Shorts 2011, the UK's biggest short film competition, which shows new UK film talent across four formats – at cinemas, on TV, on mobiles and online.The short film, aptly entitled Charlie, was shot by BAFTA nominee Luke Snellin, who won Virgin Media Shorts in 2009 with his film Mixtape. Charlie is released today on www.virginmediashorts.co.uk to encourage budding film makers to enter this year's competition.
The short film features a group of 'Charlies' performing a tribute to the icon against the backdrop of a series of famous London locations, selected in honour of Chaplin himself, who spent much of his early life in London.
Luke Snellin said: "We chose Charlie Chaplin as the subject for our short film as he is perhaps the world's most famous short film icon, as well as being one of the most creative and influential personalities of the silent film era. His abilities in directing, writing, acting and producing make him a real inspiration to budding film makers today."
Now in its fourth year, Virgin Media Shorts gives both established and emerging British film makers the opportunity to have their work showcased to millions of people across the country on four screens, including cinema screens nationwide, on Virgin Media's TV on demand platform, as well as on mobiles and online.
This year's hopeful entrants will be judged by an expert industry panel, including British actor John Hurt; British film director Paul Greengrass; critic and TV presenter James King; Cindy Rose, executive director of digital entertainment, Virgin Media; Chris Collins, senior production executive at the BFI's film fund, and Edinburgh Film Festival director James Mullighan.
Film makers wishing to take part should upload their films to www.virginmediashorts.co.uk for the chance to win a Grand Prize of up to £30,000 film funding, as well as mentoring opportunities. The deadline for entries is midday on July 7 2011 after which all entries will be reviewed and short-listed down to just twelve films, which will go on to be shown for a whole year on over 200 cinema screens nationwide across the Picture House network and independent cinemas from September, as well as on Virgin Media's TV on demand, on the website and on mobile phones.