Dir: Peter Ramsey. US. 2012. 97mins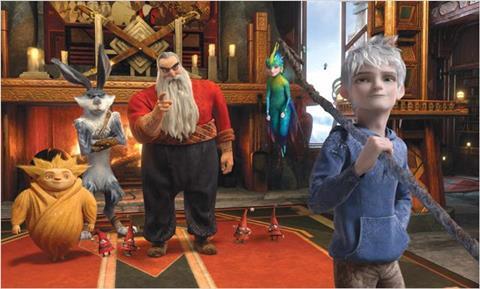 Hyperactive 3D animated adventure Rise Of The Guardians, based on William Joyce's The Guardians of Childhood book series, provides plenty of action and colour for younger kids but rarely builds up the sort of emotional momentum necessary to grab the rest of the family. While the wintry yet cozy feel and prominent Santa Claus character will be selling points over the Christmas holiday season, this DreamWorks Animation production seems unlikely to have the staying power of the studio's more engaging offerings.
There's a good deal of incidental comedy, though most of it is cute rather than really funny.
As the last release under DreamWorks' deal with Paramount, the film had its premiere at this week's Mill Valley festival in California and gets its first European airing at next month's Rome festival. The North American theatrical release comes on Nov 21, at the start of the long Thanksgiving holiday weekend, and openings in many international markets follow before the end of the month, giving the film a long run up to Christmas.
The Guardians of the sometimes confusing story are versions of characters from children's mythology: a Russian-accented Santa Claus (voiced by Alec Baldwin and known in the story as North), the humming bird-like Tooth Fairy (Isla Fisher), an Australian-accented Easter Bunny (Hugh Jackman) and the speechless Sandman.
When an evil spirit (voiced by Jude Law and variously referred to as the Boogeyman and Pitch) sets out to destroy children's faith in Santa et al, the Guardians call on Jack Frost (Chris Pine) to help them fight back. A sub plot has the winsomely handsome Jack fretting about his origins and purpose.
First time feature director Peter Ramsey (who previously made DreamWorks' Monsters vs Aliens TV spin-off) goes mostly for frenetic fantasy action - with heavy use of 3D - over the first hour, making the film feel like a mash-up of The Avengers and Harry Potter
There's a good deal of incidental comedy, though most of it is cute rather than really funny. Things only get emotionally involving at the story's very end, when the Guardians and Jack Frost join forces with a young boy who refuses to give up his childhood hopes.
Production company: DreamWorks Animation
Worldwide distribution: Paramount Pictures
Producers: Christina Steinberg, Nancy Bernstein
Executive producers: William Joyce, Guillermo del Toro, Michael Siegel
Screenplay: David Lindsay-Abaire
Music: Alexandre Desplat
Editor: Joyce Arrastia
Head of story: Hamish Grieve
Production designer: Patrick Mark Hanenberger
Website: www.riseoftheguardians.com/
Main cast (voices): Chris Pine, Alec Baldwin, Jude Law, Isla Fisher, Hugh Jackman