Dir/scr: Yu Irie. Japan. 2012. 110mins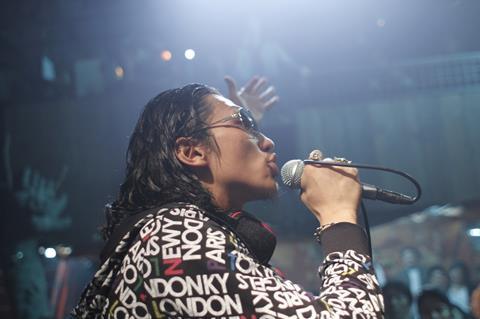 Japanese director Yu Irie continues to document the tragic-comic stories of suburban wannabes whose dream of gangster rap fame comes crashing down around them in Roadside Fugitive, the third installment in his 8,000 Miles series of films. His disenfranchised anti-heroes are regional rappers struggling with minimal talent and lack of opportunities, but the challenge facing them is if they can stay true to their musical passions.
The film favours raw drama over dark humour.
The film, which has its world premiere at the Indie Power section of the Hong Kong International Film Festival, is slickly made, favouring bright colours, raw dialogue and a hand-held camera style, and while a tough sell for overseas audiences who might see it as derivative and resolutely downbeat, Irie's films strike a chord with young audiences in Japan.
His first theatrical film 8,000 Miles won the grand prize at the 2009 Yubari International Fantastic Film Festival, and while he followed up with 8,000 Miles 2: Girl Rappers the following year it is with his latest film Roadside Fugitive that he follows-up directly with the characters from 8,000 Miles.
The first film dealt with three wannabe rappers from Saitama - the suburban area that is the link between Tokyo and the Kanto countryside - chunky Ikku (Ryusuke Komakine), skinny Tom (Shingo Mizusawa) and bedraggled Mighty (Eita Okuno), who together with three other local slackers form a rap act called Sho-Gung.
Roadside Fugitive opens with the final scenes from that film, as Mighty leaves Ikku and Tom (as well as his broccoli farmer mother) behind and decides to head off to Tokyo to make his fame and fortune. The story then skips two years to reveal that Mighty (sporting checked flared trousers and permanent sunglasses) is an errand boy for rap act Gokuakucho by night and a labourer by day.
After getting into a fight with the arrogant Gokuakucho guys after they refuse to give him a chance to perform, he heads to the regional town of Tochigi, where he slides into criminal activity. He is forced into helping set up a music festival that also attracts the interest of Ikku and Tom who still cling to their musical ambitions.
But Mighty has pretty much lost all hope, and after his girlfriend Kazumi is forced into prostitution, he spirals off into a string of violent acts as he tries to steal from his crime bosses, with the music event the place where the former friends are reunited (albeit briefly) in amidst bloody reprisals between Mighty, his bosses and the Gokuakucho rappers.
The film favours raw drama over dark humour - which is a shame as this oddball bunch could also be played for subtle laughs - but Irie Yu maintains a consistent tone and peoples his film with intriguing characters. Look out 8,000 Miles 4.

Production company: Amuse, SR3 Crew Pictures, Norainu Film
International sales: Pictures Dept., yuko.shiomaki@picturesdept.com
Producer: Yu Irie
Co-producers: Hitoshi Endo, Mizue Kunisane
Cinematography: Kuzuhiro Mimura
Editor: Yu Irie
Production designer: Kikuo Ohta
Music: Taisei Iwasaki
Main cast: Eita Okuno, Ryusuke Komakine, Shingo Mizusawa