Universal Pictures International's Robin Hood debuts top in the UK.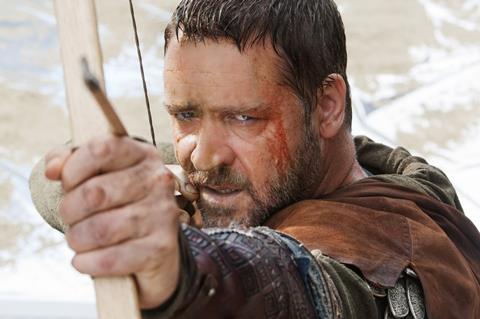 Ridley Scott's take on the classic British legend of Robin Hood went straight to the top of the UK chart for the May 14-16 weekend, with a healthy gross of $8.3m (£5.8m) from 537 screens for Universal Pictures International. Screen average was a very decent $15,400 a print. Robin Hood denied Paramount Pictures International's Iron Man 2 a third week at number one, with the comic book sequel dropping 50 points to a three-day total of $2.3m (£1.6m) from 491 screens.
Only two other new entries made it into the top twenty this week, with Artificial Eye's Vincere and Verve Pictures' American: The Bill Hicks Story, which placed 18th and 19th, respectively. Vincere, a France-Italy co-production which focuses on Ida Dalser, the mother of the only illegitimate child notorious womaniser Benito Mussolini ever acknowledged, took $38,900 (£26,300) from 12 screens, while American: The Bill Hicks Story, a documentary about the life of the cult comedian, grossed $34,200 (£23,700) from 13 screens.
Comedy Four Lions dropped just 18% in its second week holding onto sixth place, after generating $715,600 (£496,600) from 218 screens, bringing its total to date to $2.1m (£1.4m) for Optimum Releasing.