Dir: Jon Wright. UK. 2014. 88mins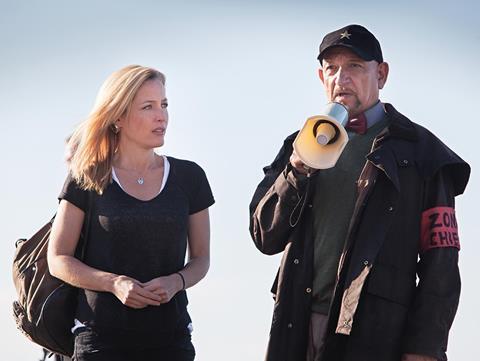 An ambitious British sci-fi adventure aimed fair-and-square at the family marketplace, the rather clumsily titled Robot Overlords is an engaging action romp that moves at a nice pace but eventually gets rather let down by effects efforts that are compromised by the film's low-budget origins. More in the vein of Doctor Who than Transformers, the casting of Gillian Anderson and Ben Kingsley helps give the film a marketing edge though expectations will have to be managed for the film to break out.
Robot Overlords is so keen to punch above its weight that at times its own ambition gets into the way of coming up with a solid story.
Robot Overlords, which had its world premiere at the London Film Festival, is engagingly old-fashioned in form and structure, and while the adult casting gives the film its marketing boost it is very much a film about youngsters taking control, and fits more into the bracket of Explorers or The Goonies than an adult-orientated sci-fi effort. Which is not a bad thing at all, because the performances here are all engaging, the script clever in places and the action nicely enthusiastic.
With the Earth in recovery mode after a war with robots and resistance all but over, humans – who are implanted with monitoring devices fitted into their necks - live a strictly policed life and are rarely allowed outside their homes under pain of death.
Sean Flynn (Australian actor Callan McAuliffe) lives with his former schoolteacher mother (Gillian Anderson) and three other youngsters they have taken in (Milo Parker, Ella Hunt and James Tarpey), but is determined to try and find out what happened to his pilot father (Steven Mackintosh). When the kids find out they can temporarily fuse their tracking devices through an electrical shock they head out into the night, dodging robot patrols and break into the building where local collaborator Smythe (Ben Kingsley) keep all of his files.
When Sean is captured and tortured in a brain-sucking device an explosion see the device malfunction and somehow handily allows him to have a psychic link with the robots and control them. The kids head off in search of Sean's dad and with the assistance of other rebels – including Tamar Hassan's engagingly rebellious Wayne (Hassan a regular in UK gangster and makes a nicely incongruous impact here) – find their way out of the city to an encampment untouched by those robot overlords.
Robot Overlords is so keen to punch above its weight that at times its own ambition gets into the way of coming up with a solid story. The climactic action scenes detract from some of the innocent sci-fi fun that has gone before, with the film at its best in the nighttime streets as the kids try and dodge the robots rather than out in the wilds where the effects get rather exposed. It also seems a little confused if it is family film or a teen adventure (some of language may challenge ratings for youngsters) though there are some nice gags, particularly when Sean mind-controls one of the giant robots and gets it to scratch its metallic groin.
Ben Kingsley gets to dust off his pantomime villain routine while Gillian Anderson has some fun with her brusque but caring mother/schoolteacher character. Callan McAuliffe is engaging as young hero Sean, though hints of a possible affection for fellow adventurer Alexandra (Ella Hunt) is left till too late in the story. The giant robots themselves are rather old-fashioned and unthreatening, but they do fit rather nicely into the retro tone of this ambitious new British film.
Production companies: Pinewood Studios, BFI, Northern Ireland Screen, Tempo Productions Ltd., Umbra Telegraph Pictures, British Film Company
International sales: Embankment Films, www.embankmentfilms.com
Producers: Piers Tempest, Ian Flooks, Justin Garak, Steve Milne
Executive producers: Steve Christian, Chris Clark, Ivan Dunleavy, Christian Eisenbeiss, Hugo Grumbar, Tim Haslam, Nic Hatch, Mark Huffam, Steve Norris
Screenplay: Mark Stay, Jon Wright
Cinematography: Fraser Taggart
Editor: Matt Platts-Mills
Production designer: Tom McCullagh
Music: Christian Henson
Main cast: Gillian Anderson, Ben Kinsgley, Callan McAuliffe,
Milo Parker, Ella Hunt, James Tarpey, Tamer Hassan, Geraldine Jones, Steven Mackintosh, Roy Hudd