New festival artistic director talks strengthening the programme, budget cuts and his desire to get Steven Spielberg to Rome.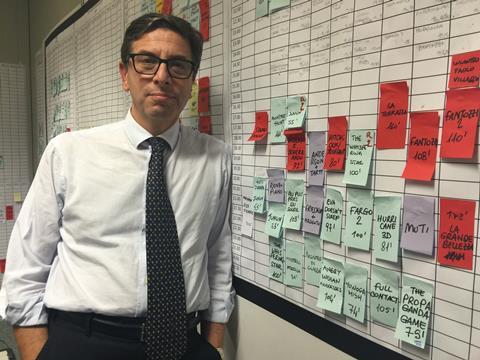 Antonio Monda is easing his way through his first year as Rome Film Festival's artistic director. While it's not been an easy start, taking over after a tempestuous few years, the New York based NYU film professor is certain things are looking up. Screen caught up with him halfway through this year's festival.
Festival goers are talking about an impressive programming line-up and overall buzz around this year's festival. How do you think it is going?
I am told this festival has had the best press since it started ten years ago. Screenings are selling out, particularly the Close Encounter talks. There's people lining up on the red carpet, hanging out at the cafes and listening to the live music. There's a positive energy.
The programming has been criticised in recent years for not being strong enough. What was your main goal for this year's line-up?
I came on board six months ago so I didn't have much time. I provided each of the programmer's with the briefest of guidelines: discontinuity with the past, and variety and quality. We had to be prepared to say a lot of no's, which wasn't easy. Next, we focused on films of different genres and nationalities. Lastly, I wanted to give importance to the Close Encounter talks. I wanted to have talent come on stage and talk about why they love cinema - whether it's the great conductor Riccardo Mutti discussing music and cinema, Wes Anderson and Donna Tartt talking about their favourite Italian films or Paolo Sorrentino revealing the films that have inspired his work.
The festival's budget has been cut this year. How has that affected your goals and ability to attract star talent?
Less money is the expression that I keep hearing, but I think it is an issue everywhere in the world right now. Of course money is important and I am not so naive that if I had more, I could have more talent on the red carpet, more guests for the Close Encounter talks. But it is about our ideas. I trust this.
In addition to programming changes, you have reformed the overall ideals of the festival, beginning with calling it a 'festa' or celebration. What was your thinking behind this?
This is how the festival was conceived ten years ago. While it may seem like semantic trickery, the fact remains that the Rome Film Festival is a true celebration of cinema. We have added new cinemas around the city. There is a bigger focus on retrospectives, from director Antonio Pietrangeli to Pablo Larrain to Pixar.
In terms of Rome's place on the calendar, is it too soon after Venice, and too close to the BFI London Film Festival? Does that make it difficult to secure world premieres?
In recent years, there has been a proliferation of film festivals that overlap. It is illogical, with the more established events being able to boast glorious tradition. You can find countless variations on the theme, and therefore I wanted to do something different by eliminating the competitions and juries, only keeping the audience award. It's all stuffy and conventional. I have never understood this criticism, and I am hoping this will diffuse judgement in a formal sense.
You have talked about working together with Clare Stewart, the director of the BFI London Film Festival, in securing titles and talent. How did that unfold?
On more than one occasion we had set our sights on the same titles so we decided to share our list of invitees, and alternate our premieres on different dates. I'm thanking Clare for her cooperation and far sightedness, and I hope we have given an example of a healthy curatorial relationship.
Did Rome's last artistic director Marco Mueller give any advice before you took over?
I have not spoken with him for many years. We didn't exchange emails but I am a professional and I respect his work. I sent him an invitation for the opening night but I believe he is in China.
You are an associate professor at NYU's Tisch School of the Arts, with a focus on Italian cinema and Hollywood auteurs. How have you managed to split your time between Rome and New York?
I was appointed in March and started working a week later. Between March and May I came to Rome a few times, and then when school ended mid May, I went to Cannes, LA and back to Rome. Once the festival ends, I have to return to New York. It is very fast, but I love both cities. New York is one of the most exciting cities in the world and Rome is my birth place - it will always be home to me.
Now that you are over halfway through the festival, do you have ideas for next year?
I want to do something more with Close Encounters. [Steven] Spielberg is top of the list. He is one of my favourite directors. After all, the section is called Close Encounters - it's a clear homage.
Antonio Monda is on a three-year contract with the festival.