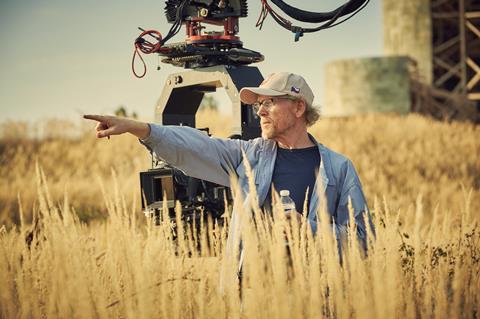 Oscar-winning director Ron Howard has an affinity for dramatising true-life historical figures and events like mathematician John Nash in A Beautiful Mind, which garnered Howard Oscars for best picture and best director, and Jim Lovell in Apollo 13.
Now the acclaimed director has turned his lens on a new class of renowned figures. He shot the pilot episode of Genius, National Geographic's first foray into scripted television that focused in its first episode on Albert Einstein, played by both Johnny Flynn and Geoffrey Rush. The show earned 10 Emmy nominations, including best limited series, best director of a limited series, movie or dramatic special, and best actor in a limited series or movie for Rush.
Fox 21 Studios produced the series and Howard and Brian Grazer served as executive producers through their Imagine Entertainment. The show filmed in the Czech Republic and centres on the professional and personal life of the legendary physicist.
Howard's documentary The Beatles: Eight Days A Week - The Touring Years earned five Emmy nods including one for outstanding documentary. Nigel Sinclair of White Horse Pictures produced with Scott Pascucci, Grazer and Ron Howard from Imagine and Hulu is the US broadcaster.
Howard tells Elbert Wyche how documentary film has been a new creative outlet in his career and why Genius was the perfect show for National Geographic.
How did The Beatles: Eight Days A Week come about?
I had done the movie Rush and Nigel Sinclair was involved in financing that production. He's not only a film producer; he does a lot of very elite rock 'n' roll documentaries. He told me he'd been talking to The Beatles about doing a project just about their touring years. He had done a couple of documentaries with Martin Scorsese and other movie directors. He said, 'They'll give you final cut, but they have to understand what your point of view is.' So, I gave them my approach.
How did you describe what you had in mind?
I view [The Beatles'] touring years as kind of an adventure story; as a coming-of-age gauntlet that they had to run. That's the way I wanted to explore it, almost as a survival story. I was so inspired by what I learned about the band and their integrity.
When did you begin doing work on the film?
My first conversations about it were probably two or three years ago. But, [the producers] had been talking about the documentary for about four years before that, collecting new fan footage. [The producers] had been working on it a really long time and were really ready to shape the story when I was invited to talk about it and to think about it. It wound up being a couple years of involvement where not a week went by where I didn't spend a chunk of time viewing footage, participating in an interview, reading a book, talking to the editorial team, and seeing cuts.
What do you get from documentaries that you don't get from your traditional narrative format, and was it a smooth transition going from a feature documentary to a TV show?
I approached Genius very much the way I would approach any movie. I was doing the first hour as a director, but I was also defining a look and an aesthetic and an approach to the entire series. I was doing a lot of research and giving all of the episodes a lot of thought even as I was preparing to direct the first episode. So that was very similar to making A Beautiful Mind, Rush or Apollo 13 or any of the other stories based on real events that I wanted to try to capture in a powerful, potent way.

It wasn't a big adjustment because documentaries – I've only made two and I'm getting ready to make one about [Luciano] Pavarotti – are like a fantastic outlet. They unfold in a completely different rhythm and exercise a different set of creative muscles, but they are related to what I've done all my life as a movie and television director and producer. What they provide is this incredibly stimulating, long-term project, because it takes years to make a documentary. I was working on the Beatles documentary while I was making Inferno, while I was directing Genius, and while I was finishing up In The Heart Of The Sea. That was a really welcome, creative distraction. I found that the documentaries are stimulating a lot of creative growth for me as a director when I go back to working with scripted material.
How so?
In telling a story and conveying ideas, but not being able to control the way the story is staged and shot and presented, you're looking at the way an audience can understand and grasp a subject through the medium of moving images. In some ways, those constraints actually stimulate your imagination in ways that you can then apply to scripted material where you do have control.
How did Genius first come to you?
The project came to me through a company called Odd Lot that had developed an hour episode and a bible with [show creator] Noah Pink. I had an opportunity to read the script, and I just really responded to it creatively. At Imagine Entertainment, television is a very important part of what we do. I've produced a lot of television, but I haven't directed any since my TV movie days in the 1970s. I'm just a huge fan of what I'm seeing done within the medium. I'd wanted to find a project that I could really sink my teeth into. When I read this script I saw that they wanted to make a 10-hour version of Walter Isaacson's book. I knew I wanted to direct at least the first episode, and I certainly wanted to executive produce the series. National Geographic boldly committed and it was incredibly exciting. Ken Biller came in as the showrunner.
Was National Geographic on board from the beginning?
Yes. It was very interesting because NatGeo wanted this to be their first scripted series. So, that was an honour and certainly a bit daunting and I felt the responsibility of that. I talked to Courteney Monroe, the CEO, and she spoke about the National Geographic brand and what it stood for over the decades, so I began thinking about the magazine. She talked about the magazine and I felt that Genius was the perfect project because, like a great piece in National Geographic, you are immersed in factual and visual storytelling. It's always visually stimulating and compelling. I needed to translate that to not only the hour I was directing, but also the 10 hours that the series was going to be. Walter Isaacson's book provided a great framework, but with Noah, Ken and the rest of the staff, they really delivered the screenplays.
Where are you now in the process of the Luciano Pavarotti documentary?
We are very early in the process. I'm directing a scripted movie here in London, but we're gathering footage now, and we've done a couple of our early interviews and are getting ready to shoot several more interviews. We have the same team that did Eight Days A Week: our editor Paul Crowder, writer Mark Monroe, and Nigel Sinclair the producer. We are really just developing a point of view around Pavarotti's life and gathering more and more information. In autumn we're going to start spending time in the editing room and begin putting the building blocks together. I like [opera] when I hear it, but I'm not an aficionado; I'm not knowledgeable. So, it's going to be another great learning experience for me. I hope to share what I learn in a compelling way.