American distributor Richard Abramowitz (Abramorama) and film festival and publicity strategist Kathleen McInnis (See-Through Films) led a 'do's and don'ts' discussion at the 45th IFFR on both the traditional and alternative requirements in marketing an independent film.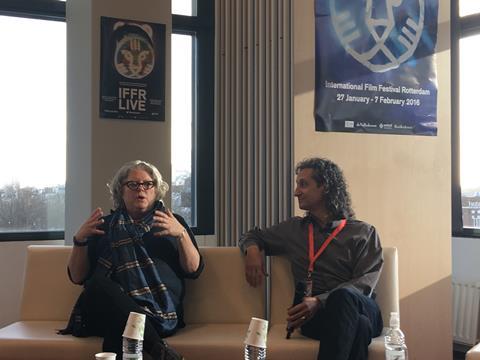 Do think about your film's marketing strategy from 'conception'
Comparing films to "giving birth", McInnis said filmmakers should think about their marketing strategy before they even "conceive".
"You have to look forward - you can't start thinking about your audience when your film is already finished and on the festival circuit. It's just like having a child - this "baby" is going to be with you for years."
Abramowitz - whose distribution roster includes an array of music docs such as Anvil, Green Day's Heart Like a Hand Grenade and Laurie Anderson's Heart of a Dog, screening at IFFR - also reiterated the importance of a long-term strategy.
"Most creatives don't want to think of their art as a commodity, but in order to target the right end users, you must know who your audience is from the beginning.
"You don't want to spend all your time and money on a beautiful film, and then 'get screwed' at the end."
Do know your core audience
Referring to a film's fan-base as 'tribal', Abramowitz suggested creating an extensive database of your key contacts and potential fans.
"This will prove inevitably helpful as you work on more films. Whether it's fan clubs, active local communities, cinema groups - find those key groups that are going to tell their friends to go an see your film.
McInnis, who programmes Toronto International Film Festival's Short Cuts section, suggested coming up with a 150 word film summary, and further breaking it down to find your targeted audience members.
Don't make your audience too broad
Abramowitz gave reference to a dart board, citing the main centre target as your core audience, and the outside boxes as added bonus.
"Once you know your specific audience, it will make your life a lot easier when deciding on marketing materials, where you want to screen your film and what festivals you want to premiere your film."
He gave an anecdote of one director who said his film was for everyone, which Abramowitz replied, "then your film is for no-one".
McInnis added, "Your greatest strength as a visual storyteller is to understand what you have. You want an audience who understands what you are trying to do, and who can help you tap into more audiences."
Do save money for marketing
"Just like you would hire an editor, a cinematographer, a composer - you must also save enough funding for the marketing of your film," said McInnis.
"We are less expensive than you think, and we can help you stay focused on your end goal," she added, citing examples such as getting accepted into a major film festival within a competition slot, or creating a strong social media campaign or securing key press and trade reviews.
Do start your marketing campaign from pre-production
"If you take baby steps from the beginning, you will have a strong audience built up by the time your film is completed and you are ready to hit the festival circuit," advised McInnis.
Her suggestions including getting a unit publicist on set for several days to organise a photographer and unit stills, as well as early on-set interviews for both printed production notes and video materials.
Beginning an online campaign is also crucial, she warned.
"Start a web-site and follow it up with social media. Whether it's Facebook, Twitter or other platforms - I guarantee you can target a large portion of your audience with social media. Don't be afraid of it," she insisted, reminding that people of all ages are using social media, especially older audiences.
"You have to start posting in baby bites all the time so that when you have the 20k hits - you have added value. By establishing an online name for yourself, you then also have the opportunity to take these fans with you on your next film's journey."
Kickstarter and Crowd Sourcing campaigns were also mentioned as community-building options.
Don't just stick to standard distribution models
Recognised for his alternative distribution campaigns including the recent community-driven call to arms doc This Changes Everything, Abramowitz suggested getting active in the distribution process.
"You don't have to rely on a distributor to give your film a typical cinema release. You can build your database and do it yourself via companies like Tugg and Gather.
"Whether it's one cinema screening or hundreds of screenings, you can organise a community-led distribution campaign yourself and hold on to a lot more creative control and profitability."
Abramowitz also reminded that theatres are happy to service such screenings early to mid-week when their theatres are often empty.
The panel was moderated by Romanian producer Alex Traila (Late Season).