Venice award-winner kicks off second edition of the international live cinema event in Rotterdam.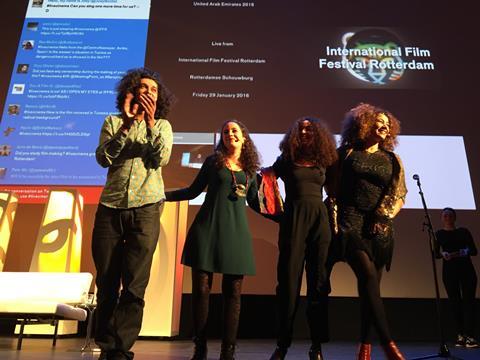 Leyla Bouzid's Venice Film Festival winner (BNL Audience Award and Best European Film) As I Open My Eyes kicked off the second year of IFFR Live on Friday night (Jan 29)
Centred around a rebellious young female rock star amidst Tunisia's post revolution stagnation, Bouzid - along with lead actresses Maya Medhaffer and Ghalia Benali, and composer Khyam Allami - were on hand for the live Q&A.
The event was simultaneously broadcast to more than 45 different cities, from Berlin to Caracas, Venezuela's largest city, and was organised in partnership with sales companies Fortissimo Films, TrustNordisk, Doc & Film International, Les Films du Losange and Bob Film Sweden AB.
Global spectators also streamed the film and event from their homes via KPN Interactive TV in the Netherlands or online through Spain's VoD platform Filmin and in other territories through a cooperation with Festival Scope.
"I'm hoping this will be a much more sustainable model and I am reaching out to other festivals, saying 'How about we do this together?'," said IFFR's artistic director Bero Beyer.
Live discussion
Led by moderator Marten Rabarts (who heads up EYE International, responsible for promoting Dutch film) and a projected Twitter feed that scrolled in quick succession with questions from audiences around the world, Bouzid discussed the highlights and challenges in making her directorial debut.
"Everyone believed in this film - because it's not just my first film, but most of everybody else's - the cast, the DOP, the sound mixer, the composer," said Bouzid.
She also commented on being a female director in Tunisia.
"In Tunisia, there is a beautiful heritage of women directors, but not for young female directors. Plus I am little - everyone thought I was there to make coffees," she joked.
Alma reverberated about Tunisia's evolving music scene, that he coined as "becoming more radical", particularly the country's increasingly more popular hip hop scene; while Benali, who is known for her work as an Arabic singer/ songwriter based in Brussels, talked about her departure from the music world.
"When Leyla first approached me, I said 'I don't want to make cinema, I am a singer.' But she is very convincing."
The musician claimed the final push was finding out that the name of the lead actress was Maya [Medhaffer], the same first name of her daughter. And after reading the script, she saw that the character's name of Maya's boyfriend was Montassar [Ayari], the first name of her own son.
"It was a sign, I had to do it," said Benali.
Live Performance
The enthused crowd was treated to a live performance by Benali, which included a song she wrote about the Tunisian's joint movement on January 14, 2011, and subsequent separation that finds the country once again divided.
Bouzid, Medhaffer and Allami joined her on stage for an encore, resulting in an enthusiastic audience standing and clapping hands.
What's Next
The programme concludes Sunday (Jan 31) with a total of five films screening - including Mads Matthiesen's The Model, Antoine Cuypers' Prejudice, Paula Ortiz's La Novia and Jonas Selberg Augustsén's The Garbage Helicopter, which will involve an extended car trip from the film to the streets of Rotterdam on Sunday.