Down the road from IFFR's bustling cinema hub de Doelen lies a partially disused office building whose 11th and 12th floors are housing four installation pieces, each representing one of the four strands in the festival's 45th year.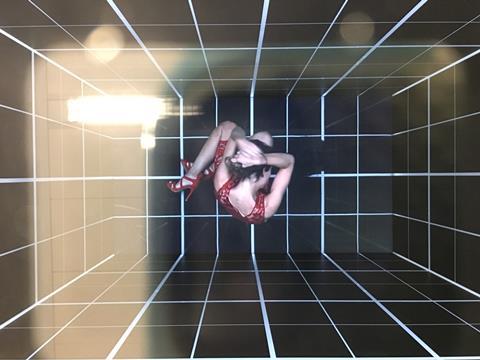 Via an unmarked door in the back of the office block, visitors ascend up a rickety elevator, and are transplanted into four different worlds: a hospital, a Thai temple, a set of futurist peepshow boxes and a marine landscape.
The installation is new this year, marking the start of an exhibition space that will operate throughout the year.
"We want to focus on different ways of telling stories," said IFFR's newly appointed artistic director Bero Beyer. "If there is another way of expressing alternative cinema within other media formats - let's make it sure we give it the attention it deserves. It's in the filmmakers' DNA, whichever way a story is told."
Spaces Within
News from the Near Future by Fiona Tan

Tan's feature film debut History's Future is nominated for a Hivos Tiger Award 2016. She is also a visual artist, whose work has been included in the Tate Modern, the Stedelijk Museum and Centre Pompidou.
As the title suggests, her installation News from the Near shares a common theme with her nominated film in which viewers are treated to a projection of a sea of images, as well as a sound installation that brings Brendan's Isle to life through headphones.
ISOS by Kris Verdonck

Artist A Two Dogs Company / Kris Verdonck has taken J.G. Ballard's apocalyptic science fiction novels as the starting point for this hyper-real video installation. The film adaptation of Ballard's High-Rise (directed by Ben Wheatley) will be shown in Genre DNA.
Nine large white boxes fill the space, each with viewing holes at the top. When looking down into the boxes, 3D characters are seen and heard in unusual, sometimes shocking situations.
Dedications by Peter Liechti

Dedications is an installation of four separate screens showing individual images with sound, combined with found footage material and previously unused material, that takes the viewer along in Liechti's stream of consciousness. It is dedicated to the late Swiss visual artist Peter Liechti, whose hallucinogenic The Sound of Insects - Record of a Mummy had its premiere at IFFR in 2009.
Fireworks (Archives) by Apichatpong Weerasethakul

Apichatpong Weerasethakul is one of the few Thai filmmakers that operates outside of the strict Thai studio system. His films and installations often revolve around the topic of memory, and deal with personal, political, and social issues. This was the case with his winner of the Golden Palm Uncle Boonmee Who Can Recall His Past Lives, but also in this installation in which his cinematic fever dreams cause spectacular fireworks.
Spaces Within is open through February 6, 11:00-18:00.