After an intensive three-and-a-half year pre-production period, writer-director Elisabeth Subrin brings her feature debut A Woman, A Part to the 45th International Film Festival Rotterdam, where it will receive its world premiere in the Hivos Tiger Awards Competition.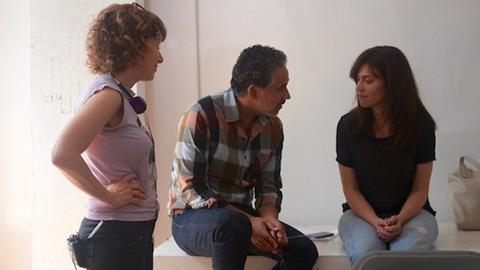 Starring Maggie Siff (Mad Men), Cara Seymour, John Ortiz and Khandi Alexander, the micro-budget film - funded partly by Kickstarter - tells the story of a forty-something actress who begins to question her role in life.
The Brooklyn-based visual artist - whose work has been featured in Philadelphia's ICA, The Museum of Modern Art, The Vienna Viennale and The New York Film Festival - admits some may think of this as a "champagne problem".
But she also challenges the notion that this matter is fundamental into understanding "why we are on this planet".
Why did you feel the need to tell this particular story at this particular time?
Most people can relate to needing a change in their 40s. Suddenly you are middle-aged and you wonder, 'Am I being a person or am I acting as a person? What does it mean when you don't know how to do anything else?' You could say these are more existential questions. But I think these issues are more common than we think. In particular, I wanted to talk about the film industry, the sexism and how women are represented.
When it came to securing financing for this film, several financiers laughed saying the last thing people would be interested in was a story about a middle-aged actress who leaves Los Angeles to return to New York's theatre world in a crisis of faith. Myself and my producers [Scott Macaulay and Shrihari Sathe] thought - unless it's a little movie called Birdman - it [A Woman, A Part] is the same story without the bigger budget, pyrotechnics and bravado.
Your blog Who Cares About Actresses has been garnering a lot of attention. How does your role as a feminist play into this?
I have always made feminist films - and I knew I would be marginalised, but much less so than I thought. The blog started a year-and-a-half ago as a small side project [focusing on female film-makers and actresses who take action]. It turns out it's been ahead of the curve - suddenly actresses are having to take a stand on this issue - just look at Patricia Arquette, Emma Watson, Viola Davis.
It's profoundly political to talk about - but unfortunately the representations of women are coming from these fictional characters seen mostly on billboards and in movies and television. As long as those representations continue for commercial perception, then we perpetuate an incredibly reductive representation of half of the population.
What was your process in writing this script?
My producer [Scott Macaulay] and I were trying to get a film off the ground back in 2003. It was titled Up, and was about a bipolar photo archivist in the dot com era. Then the stock market crashed and there was a writer's strike, and the project fell apart. I was devastated. I had halted my art career to learn to write a screenplay, and take acting and directing classes (at the Sundance Institute Lab). Scott simply said, 'You have to write a script with a lower budget'.
During this time I developed auto-immune disease, similar to Maggie Siff's character [in A Woman, A Part]. That knocked me out for a few years. But then I went to an artists' residency and slept half the time while the other half of the time started developing this project. And since I teach full time (in Temple University's Department of Film and Media Arts), it took me over three years to write. I can't write during an academic semester so every time I had a break I would lock myself up. It was a very gruelling few years.
How did you get Maggie Siff on board to play the lead actress?
That is actually a really interesting story. I kept saying 'no' to all these lists of actresses. Then a friend asked who the Jewish department store head in Mad Men was. We looked it up and it was Maggie [Siff]. We were both like - 'Who is Maggie Siff?'.
Within that same time period, I went to Los Angeles to do a test shoot for a few of the initial shots from the film. While at a yoga class, I heard someone say 'Maggie Siff'. And there she was - I thought, 'I have ten minutes to save myself months of negotiation'. I went up to her and told her I had been researching her for this film - I think she thought I was a stalker. But we went for coffee after, and two hours later we were talking schedules.
But the film's production did not go according to plan?
We were going to shoot in August [of 2015] but Maggie's television pilot [Billions] got picked up by Showtime so they owned her from July 4. We thought we could either recast or just go for it. I knew it would be insane and we'd have to literally borrow money from the production and raise all kinds of money really fast. By some miracle we did it. The money was raised by a mix of micro-investors (between $5k and $50k investment sums), in addition to grants and loans. The kickstarter was the final push for both post production and getting us out here [to Rotterdam for the premiere].
For Billions, Maggie had to move from Los Angeles to New York. So very quickly we shot the first three days in Los Angeles at the end of May and then we went to New York and shot for the whole month of June. We literally finished right before she had to start [shooting Billions]. It was insane - we were literally still casting just before we wrapped, and there would be days when we didn't have locations set. We were sleeping four hours a night - but I won't forget one of my students telling me that he had never seen me happier.
Do you try and maintain mainly female crews?
I slowed down production because I didn't want all men in post production. But it's hard because when you are in a rush it's based around recommendations, and there are more men than women in post production. But I think we did a good job at hiring females - from the editor, the production designer, costume designer, line producer, the whole art department and a lot of the camera department including the key grip and production supervisor.
It should also be mentioned we had a lot of diversity on set. I am very proud of that - people kept tweeting they have never seen such a diverse crew.
What's next?
First, I hope sales agents and distributors can think outside the box. I would love a theatrical release because I strongly believe these performances are incredible, and then I would like it to be bought for a respected amount of money for the likes of Netflix or Amazon. I know there is an audience for this - there are not many films that show forty-somethings with vibrant, active and creative lives.
Finally, I hope I can resurrect the film Up again, this time with a more moderate budget. I would also be open to a director-for-hire on a fascinating biopic - something like Meryl Streep playing Hilary Clinton.
A Woman, A Part has its world premiere tonight (Jan 31) in Rotterdam at 7.45pm, Pathe 4.
Elisabeth Subrin, along with producers Scott Macaulay and Shrihari Sathe, will also be on a panel on this afternoon (Jan 31) from 2pm-3.30pm in the Film-makers Hub discussing micro budget independent film-making.