Dir: Valentin Hotea. Romania-Hungary. 2013. 98mins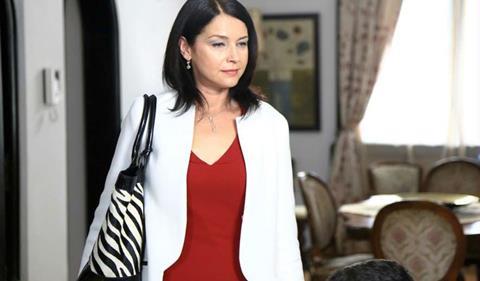 Typical of projects cherished by European funds for their righteous intentions, Valentin Hotea's debut film about a man who belatedly discovers he might be the father of a 20 year-old and tries to decide what to do about it, may look extremely ambitious on paper but is unforgivingly bland on screen.
The screenplay takes all the wrong turns and unfolds not only in a predictable but also uninteresting manner.
Beyond the paternity case, the script attempts to also deal with the changes that have taken place in Romania since the demise of Ceausescu's regime and the wounds still left, also the miseries of old age that spare no one and passion for vindictiveness which should be laid aside forever. But the distinct lack of enthusiasm displayed by everyone involved in the film, be it actors, director or the technical crew, suggest the best they can expect for all their efforts is a modest TV career.
When he gets to read the file that was kept on him by the Securitate (Ceausescu's Secret Service), Tavi Ionescu (Serban Pavlu) finds out that his one-time girlfriend Roxana (Diana Dumbrava) might have had a child with him, but never told him about it. He also discovers that an unknown person, identified only as "The Captain", was the informant who snitched on him for writing to Radio Free Europe.
Though 20 years had gone by since (the film takes place in 2009) and he has had no contact with Roxana during this time, he is intrigued and confused by the news, and contacts Roxana's husband, Sandu (Mihai Calin) a successful physician and later Roxana herself, to ascertain that he is indeed the father of their eldest son, Victor (Anghel Damian).
At the same time, he expects to find out who is the treacherous "The Captain" who was responsible for his troubles with the Securitate. Also, he has to find a solution for his ailing mother (Valeria Seciu), diagnosed with dementia and try to keep alive the relationship with his present girlfriend, Oana (Corina Moise).
Theoretically, it's all there. The transitions that changed the face of Romania's middle class, the immaturity of a character who can't make up his mind on anything and more often than not settles for the wrong decisions, the past that keeps haunting the present, all of it solid enough material for a script that ultimately does not materialise.
First, because the screenplay takes all the wrong turns and unfolds not only in a predictable but also uninteresting manner; Hotea's direction is bland and pedestrian, the lighting flat and dull, the editing lacks any sense of drama and the acting is uniformly expressionless with the possible exception of veteran Valeria Seciu, moving in the role of the hero's mother. For the rest, it feels like this was the first reading of the text before it went before the cameras.
Production company: Hi Film
International Sales: Films Boutique, www.filmsboutique.com
Producers: Ada Solomon, Smaranda Sterian
Screenplay: Valentin Hotea, Ileana Muntean
Cinematography: Alex Sterian
Editor: Eugen Kelemen
Production designer: Malina Ionescu
Main cast: Serban Pavlu, Diana Dumbrava, Mihai Calin, Valeria Seciu, Adrian Vancica, Corina Moise, Anghel Damian