Ray Cooney originally optioned his stage play to Fox and Columbia before deciding to take matters into his own hands. He is currently shooting in London.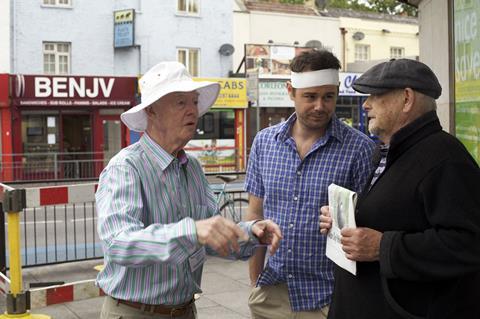 Synopsis: A South London taxi driver's bigamy finally catches up with him over a hectic 24 hour period as he tries to dodge the police and stop his two wives meeting.
Director: Ray Cooney
Writer: Ray Cooney has written the screenplay based on his own stage play of the same name which ran in the West End, Paris and New York.
Producers: James Simpson and Graham Fowler (who is also director of photography) are producing with Allo Allo actress Vicki Michelle executive producing.
Financiers: Cooney has put up much of the financing, along with private investors
Budget: under £1m
Cast: Danny Dyer, Neil Morrissey, Denise Van Outen and Sarah Harding play the leads. The film features 160 cameos including Derek Fowlds (pictured), Rolf Harris, Lionel Blair, Cliff Richard, Bernard Cribbins, Richard Briers, Maureen Lipman and June Whitfield
Countries of Production: UK
Shoot locations: Wimbledon Studios in London and on location in South London and around some key London landmarks
Shoot dates: Shooting until September 3
Distribution: plans for self distribution
Release date: spring 2012
On how the film came about:
Ray Cooney: I originally optioned the rights to Fox. It was so exciting because I had all these Americans saying 'Oh my god Ray, this is the funniest goddam play, we've got to make it.' One of the screenplays was pretty good but wrong in places and then that option lapsed and then Columbia picked it up, but those scripts weren't quite right either..
Cut to 25 years later and I was directing [Allo Allo actress] Vicky Michelle in a play, which [her husband] Graham Fowler had filmed. We all went out for dinner and Graham said, 'Why have you never made a movie of Run For You Wife?' I told him the story and he said go and write the screenplay. And so I did.
On the 160 cameos:
Ray Cooney: I got in touch with 160 old chums, starting off with Leslie Phillips, and they all said yes. So I've got 160 chums doing walk ons. One of them, Brian Peck, I was a boy actor with. And many of them have been in the stage play.
On the film's humour and catering for an older audience:
Vicky Michelle: It's old school humour, but that's what makes me laugh out loud. People get to a certain age and get relegated. Older people would go to the cinema if they were actually catered for. They want to go. There is a whole generation being ignored in terms of cinema and TV. I think there has to be a shift.
James Simpson: It is clean fun humour with high energy. It's old fashioned, but my 15-year-old daughter said 'Dad, this is really funny.' She would tell me pretty quickly if it wasn't.
On the budget and financing:
James Simpson: "I read the script and we discussed the concept. It felt to me instantly that it should be less than a million. It might be hard to pull something together at that level, but I know we are delivering way beyond that in screen value. This is mid priced in the current market.

On the distribution strategy:
James Simpson: Because we have funded it ourselves, there is no need to talk to distributors yet. We are looking into a form of self distribution. Normally you have to spend a lot of money getting it out there, but the first day we filmed, we were on the BBC news because we had Cliff Richard and Rolf Harris busking outside the Shaftesbury Theatre singing "Maybe it's because I'm a Londoner."