Dir/scr: Dimitris Bavellas. Greece. 2013. 80mins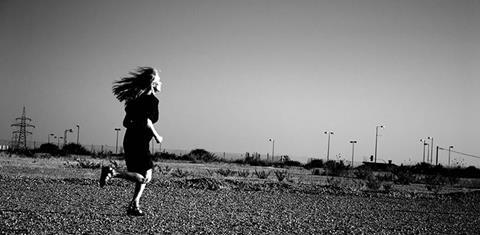 An imaginary portrait of Athens being abandoned by all its inhabitants, Dimitris Balvellas' first feature film is evidently intended to sound the alarm on the unbearable economic and human conditions prevailing in Greece today. But this repetitive, plotless, black-and-white, walking frenzy will leave an audience bewildered. If they are still around for the final sequence, wondering why the points that were perfectly clear after the first ten minutes have to be re-enforced and repeated so many times in such an unimaginative fashion.
There is a hint of return to nature that is never exploited.
Bavellas' idea is that the despairing Athenians, fed up with their incapacity to pay the bills piling up in their office, disgusted with the emptiness of their existence, and lacking any prospects for the future, simply drop everything and leave their lives behind them, going towards something that is unclear and indefinite but must be better than what they have to go through today.
This is undoubtedly a 'moving' picture, for everyone in it is moving more or less energetically towards nowhere, accompanied by an insouciant musical soundtrack that should contrast with the gravity of the situation. The film had its premiere at the Sarajevo Film Festival.
It starts with one unemployed citizen named Loukas (Makis Papadimitriou) who leaves his mother still asleep in her bed and walks out of his home while the next is Maria (Maria Skoula), middle class, married and mother of two, bored stiff with her existence, who quits on her husband, takes her car and drives away, then steps out of the car and continues her journey on foot.
An hysterical TV announcer (Christos Stergioglou) announces that a runaway epidemic has descended upon the Greek capital, a debt collector, Josef (Costas Staridas) who chases Loukas turns out to be unemployed as well. No one has any money, they all run away and soon everyone is on the road, including those who were left behind, like Loukas' mother (Yvonni Maltezou), Maria's husband, Dimitris (Errikos Litsis) and even the man on TV, all of them joining the crowd that is not really seeking anything, but rather escaping from something.
With little variations, this goes on for the entire film, no real connection is made between the various characters to bring them together beyond their marching orders, while a touch of soccer here and of rock music there suggests these may be the last avatars recognised by this spontaneous exodus.
There is a hint of return to nature that is never exploited, and there is another hint about an imaginary and impossible economic miracle shrinking all debts to small change, but by the time the film reaches its inconclusive ending - for evidently there is nothing better for the characters to do than run away, never mind where to - exhaustion would have settled with the viewers.
No doubt reflecting Greek despondency at the present time which seems to offer the bankrupt nothing better than a future on the road, Bavellas' message may be relevant, but it would probably be more comfortable and displayed for better advantage as an installation than it is as a movie.
Production companies: Vox Productions, Sklavia Film Lab, Online Recording Masters
Contact: Petra Spanou (spanoupa@yahoo.de)
Producers: Gina Petropoulou, Sotirisd Mitsios, Aggelos Argyroulis, Dimitris Bavellas
Cinematography: Yannis Fotou
Editor: Dimitris Tollos
Production designer: Dimitra Panagiotopoulou
Music: The Mongrelettes, The Smoking Barrels
Cast: Maria Skoula, Makis Papadimitriou, Eva Vogli, Errikos Litsis, Yvonni Maltezou,Christos Stergioglou, Constantinos Staridas, Yannis Papadopoulou