Dir: Lasse Halstrom. UK. 2011. 112mins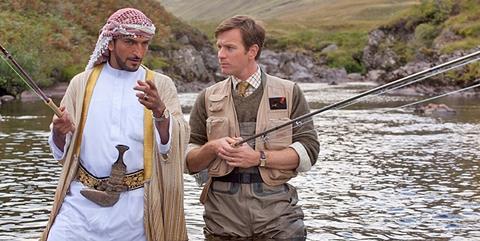 A preposterous pipe dream nourishes an unlikely romance in Salmon Fishing In The Yemen, a handsome, undemanding adaptation of the bestselling Paul Torday novel. The combination of broad comedy and syrupy romance may be more of an audience pleaser than a critical favourite but stars Emily Blunt and Ewan McGregor display a pleasing chemistry that lends some charm to an uneven piece.
Halstrom doesn't shy away from shameless sentimentality or predictable contrivance.
Veteran director Lasse Halstrom has a strong track record with soft-centred tearjerkers (Chocolat, Dear John etc) and the combination of the source material and the cast should help place Salmon Fishing as a solid, middlebrow attraction.
Torday's novel was notable for its flippant satire of British politics, blithe spin doctors, cant and hypocrisy. Those qualities are still evident in Simon Beaufoy's screen adaptation but sit uneasily with the sentimental odd couple love story.
Kristin Scott Thomas delivers a scene-stealing supporting performance as the British Prime Minister's press spokesperson Bridget Maxwell. Grown men quake at the sound of her approach as she crushes egos, turns the air blue and spits out punchlines with delicious aplomb. Clad in a headscarf and puffing on a cigarette as she arranges a press call, she is reminiscent of Joanna Lumley's Patsy from Absolutely Fabulous. Her every appearance gives the film a shot in the arm but it feels as if her character belongs in a different film, perhaps In The Loop.
Desperate for some good news in the Middle East, it is Maxwell who enthusiastically embraces a proposal to introduce salmon into the waterways of Yemen as a means of encourage fishing, building local alliances and flying the flag for Anglo-Yemeni relations. Stuffy fisheries expert Dr Fred Jones (Ewan McGregor) thinks the crackpot scheme is a joke. The persuasive entreaties of Harriet Chetwode-Talbot (Emily Blunt) and the offer of £50 million from an idealistic sheikh (Amr Waked) change his mind.
Soon, he has outlined plans for the construction of a dam and the import of 10,000 salmon to the waterways. As the impossible dream starts to become a reality, Fred and Harriet are thrown together, two individuals united by a sense of loneliness. Her boyfriend has been reported as missing in action. His wife has abandoned their stale marriage for a job in Geneva.
One of the problems for Salmon Fishing is the casting of Ewan McGregor as pompous, cardigan-wearing Scottish academic Fred. McGregor appears to be channeling the accent and mannerisms of his actor uncle Denis (Local Hero) Lawson and carries too much baggage to convince as such a dry stick.
Fred even wears pyjamas during joyless sex that must be something of a first for McGregor. His performance initially comes off as mannered and arch, only becoming convincing when Fred sheds some of his straight-laced stuffiness to reveal the shy romantic charmer concealed beneath the sensible knitwear.
Emily Blunt has an easier time as Harriet; a smart, capable woman who appears to have spent her life being underrated at work and in relationships. She is funny, sweetly vulnerable and very endearing with her growing affection for Fred matching the way the viewer warms to the character.
The second half of a longwinded film feels more settled as Harriet and Fred fall in love and some predictable, perfunctory obstacles are placed in the way of their true happiness. Halstrom doesn't shy away from shameless sentimentality or predictable contrivance and frequently overeggs the comedic elements with split screen sequences and cartoonish on-screen email exchanges to punch things up. Cinematographer Terry Stacey's images of rugged British countryside and the Yemeni desert add to the film's overall appeal.




Production Companies: BBC Films, Lionsgate UK, UK Film Council
International sales: Lionsgate International, www.lionsgatefilms.com/intl
Producer: Paul Webster
Executive producer:s Jamie Laurenson, Guy Avshalom, Stephen Garrett, Paula Jalfon, Zygi Kamasa
Screenplay: Simon Beaufoy based on the novel by Paul Torday
Cinematography: Terry Stacey
Production designer: Michael Carlin
Editor: Lisa Gunning
Music: Dario Marianelli
Main cast: Ewan McGregor, Emily Blunt, Kristin Scott Thomas, Amr Waked