Dirs/scr: Olivier Nakache, Eric Toledano. France. 2014. 115mins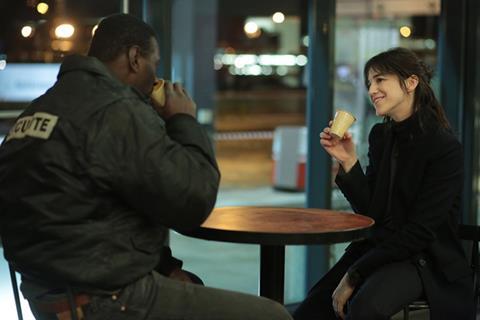 There are a lot of smiles and good-natured fun and compassion in Olivier Nakache and Eric Toledano's Samba, their follow-up to the 2011 box office and critical success Intouchables (which took some $425 million internationally), but somehow the magic never quite completely hits the sweet spot this time round as they deliver a well-meaning and occasionally joyous film that is ultimately too scattershot in its format and tone to really work.
The film looks great and is punctuated with some delightful moments but audiences expecting a similar experience to Intouchables may be slightly disappointed.
With the charismatic Omar Sy once again their star, this time appearing alongside Charlotte Gainsbourg, the story of a charming illegal alien worker trying every which way he can to stay in France and falling for his neurotic case worker has some nice ingredients but they try and pack just too much into the rather freewheeling structure when they should have just focused on the central relationship. But there is still a lot to enjoy in Samba – especially from some of the support casting – and Gaumont (which also sold internationally) should see a healthy response when the film opens in France in mid-October.
Samba (Sy) has lived in France for year and works in the kitchen of a classy Paris hotel - there is a lovely opening scene that sees the camera track from a glossy period-looking party into the kitchen where he is washing dishes - but after being offered a better position he makes the mistake of talking to immigration officials and suddenly finds himself in a detention centre at Charles de Gaule airport and under threat of being deported.
There he meets Alice (Gainsbourg) who, after suffering from a nervous breakdown, is trying to get her life together by volunteering to help in a free immigration services scheme, and is being trained by matter-of-fact co-counselor Manu (Izia Higelin). Alice takes a shine to Samba right from the start, and makes the rookie error – according to Manu – of giving him her personal telephone number. The awful trials and tribulations of those seeking asylum and/or stuck in detention centres is nicely portrayed, while as a contrast those well-meaning types trying to help are largely portrayed as middle-class white-women.
The core of the film is the will-they-won't-they relationship between Samba and Alice, and while there is nice chemistry between Sy and Gainsbourg somehow their protracted coming-together never completely convinces.
The script (adapted from Delphine Coulin's novel) layers in lots of sub-plots and set-piece scenes that hamper the course of true love. There is a whole strand about Samba's friendship with fellow alien Wilson (Tahar Rahim) that could be a film by itself; a section about Samba trying to find the girlfriend of man he meets in the detention centre that leads to a bit of forced drama towards the end of the film, plus the relationship between Samba and his aged uncle, with whom he lives.
It all means that the film veers between romance, comedy (there is a lovely scene as Rahim replicates the 'high-rise office window cleaner dancing for office woman Diet Coke TV advert' to great effect) and drama (a rather forced fight and chase near the end of the film). It all simply dilutes the drama of the story of illegal immigrants fighting a harsh system to try and stay in the country and also hampers that rather sweet romance that brews between Samba and Alice.
While Sy's Samba is a rather delightful character, poor Charlotte Gainsbourg is lumbered with a role lacking real personality and despite her natural charm it is a rather plodding character that would have benefited from some humour and a greater sense of who Alice actually is. The film looks great and is punctuated with some delightful moments but audiences expecting a similar experience to Intouchables may be slightly disappointed.
Production companies: Quad Films, Ten Films, Gaumont

International sales: Gaumont, www.gaumont.fr
Producers: Yann Zenou, Laurent Zeitoun, Nicolas Duval-Adassovsky
Screenplay: Olivier Nakache, Eric Toledano, based on the book Samba pour la France by Delphine Coulin
 

Cinematography: Stephanie Fontaine

Editors: Dorian Rigal-Ansous
 

Production designer: Nicolas de Boiscuille

Music: Ludovico Einaudi
Main cast: Omar Sy, Charlotte Gainsbourg, Tahar Rahim, Izia Higelin, Isaka Sawadogo, Youngar Fall, Liya Kebede