The Untamed, from Cannes best director award winner, among 13 titles.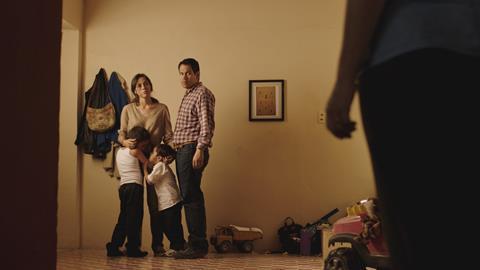 The 64rd San Sebastian Film Festival (Sept 16-24) has revealed the 13 titles in its Horizontes Latinos programme, comprising some of the best Latin American films of the year to date.
Films selected may have competed or premiered at international festivals, but will have not yet been screened at a Spanish festival or had their commercial release in Spain.
The selected films compete for the Horizontes Award, decided by a specific jury and coming with €35,000, of which €10,000 will go to the director of the winning film, and the remaining €25,000 to its distributor in Spain.
The titles include The Untamed, from Amat Escalante, who won the Best Director Award in Cannes for Heli in 2013. The film, which will premiere in competition at this year's Venice, centres on a young couple living in the Mexican lowlands whose lives are changed when a meteorite crashes into an nearby mountain.
Horizontes Latinos
Synopses provided by festival
Alba
Ana Cristina Barragán (Ecu-Mex-Gre)
Eleven year old Alba has to go and live with her father Igor when her mother falls ill. Igor is a lonely man who shut himself away in a small house after separating from the family. Their life together is almost unbearable for Alba; her father reminds her of everything she doesn't like about herself.
Much Ado About Nothing (Aquí No Ha Pasado Nada)
Alejandro Fernández Almendras (Chile-US-Fra)
Vicente is a young, reckless loner who returns to his parents' beach house after a year studying in LA. One night of downing shots and chasing girls changes his life forever when Vicente becomes the prime suspect in a hit-and-run accident resulting in the death of a local fisherman. Vicente was wasted. His memories are a blur. Yes, he was in the car, but he swears he wasn't driving. And what's worse, the guy he remembers being behind the wheel is the son of a powerful politician.
El Amparo
Rober Calzadilla (Ven-Col)
On the border of Venezuela with Colombia, during the late 80's, two men survive an armed assault in the channels of the Arauca River, in which fourteen of their companions we murdered in the act. The Army accuses them of being guerrilla fighters and tries via intimidation to seize them from the cell where they are being watched over by the local police officer and by the village population, who are desperate to prevent them from being taken away. They say they are simple fishermen, but pressure to yield to the official version is overwhelming.
The Blind Christ (El Cristo Ciego)
Christopher Murray (Chile-Fra)
Michael (30) is a mechanic who claims to have experienced a divine revelation in the desert. But far from believing him, the locals treat him like the village madman. One afternoon he learns that a childhood friend has had an accident in a distant town. Michael decides to leave everything he has to set out on a barefoot pilgrimage and cure him with a miracle. His walk begins to attract the attention of people exploited by the mining companies and drug addicts, who see him as a Christ capable of alleviating the harsh reality of the Chilean desert.
The Tenth Man (El Rey Del Once)
Daniel Burman (Arg)
Ariel thought he had left his past behind after building a new and successful life for himself as an economist in New York. Summoned by his father, whose mission in life is to manage a Judish aid foundation in the Once district, he returns to Buenos Aires. There he meets Eva, a mute and intriguing woman who works at the foundation. The visit coincides with the Jewish Purim festival, an occasion for celebration which provides the undertone of a comedy of errors, meetings and reflection on how we can't always leave our past behind.
Era O Hotel Cambridge
Eliane Caffé (Bra-Fra-Spa)
Refugees recently arrived in Brazil who, together with homeless migrants, occupy an old abandoned building in downtown São Paulo. Daily dramas, comical situations and different views on the world commingle with the threat of impending eviction.
The Idea Of A Lake (La Idea De Un Lago)
Milagros Mumenthaler (Arg-Swi-Qat)
Inés, a professional photographer, is determined to finish her latest book before the birth of her son. Memory, souvenirs and this photographic work bring us back, time and again, to a same place: the family home in Southern Argentina. This is a space that marked her life and forged her personality over the years. The only photograph she has with her father was taken there when Inés was barely two years old. A few months after the picture was taken he would disappear, a victim of the military dictatorship.
The Long Night Of Francisco Sanctis (La Larga Noche De Francisco Sanctis)
Francisco Márquez, Andrea Testa (Arg)
Buenos Aires, 1977. Francisco, an office clerk who leads an eventless life with his wife and two children, receives information from an old friend about the upcoming kidnapping of two people by the soldiers of the dictatorship. Now he must decide whether or not to risk his life to safe those of two people he has never met.
The Untamed (La Región Salvaje)
Amat Escalante (Mex-Den-Fra-Ger-Nor-Swi)
Young mother Alejandra is a working housewife, raising two boys with her husband Angel in a small city. Her brother Fabien works as a nurse in a local hospital. Their provincial lives are upset with the arrival of the mysterious Veronica. Sex and love can be fragile in certain regions where strong family values, hypocrisy, homophobia and male chauvinism exist. Veronica convinces them that in the nearby woods, inside an isolated cabin, dwells something not of this world that could be the answer to all of their problems.
Rara
Pepa San Martin (Chile-Arg)
Since their parents split up, Sara and her younger sister live with their mother, whose new partner is a woman. Everyday life for the four of them is very similar to that of other families. But not everyone sees it that way. Her father in particular has his doubts.
Santa & Andres (Santa Y Andrés)
Carlos Lechuga (Cuba-Fra-Col)
Cuba, 1983. Santa, a lonely country girl, is sent to keep an eye on Andrés, a gay writer in whom the Revolution has little "confidence". Gradually these two people, apparently so very different from one another, realise that the things that bring them together are more important than those that separate them.
Dark Skull (Viejo Calavera)
Kiro Russo (Bol-Qat)
Elder Mamani's father has died, but he doesn't seem to care. He still hogs the limelight at karaoke, in the streets, and gets into trouble. But no one wants to look after him any more, leaving him no other option but to replace his father down the bloody mine.
X Quinientos
Juan Andrés Arango (Can-Col-Mex)
Coming to Montreal from Manila to live with her grandmother, Maria struggles to adapt to the new environment. Alex, a young Afro-Colombian boy, is deported from the USA to Colombia only to find that his former district is now run by criminals. David leaves his town when his father dies to seek a better future in Mexico City. X Quinientos follows the lives of these three teens in different American cities as they make their way along the same path of pain, migration and transformation.