Dir-scr: Boo Junfeng. Singapore. 2010. 90mins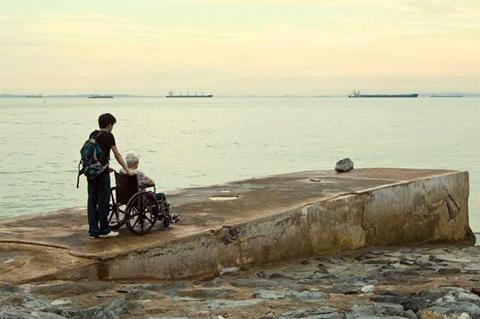 Sandcastle marks a quietly assured debut feature from writer/director Boo Junfeng. The blending of guilty family secrets and the ghosts of Singapore's recent past create an involving narrative that is related with tenderhearted understatement.

A film of considerable charm and delicacy.
The measured pace and modest nature of the piece will largely limit the film's potential to further festival screenings, especially in events that focus on new and emerging talents to watch. Arthouse prospects are thin but may exist in markets that have shown a welcome for films by Edward Yang or Hou Hsiao Hsien.
Based in part on autobiographical elements, the film's focus is on Xiang En (Joshua Tan), a diffident 18 year-old who lives with his widowed mother. When the family home is being renovated, he chooses to spend two weeks with his grandparents.
There is a palpable sense of their lives drawing to a close as the grandfather visits potential nursing homes, unaware of how much longer he will be able to cope with the grandmother's Alzheimer's.
The grandfather's memories of En's father's role in the student protest movement of the 1950s and '60s is the spark that prompts En to tentatively start unraveling the complexities of his late father's life and the sacrifices made by his mother (Elena Chia).
Boo Junfeng's approach is to immerse the viewer in the daily details and banalities of family life. There is a shot of dentures in a glass, scrapbooks of old black and white photos, simmering tensions between son and mother that come to the boil as he starts to assert his independence.
They are the kind of moments common to any family history and are used to underline the abiding sense of affection that unites the generations as they move in different ways towards a form of truth and reconciliation.
Sandcastle does test the patience at times but the reward is a film of considerable charm and delicacy that is crassly nudged towards sentimentality by an overly insistent musical score from Darren Ng.
Newcomer Joshua Tan-a bassist from the Singapore band The Fire Tree-makes a confident debut as En, underplaying effectively to convey the basic decency and compassion of his character. Elena Chia has a more difficult task as his mother, a woman who has spent years living with the consequences of actions neither she nor the state have been prepared to acknowledge. She invests the character with a steely resolution that makes her both vulnerable and unexpectedly admirable.
Production compan:y Zhao Wei Films
International sales: Fortissimo Films, 31 2 06 27 32 15
Producers: Gary Goh, Frank Borgia
Cinematography: Sharon Loh
Production Designer: James Page
Editor: Natalie Soh
Music: Darren Ng
Main cast: Joshua Tan, Elena Chia, Bobbi Chen, NG Jing Jing, Samuel Chong