Mike Downey warns the film-making community of imminent sentence for Oleg Sentsov at Sarajevo Film Festival awards ceremony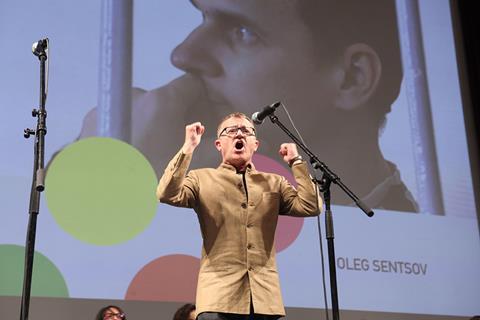 At the Sarajevo Film Festival awards ceremony last night (Aug 22), UK producer and EFA deputy chairman Mike Downey warned the film-making community of the latest development in the trial of Ukrainian director Oleg Sentsov.
Russian state prosecutor Oleg Tkachenko has called for Sentsov to be sentenced to 23 years imprisonment in a high-security penal colony, despite the retraction of key witness testimony on July 31.
During SFF's awards ceremony, Downey took to the stage and read a statement about the imminent sentence for Sentsov, accused with plotting terrorist acts in Crimea.
"Oleg Sentsov, arrested after the annexation of Crimea and subsequent protests, and imprisoned without trial in Lefortovo prison in Moscow, was severely tortured before being charged with terrorism offences he and his lawyers say are imaginary," Downey read.
"This week at the summing up of his trial the defiant Ukrainian film director told a Russian military court he was ready to "suffer or die" for his beliefs, as prosecutors demanded a 23-year jail sentence his so-called crimes.
"Sentsov told the court that he was beaten, tortured and threatened with rape or murder in the days after his arrest in May 2014, to force him to confess to a terrorist plot and implicate others. He refused. Other key defence witness recanted their fabricated testimonies in court and confessed that they had been coerced into bearing false witness against Oleg.
"Despite this – on Tuesday he will be sentenced and will more than likely face a 23-year sentence in a Russian prison."
Suffer or die
Downey then read Sentsov's final word from the Rostov court on last Wednesday: "Treason and betrayal can sometimes start with simple cowardice. Cowardice is, as the Russian author Mikhail Bulgakov told us in The Master and Margarita, 'the greatest sin.' And I agree with him.
"Cowardice – is the biggest, the worst sin on Earth. And betrayal – because it is such a particular form of cowardice. A great betrayal begins sometimes with a little cowardice.
"When they put a bag on your head, beat you up a bit, and half an hour later, you're ready to go back on all your beliefs, implicate yourself in whatever they ask, implicate others, just to stop them beating you. I don't know what your beliefs can possibly be worth if you are not ready to suffer or die for them.
"I am not going to beg for leniency. Everything is already clear. The court of an occupying force by definition cannot be just. Let Russia learn to not be afraid!"
Downey continued: "We thank the Sarajevo Film Festival for its defence of Oleg's human rights and for vigorously joining in with the European Film Academy's campaign to have Oleg freed."
The judge in the Sentsov case will deliver his ruling on August 25.