Elle Driver, Wide Management and European film funds on what brings them back to the Sarajevo Film Festival's development and financing platform.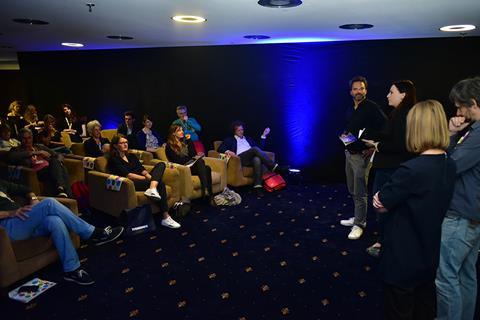 The Sarajevo Film Festival has launched the 13th edition of CineLink (Aug 19-22), a development and financing platform that provides the backbone of its industry section, featuring around 25 projects suited for co-production.
The selection - split between a co-production market and work in progress event - has traditionally focused on Southeast Europe but has opened up in recent years to projects from the Caucasus region, while this year will see two projects from Doha and one from Russia.
"From the very beginning, the Sarajevo Film Festival always aimed to be relevant for the film industry," says Jovan Marjanović, head of industry at SFF.
And it is, thanks especially to the CineLink Industry Days, which essentially drew the map of the regional film industry – and placed Sarajevo squarely in its centre. As it continues to hone its territorial scope and international import, the overall opinion among industry professionals is that the market's true trends are consistency and quality.
Co-MD of Elle Driver, Eva Diederix, says her company is a fixed presence at CineLink, the only co-production market for Eastern and Southern Europe, because it is an "important opportunity to get updated on all that's new in the region."
To her, the most interesting projects in this year's Works in Progress section are Godless by Ralitza Petrova and The Fixer by Adrian Sitaru (Hooked).
Another prominent project, in the CineLink Co-Production Market, is A Ballad by acclaimed Bosnian director Aida Begić (Snow, Children of Sarajevo). Begic has 30 meetings lined up in Sarajevo but knows that there are still hurdles to overcome in finding potential co-producers.
"I don't have to explain every detail of what I make and who I am, but at my third film I also no longer have access to the various first and second film funds." CineLink, to her, is a necessary step in the financing stage.
For sales agent Nawid Saram, of Wide Management, "the team organizing the industry events is great and they know how to choose projects that fit: independent films with strong artistic elements.
"We know the projects we see here in the production and pre-production phase will have a [distribution] carrier, even if not a commercial carrier."
Wide Management currently has two films screening at SFF that were picked up at CineLink: Bulgarian-Greek co-production The Lesson (playing in the In Focus section) by Petar Valchanov and Kristina Grozeva; and Competition title Panama by Serbia's Pavle Vučković, which world premiered in Cannes' Special Screenings sidebar.
To Saram, one CineLink trend lies with the region's young directors, who he feels can be more dynamic and modern than their Western European counterparts, "who don't always present in such interesting ways the impact of social media on young people. Panama is a great example of one that does."
CineLink growth
Eva Hubert of the Hamburg-based film fund FFHSH (Filmförderung Hamburg Schleswig-Holstein) – which spends 15-30% of its budget on international co-productions – adds: "In the first years, there were 25 projects in CineLink, but now the number has reduced, which has made the market even more concentrated and the quality even higher."
Manfred Schmidt, CEO of Germany's MDM film fund (Mitteldeutsche Medienförderung), which extensively co-finances Eastern European films, echoes Hubert: "It's so concentrated you can really meet whomever you want, in pitches, meetings…and later over a glass of wine."
Schmidt feels that trends are less important than the quality of projects at CineLink. "There's no way to say what projects are right, because it always depends on the individual quality of a story and how it is told. These are all arthouse films, which will never have big box office success, but the stories are strong so for us it just makes sense to be here."
Selection
In terms of the selection criteria, Marjanović says: "Projects are chosen on our taste, on a hunch and on a personal knowledge of directors' and producers' work. We stand behind our choices and it is clear to the industry that the selection is curated. It is also a logical prequel and sequel, if you will, to the festival's film programmes."
Marjanović sees a tendency, albeit not a popular one, "in lower budget films across the board and, more importantly, in more regional co-productions with the neighbouring countries."
He is excited about what he sees as "a new maturity in the region. Before co-productions were mostly made with Western Europe. But one prominent example is Dalibor Matanić's The High Sun," a Croatian-Serbian-Slovenian co-production and winner of the Jury Prize in this year's Un Certain Regard, now in Competition at Sarajevo. "They had confident producers and confident film funds behind them and it was greenlit quickly in the development phase – this was not the norm before."
Sarajevo Film Fund
Hubert applauds CineLink's organizers for doing everything "smartly, they are really always thinking about how to improve. They don't just rest on their laurels."
This is because, Marjanović explains: "We like to think several years in advance. Last year we launched the City of Sarajevo Film Fund, to further diversity co-productions beyond geographical Europe."
In fact, India and Mexico were among the first territories with which the Film Fund struck co-production agreements in 2014.
Marjanović says this is reflected in the imminent EU Convention on International Co-productions but specifies that "legal frameworks are not the only thing that's necessary, you also need financial frameworks."
East Meets West
To this end, Italy's Alessandro Gropplero – head of When East Meets West, the co-production market of the Trieste Film Festival, as well as head of international relations of the Friuli Venezia Giulia Audiovisual Fund – has been traveling the world.
A prominent figure at CineLink since 2009, Gropplero says: "As a fund we're positioned in a border region that shares the history, culture and traditions of Eastern Europe.
"And with [When East Meets West] we reach beyond typically co-production friendly countries, like Germany and France, because we feel it's interesting to open windows on other lesser-known industries and create new, interesting co-production combinations, like between Hungary and Ireland."
Last year's Focus in Trieste was North America, while this year Gropplero travelled throughout South America to meet with and eventually bring to Trieste potential partners from Spanish-speaking countries, all in the name of boosting the regional film industry.
Gropplero also feels that CineLink has been fundamental in creating what he hopes in the future "will be a more varied international co-production panorama".