Nine projects unveiled on top of six previously announced projects.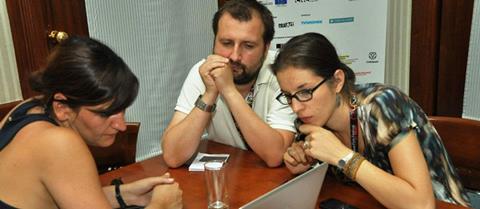 Sarajevo Film Festival's co-production market CineLink, which will run Aug 18-20, has unveiled its selection.
Nine projects have been added to the previously announced six, with additional guest projects to be announced in coming weeks.
The selection targets projects from established regional names, which are in advanced stage of development and financing.
CineLink offers awards funds totalling more than $180,000 (€160,000) in cash and services and boosts a impressive track record with previous projects going on to major international recognition such as Oscar and Cannes winner Son Of Saul (2015), Berlinale winner Harmony Lessons (2013) and Venice winner White Shadow (2013).
Cinelink Co-Production Market 2016
God Exists, Her Name Is Petrunija (Macedonia)
Director: Teona S Mitevska
Scriptwriters: Elma Tataragić, Teona S Mitevska
Producer: Labina Mitevska
Production Company: Sisters And Brother Mitevski
God Exists, Her Name Is Petrunija is the fourth feature by Macedonian director Teona S. Mitevska. Her previous film The Woman Who Brushed Off Her Tears was in Sarajevo's competition in 2012, and in 2007 she won the Special Jury Prize for I Am From Titov Veles. The project recently took part at the Paris Co-production Village.
Illyricvm (Croatia)
Director: Simon Bogojević Narath
Producers: Ira Cecić, Ankica Jurić Tilić
Production Company: Kinorama
Illyricum is the first feature film by Croatia's Simon Bogojević Narath whose animated shorts Leviathan and Morana were awarded at Clermont-Ferrand and Annecy, respectively. It is being produced by Ankica Jurić Tilić, whose The High Sun by Dalibor Matanić won Cannes' Un Certain Regard Jury Prize in 2015.
Religija Noćnih Šetnji (Serbia)
Director: Nikola Ležaić
Producer: Jelena Mitrović, Nikola Ležaić
Production Company: Baš Čelik, Pr Qče
Religija Noćnih Setnji (lit. Religion Of Night Walks) is the new project by Serbian writer-director Nikola Ležaić, whose Tilva Rosh won the Heart of Sarajevo award for Best Film and Best Actor (for Marko Todorović) and was in Locarno's Filmmakers of the Present competition in 2010. The project recently received funding of €405,239 from Film Centre Serbia, and is being co-produced by Circles producer Jelena Mitrović of Baš Čelik.
Samo Zatvori Oči (Croatia)
Director: Jure Pavlović
Producers: Luka Venturin, Bonaj Kanjera
Production Company: Sekvenca
Samo Zatvori Oči (lit Just Close Your Eyes), also comes from a Croatian director with a short film pedigree, Jure Pavlović. His Picnic won the European Short Film at the 2015 EFAs.
Dustcatcher (Bulgaria, Germany, France)
Director: Pavel Vesnakov
Producers: Sebastian Weyland, Monica Balcheva, Knut Jäger, Hélène Cases
Production Company: Moviemento Ltd. Heimathafen Film & Media Gmbh
Dustcatcher is the first feature film by Bulgaria's Pavel Vesnakov, whose short Pride won at Sarajevo in 2013 and Clermont-Ferrand in 2014. France's Movimento and Germany's Heimathafen Film are aboard for the co-production.
Milf (Austria)
Director: Dinko Draganović, Siniša Vidović
Producers: Markus Fischer
Production Company: Fischerfilm
MILF is the first fiction feature film by Bosnian-born Dinko Draganović and Croatian-born Siniša Vidović, both living and making films in Austria. Vidović's Korida was in Sarajevo's documentary competition last year.
Mare (Croatia, Switzerland)
Director: Andrea Štaka
Producers: Andrea Štaka
Production Company: Okofilm Productions
Mare comes from another Sarajevo and Locarno alumni, the Swiss director of Croatian descent Andrea Štaka. In 2006 the writer-director won the Heart of Sarajevo for Best Film with Das Fraulein, as well as four awards at Locarno, including the Golden Leopard. Two years ago she was again in competition at both festivals with Cure: The Life of Another.
Daisi Or Red Sunset (Georgia)
Director: Dea Kulumbegshvili
Producers: Rati Oneli, Jim Stark
Production Company: Ofa
Daisy Or Red Sunset comes from Georgian director Dea Kulumbegshvili, whose short Invisible Spaces was in competition at Cannes and Sarajevo.
My Name Is Damian (Slovenia)
Director: Maja Weiss
Producer: Danijel Hočevar
Production Company: Vertigo
My Name Is Damian is the second fiction feature by Slovenia's Maja Weiss, whose documentary Where Has The Working Class Gone? was in Sarajevo competition in 2011. The project is being produced by Daniel Hočevar of Vertigo, who worked on the multi-awarded Circles, An Episode In The Life Of An Iron Picker, and A Call Girl, among others.
Butterflies (Turkey)
Director: Tolga Karacelik
Producer: Cem Doruk
Production Company: Karacelik Films
Ela And Hilmi (Turkey)
Director: Ziya Demirel
Producer: Anna Maria Aslanoglu
Production Company: Istos Film
The Heroes Were Dancing (Serbia)
Director: Nikola Ljuca
Producer: Nataša Damnjanović
Production Company: Dart Film
Looking For Venera (Kosovo)
Director: Norika Sefa
Porducer: Belina Jano
Production Company: Animated Society
Memories From The Future (Greece)
Director: Konstantinos Antonopoulos
Producer: Fani Skartouli
Production Company: Kipoi (The Gardens)
Otto The Barbarian (Romania)
Director: Ruxandra Maria Ghitescu
Producer: Iuliana Tarnovetchi
Production Company: Alienfilm