The first session of the 2015 Sarajevo Film Festival's Regional Forum saw panellists and audiences divided over trends in local cinema exhibition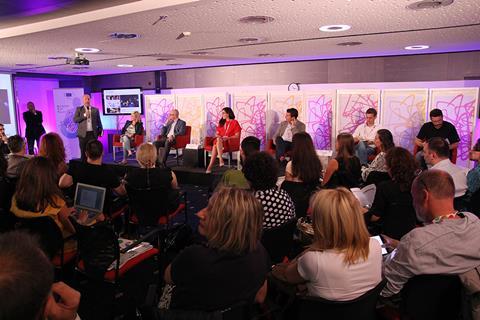 The first panel of the Sarajevo Film Festival's Regional Forum, organised for the first time as a European Film Forum under the auspices of the European Commission – which held two such events this year (at the Berlinale and in Cannes) – and entitled "Cinema exhibition sector: opportunities and challenges in Southeast Europe," took place on August 20.
Moderated by independent exhibition expert Tina Hajon, the speakers were Giovanni Dolci, VP of development at IMAX; Claudia Droc, Project Coordinator MEDIA & Young Audiences, Europa Cinemas; Cineplexx CFO and Managing Director Christof Papousek; Jan Runge, CEO of UNIC (International Union of Cinemas); and Hrvoje Laurenta, president of the newly formed Croatian Independent Cinemas Network.
Dag Asbjornsen of the European Commission introduced the event, briefly reminding everyone that, "in the last year or so, almost all the countries in this region have joined Creative Europe MEDIA. Macedonia joined recently so all that's missing now is Serbia and the entire family will have joined."
Runge – whose UNIC represents exhibitors across 36 European countries (though Bosnia and Herzegovina is not yet a member) – then spoke on rising admissions figures and film revenues in numerous countries, in both the East and West, and gave a breakdown of global box office percentages: 28% in Europe, 46% in the Asia Pacific region and 26% in the US. "Europe together has overtaken the US as a market," he pointed out. "So it's important for us to pool our resources and speak with one voice – and we can make a big difference."
The conversation, however, veered away from UNIC data on regional upticks in admissions, screen density or screen digitization, and towards how to use said resources to draw regional audiences to local and European films. The strategies, Droc said, must combine both content and activities (event cinema), which is being achieved by multiplexes, even if many in the industry see them as antithetical to the solution.
And while their growth has plateaued in Western Europe, multiplexes are on the rise in Eastern Europe, in growing economies that are fertile ground for new audiences and high-tech cinema structures.
Droc presented the Europa Cinemas report "How to Improve Access to Cinemas in Countries Where they are Poorly Represented?", conducted in Bulgaria and Romania. Since the early 2000s, cities in both countries with over 100,000 inhabitants have been increasingly multiplexing, multiplexes represent the vast majority of cinemas in both countries – and US films comprise the vast majority of what is playing on their screens.
"Romania is a paradox regarding national productions," she admitted, "given all the acclaimed directors: 47 films were produced in 2014 yet less than 2.4% were on screens. Nevertheless, we want to bet on multiplexes because they can and should be stepping-stones for European films and they represent a certainty for exhibitors. Over 60% of admissions to The Great Beauty and Nymphomaniac in European countries came from multiplexes. And some multiplexes, like in Austria, show real commitment to European films."
Droc was referring to the Austrian-based Cineplexx chain which, Papousek said, had to start differentiating itself after 11 multiplexes were built in Vienna from 1999 to 2003: "Vienna was over-screened, so we positioned one of our sites to a different way of programming and it now has half a million admissions yearly, and more than 40% of films and shows are European national and non-national films. This is a strong sign that European films can work in a multiplex."
He does admit, though, that Eastern Europe is a different ballgame: "We see big potential in Serbia, but you have to be very careful because you can't just go on statistics of under-screened areas. You always have to analyse practically the catchment areas and people's purchasing power." Yet he is convinced that there is room in the region for another 10 multiplexes, "but not 10-screen cinemas, rather five-to-six-screen cineplexes."
Zagreb, for example, is slightly over-screened, so "European art movies are the right way to give position to a cinema. Opera screenings are also very popular, and ballet [performance screenings] right before Christmas with the children."
However, Laurenta – who also runs the Kino Europa in Zagreb (Croatia's largest independent cinema) – is sceptical as to the extent of the role of multiplexes. "On the first day of the first Motovun Film Festival [in 1999], the only films programmed in Croatian cinemas were American, there was not a single Croatian film. This has changed a little over the years." Thanks in no small part to cinemas such as his: Kino Europa, for example, accounted for 25% of the overall box office for Nymphomaniac in Croatia.
Laurenta stressed that independent cinemas, which today have become "small cultural centres," also create film events, meant to furthermore educate audiences (such as Q&As with filmmakers for adults and children, screenings for the deaf and blind, screenings in hospitals) and thinks that "Europa Cinemas, UNIC and the European Commission should boost independent cinemas even more. But I'd be happy if we [multiplexes and independent cinemas alike] could raise awareness of European cinema together."
Dolci sees it as a practical issue: "If you bring more people to a multiplex showing American films, you're doing something good for admissions in the territory." IMAX, for one, has had "great experiences in Southeast Europe." They have opened a theatre in Zagreb, two in both Bulgaria and Romania, one in Hungary and there are more in the pipeline, he promises.
He thinks IMAX's presence is important, to offset the still-prevalent idea "that developing countries don't really deserve investment in top-level structures." And even though the price of an IMAX ticket in Croatia is 40-60% higher than average ticket prices, people are wiling to pay much more for event cinema.
Dolci said IMAX has some strong titles Europe, but focused mainly on Luc Besson's Lucy, which was shot and re-mastered in IMAX, and was the top grosser in Bulgaria in 2014.
In closing, Droc said that independent exhibitors need to "get out of their comfort zone where European films are concerned," which is why Europa Cinemas has even lowered thresholds for multiplex screenings of European titles, though how much lower she did not specify. And as for frequently heard comments about how this region should "catch up" to the rest of world, she says: "I'm from Romania and I don't like to hear that. I think this region will lead, because it is full of young, dynamic people."