Ten projects from South-East Europe, Middle East and North Africa comprise Sarajevo's Work in Progress section.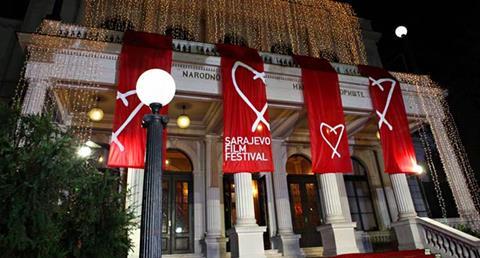 Sarajevo Film Festival's (Aug 12-20) Works in Progress strand is set to present the line-up of projects, which will compete for three awards during the festival's Industry Days on Aug 17-18.
Ten projects in post-production - from Southeast Europe, the Middle East, North Africa, and the Caucasus region - will be screened to about 40 industry decision-makers who are active on the supply end of the chain: funders, sales agents, distributors, broadcasters and festival programmers.
Prizes will include the traditional post-production in-kind awards from Slovenia's Restart (€20,000) and Berlin-based The Post Republic (€50,000), as well as a newly established €30,000 cash prize from Turkish broadcaster TRT.
The jury is comprised of Jan Naszewski of New Europe Film Sales, Giona A. Nazzaro from the Venice Film Festival Critics' Week, Michael Reuter of The Post Republic and a representative from the TRT.
ScreenDaily previews the projects.
Breaking News (Romania)
Director: Iulia Rugină
Writers: Oana Răsuceanu, Ana Agopian, Iulia Rugină
Producers: Bogdan Crăciun, Oana Giurgiu, Tudor Giurgiu
Production Company: Hai – Hui Entertainment
Cast: Andi Vasluianu, Voica Oltean, Dorin Andone, Ioana Flora, Floriela Grappini
Looking for: Post-production (sound editing, colour correction)
After the tragic death of his cameraman, which he indirectly caused, reporter Alex Mazilu has to make an in-memoriam report covering the victim's life. Three days before Christmas, in a small town on the Black Sea coast, Alex puts together the pieces of the puzzle of the dead man's life, all seen through the eyes of his troubled 15-year-old daughter. Trying to redeem the girl's late father, Alex slowly starts to take his place.
Rugină is known for two local box office hits, Love Building (2013) and Another Love Building (2015). Breaking News was supposed to be her debut, but after complications with funding from Romanian CNC and changing producers, she is ready to deliver it as her third feature.
Daha (Turkey)
Director: Onur Saylak
Writers: Onur Saylak, Hakan Günday
Producer: Ziya Cemre Kutluay
Production Company: B.I.T Arts
Cast: Ahmet Mümtaz Taylan, Hayat van Eck, Tuba Büyüküstün, Turgut Tunçalp, Tankut Yıldız, Ahmet Melih Yılmaz, Kağan Uluca
Looking for: Post-production funds, sales agents, festivals
After being hired by a human smuggler – his own father – 14-year-old Gaza will either follow his father's path and continue a cycle of violence and oppression, or become a migrant himself.
Saylak is best known as an actor, with recent credits including Özcan Alper's Memories Of The Wind and Zeynep Dadak and Merve Kayan's The Blue Wave. Daha is his first feature as director.
Holy Air (Israel)
Director/Writer/Producer: Shady Srour
Producer: Ilan Moskovitch
Production Companies: TreeM Productions, Cinema Virgin
Cast: Shady Srour, Laetitia Eido, Shmuel Calderon, Tarek Copty, Dalia Okal
Looking for: Post-production, festivals
Adam lives in Nazareth and wants to become a successful businessman. He devises a plan to bottle "Holy Air" and sell it to millions of pilgrims that are scheduled to arrive to the city of due to the Pope's visit. The background is the Palestinian-Israeli Conflict, and the inter-relations between Muslims, Jews and Christians.
Srour has so far made one short film, and producer Moskovitch has made 11 films, mostly documentaries.
Hostages (Georgia, Poland)
Director: Rezo Gigineishvili
Written by: Lasha Bughadze, Rezo Gigineishvili
Production Companies: 20 Steps Productions, INK TV, Nebo Film
Producers: Vladimer Katcharava, Tamara Tatishvili, Mihail Fenogenov
Co-producer: Ewa Puszczynska
Cast: Merab Ninidze, Darejan Kharshiladze, Avto Makharadze, Tina Dalakishvili, Mikheil Gomiashvili
Looking for: World sales, festivals
A group of rebellious young people attempt to hijack an aircraft in Soviet Georgia. This is the true story of their failure and its aftermath.
Gigineishvili has made four feature audience-oriented films as director in Russia, including Love With Accent (2012). Katchavara is known as a producer on The President and Lost in Karastan, and Tatishvili is the former director of the Georgian National Film Centre.
Mean Anomaly (Iran, Switzerland)
Director/Writer: Ali Ahmadzadeh
Producers: Ali Ahmadzadeh, Mostafa Shayesteh
Co-producer: Shirin Dabirzadeh, Niklaus Reichle.
Production Companies: Q production, La suisse primitive
Cast: Hediyeh Tehrani, Amir Jadidi, Norah Lehembre, Carlos Leal
Looking for: Post-production, sales, festivals
Padideh breaks up with Amir. But Amir, determined to get her back, relentlessly follows her everywhere. Marie realises that Stephan is bisexual, so she decides to break up with him. Mean Anomaly shows the final days of a very complicated relationship.
Ahmadzedeh's first feature Kami's Party was in Tallinn Black Nights competition in 2013.
Nils (Israel)
Director: Ram Nehari
Writer: Nitai Gvirts
Producer: Yifat Presteknik
Co-producers: Veronique Zerdoun, Tonie Marshall
Cast: Nitzan Layla ("Moon") Shavit, Nitai Gvirtz
Production Companies: Yifat Prestelnik Films, Tabo Tabo Films
Mentally ill Nil meets Tom, an anorexic in denial. He's on a vacation from the residence he lives in, she escapes from hospital, and the two go on a journey that reveals the dreams they had before their minds betrayed their hearts.
Nehari is an actor and this is his directing debut. Presteknik produced three features, including Three Mothers (2006).
One Of These Days (Lebanon)
Director/Writer: Nadim Tabet
Producer: Georges Schoucair
Co-producer: Wadih Safieddine
Production Company: Abbout Productions
Cast: Manal Issa, Yumna Marwan, Reine Salameh, Panos Aprahamian, Nicolas Cardahi, Julien Farhat
Looking for: Financial support, international sales, distribution
Beirut, on an autumn day. The city is on the edge of chaos, but for Maya, Tarek, Yasmina and Rami, all between 17 and 22 years old, it is just an ordinary day during which they ask themselves questions about sex, love and coming-of-age concerns.
Schoucair produced or co-produced films such as Soy Nero, Letters From War and Cemetery Of Splendor. For director Tabet, this is the first feature film.
Thala My Love (Tunisia)
Director/Writer: Mehdi Hmili
Producers: Mohamed Ali Ben Hamra, Soumaya Jelassi
Production company: Polimovie International Pictures, Cinefeel Factory, DKB Productions
Cast: Ghanem Zrelli, Najla Ben Abdallah, Fatma Ben Saidane, Mohamed Dahec
Looking for: Post-production funds, sales agents, festivals
During the Tunisian Revolution, we follow the fate of two lovers who are seeking to meet: Mohamed, a political prisoner on the run, and Hourya, a courageous factory worker. Thala My Love is Hmili's first feature film.
The Secret Ingredient (Macedonia)
Director/Writer/Producer: Gjorce Stavreski
Co-producers: Konstantina Staurianou, Rena Vougioukalou
Production Company: Fragment Film
Cast: Blagoj Veselinov, Anastas Tanovski
Looking for: Sound post-production, sales agents, festivals
An underpaid train mechanic steals a package of drugs and makes a marijuana cake to relieve his father's pain from cancer. Suddenly, he finds himself cornered by criminals who want their drugs back and nosy neighbours who want the recipe for the "healing" cake.
Stavreski took part in omnibus films Skopje Remix as director, and Some Other Stories as writer. This is his first feature film.
Touch Me Not (Romania, Bulgaria, Germany, France)
Director/Writer: Adina Pintilie
Production Companies: Manekino Film, 4 Proof Film, Rohfilm, Agitprop, Les Films De L'etranger
Producers: Monica Lazurean Gorgan, Adina Pintilie
Co-producers: Benny Drechsel, Martichka Bozhilova, Philippe Avril
Cast: Laura Benson, Tomas Lemarquis, Dirk Lange, Hermann Mueller
Personal research into intimacy, questioning the ways in which this notion is conventionally perceived. A film about how human beings can reach intimacy in the most unexpected ways.
Pintilie's 2010 short documentary Oxigen screened and was awarded at Jihlava, Rotterdam and Warsaw. Her 2007 documentary Don't Get Me Wrong was in Locarno's Filmmakers of the Present competition. Touch Me Not is her first feature.