Dir: Boyd Hicklin. Australia. 2012. 91mins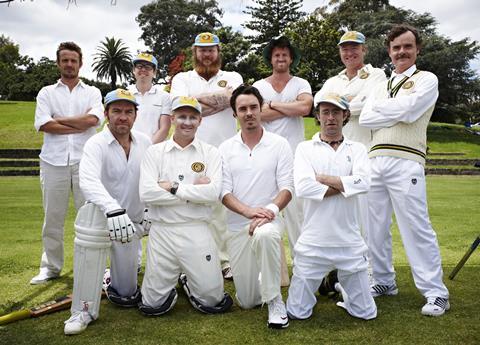 This bright, good natured movie about thirtysomething blokes facing up to middle age may well require an audience who knows about cricket. Instantly excluding The Americas and most of Europe, Save Your Legs! nevertheless has lively prospects in those regions of the world where cricket is more akin to a religion – say, parts of Australia and most of India.
The film is full of inventive musical choices, including a delightful Indian version of the theme from Match Of The Day.
Director Hicklin's debut feature displays all the inside enthusiasm of the true fan of weekend park cricket and his documentary background greatly assists his affectionate take on an Aussie D-grade team's visit to teeming, overwhelming India. Already doing well on the festivals circuit, it opens wide in Australia in January, bang in the middle of the cricket season, and plays at the Mumbai and London film festivals. It's a 'family film', though destined to entertain mainly the male side of the family.
Hicklin had followed just such a between-worlds tour in 2001 and from it crafted a 50 minute documentary. Now he's working from a tight, knowing script by Brendan Cowell, who also stars as the most undisciplined tourist of the bunch. With some lush camerawork from Mark Wareham (Clubland), inventive 'score board' graphics by Marcus Cobbledick, and lively cut-to-the-action music by Cornel Thomas Wilczek, the movie entertains and surprises. Though Hicklin and Cowell couldn't avoid some standard curry/diarrhoea moments, their conclusion is unexpectedly effective and touching.
When the Abbotsford Anglers (this season: 4 wins, 8 losses, 3 forfeits, 9th position) get an unlikely last-minute trip to India after the intended team withdraw, captain Ted (Stephen Curry) is overjoyed. A blue-eyed 'Peter Pan', he lives for his stolid cricketing endeavours to the exclusion of just about everything else. Others in the rag-bag team of overgrown boys are similarly stuck, including roustabout Rick (Cowell), flash Stav (Damon Gameau) and obsessive Colin (Darren Gilshenan). India proves a challenge — their first game is played among a herd of goats — and a turning point for them all.
Wouldn't you know, a beautiful Indian woman, Anjali (Pallavi Sharda), is along for the ride, though she's tougher than expected and, happily, the tour doesn't follow an expected path either. The film is full of inventive musical choices, including a delightful Indian version of the theme from Match Of The Day. And Sharda leads the team in a climactic Bollywood-style rendering of 10 cc's Dreadlock Holiday: they don't like cricket, they love it!
Production companies: Nick Batzias Productions, Robyn Kershaw Productions
International sales: Protagonist Pictures, www.protagonistpictures.com
Producers: Nick Batzias, Robyn Kershaw
Executive Producer: Paul Wiegard
Screenplay: Brendan Cowell
Cinematography: Mark Wareham
Editor: Leanne Cole
Production designer: Paddy Reardon
Music: Cornel Thomas Wilczek
Website: www.saveyourlegs.com
Main cast: Stephen Curry, Brendan Cowell, Damon Gameau, David Lyons, Darren Gilshenan, Darshan V. Jariwala, Pallavi Sharda, Sid Makkar