Dir: Ronny Yu. Hong Kong, China. 2013. 102mins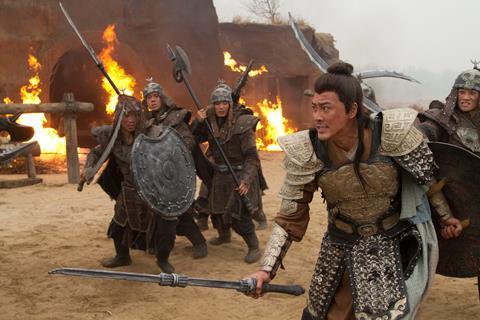 As the latest in a long line of movies to dramatise the heroic exploits of the Yang family of generals (with the 1983 Shaw Brothers classic The Eight Diagram Pole Fighter being arguably the best of the bunch), Ronny Yu's historical war epic recounts a variation of the much adapted legend with largely predictable results. The film premieres at the Hong Kong International Film Festival on March 28 and opens a week after in various cities across Asia.
It is a credit to director Ronny Yu that his Song dynasty-set actioner still manages to be at least intermittently engaging.
For a film that seems to go out of its way to invite critical derision by casting some of Greater China's most popular heartthrobs in all its key roles, Saving General Yang is certainly never expected to be a triumph of ensemble acting. It is a credit to director Ronny Yu – whose reputation is split between his brilliant takes on Chinese folk legends (Fearless, The Bride With White Hair) and dreary horror sequels (Freddy vs. Jason, Bride Of Chucky) – that his Song dynasty-set actioner still manages to be at least intermittently engaging.
After the patriotic General Yang (Adam Cheng) is betrayed by an aggrieved ally – whose son was accidentally killed in a sparring match with Yang's sixth son (Wu Chun) – and ambushed by Khitan invaders, his seven sons (also including Hong Kong's Ekin Cheng and Raymond Lam, Taiwan's Vic Chou and mainland China's Yu Bo) set out to rescue the stranded patriarch despite a massive disadvantage in numbers and, more alarmingly, a prophet's warning to their worried mother (Xu Fan) that only "six will return" – an ambivalently worded set-up that is bound to mislead more than a few viewers in the course of the movie.
With its focus squarely placed on family honour and the consequent, obligatory bloodshed, it is no surprise that the movie appears to treat the brothers' well being as its only concern. An hour into Saving General Yang – after their troop of soldiers and deputies are entirely vanquished in ascending order of narrative importance – only the siblings and their wounded father are allowed to stay in the picture as the susceptible targets of the Khitans' relentless pursuit.
Notwithstanding an inspired, Kurosawa-esque scene of arrow fight, which is dynamically captured by cinematographer Chan Chi-ying on a field of tall grass, Yu's increasingly sombre portrait of loyalty and violent revenge is partly let down by his story's uniformly superficial characterisation – if not also by its continual reliance on momentary flashbacks as a last-gasp attempt to flesh out the characters. A memory sequence which sees the family members sit around a living room and laugh out loud together, to cite one example, could well be one of the most awkward images of familial bliss to ever be put on film.
Production companies: Pegasus Motion Pictures Production Limited
International Sales: Pegasus Motion Pictures Distribution Limited, www.pegasusmovie.com
Producers: Raymond Wong, Ronny Yu
Screenplay: Edmond Wong, Scarlett Liu, Ronny Yu
Cinematography: Chan Chi-ying
Editor: Drew Thompson
Production designer: Ken Mak
Music: Kenji Kawai
Action choreographer: Dong Wei
Main cast: Xu Fan, Adam Cheng, Ekin Cheng, Yu Bo, Vic Chou, Li Chen, Raymond Lam, Wu Chun, Fu Xinbo