Dir: John Lee Hancock. US-UK. 2013. 126mins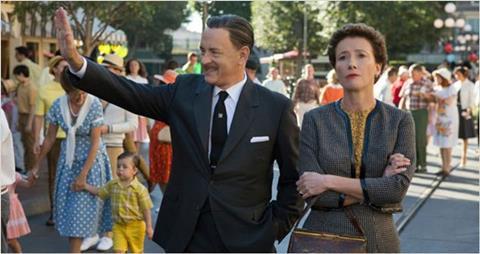 A beautifully mounted, amusing and often rather moving delve into the background of how author P.L. Travers' much-loved children's book Mary Poppins, made its way to the big screen, Saving Mr. Banks is an elegant and fascinating backstory to a true Disney classic. The film brims with thoughtful and engaging performances and is punctuated with smart dashes of music guaranteed to make any audience want to track down the original film.
Emma Thompson is a sheer delight as the barbed, dry, disdainful and rather curmudgeonly P.L. Travers.
The film, which had its world premiere as the closing night film of the London Film Festival and opens in the US on December 13 on an initially limited release, has strong lead performances by Emma Thompson and Tom Hanks which are likely to attract awards interest. An engaging and mannered film to be sure, Saving Mr. Banks may struggle to reach a youth audience, with its key target being those whose fond memories of Mary Poppins will have them humming 'Lets Go Fly A Kite' and 'Feed The Birds' and wistfully recalling their multiple viewings of the family classic.
Rather than a traditional 'making-of' type of film, Saving Mr. Banks doesn't detail the shooting of the film itself, but instead dwells on the two weeks in 1961 when Walt Disney finally managed to convince the forthright P.L. Travers to come to Los Angeles from London and discuss, in person, how the film version of the her book might be made. He had first pitched the notion to her some 20 years earlier, but she had no intention of seeing her beloved British nanny receive the Hollywood treatment…but dwindling sales of her books and a bleak economic future saw her agree to the trip to hear Disney's plans.
For that short period Disney goes all out to convince Mrs Travers (as she insists on being called) to sign over the rights to him. Armed with imaginative and beautifully drawn storyboards, a tight script and songs from the Sherman brothers he aims to win her over, only to find himself up against an immovable woman who has no intention of letting go of her creation.
It is only as she recalls her childhood and he reaches further into her memories that the recollections that haunt her start to come to the surface and she finally agrees (despite hating animation) to sign a contract.
Emma Thompson is a sheer delight as the barbed, dry, disdainful and rather curmudgeonly P.L. Travers, a very proper and forthright woman but also one haunted by her childhood in Australia and the father who served as inspiration for the father in Mary Poppins. Thompson, of course, has a wonderful witty sense of line delivery, with this disdainful woman unwilling to take to Disney, Hollywood and even California. The fact that Thompson scripted and starred in the Nanny McPhee films, a fantastical variation on the Poppins' theme, seems to make her an even more appropriate choice as Travers.
As Walt Disney, Tom Hanks was never going to be a copy-cat fit (though his moustache looks good) but instead brings his signature genial warmth and charm, with the developing relationship between Disney and Travers the heart of the film. But while Disney looks to wear her down by 'Disney' overload – the look on Thompson's face when he enters her LA hotel room to find it laden with Disney toys and other goodies is a picture – there are other factors at play in changing her mind.
She gradually befriends the kindly limousine driver Ralph (Paul Giamatti) who escorts her around Hollywood; is slowly won over by the talented songwriting Sherman brothers (B.J. Novak and Jason Schwartzman) and screenwriter Don DaGradi (Bradley Whitford) who have been charged with bringing the would-be film version to life; and the consultation process, which sees her recalling life with her doting father Travers Goff (Colin Farrell) when she was a child in Australia.
The film interweaves the 1961 Hollywood experience with memories of her childhood (with the young Pamela played with real charm by 11 year-old Annie Rose Buckley) in 1906 when her charismatic – and boozy – father gets increasingly ill and bed-ridden, seeing the arrival of her highly organised Aunt Ellie (Rachel Griffiths), the model for the character of Mary Poppins.
The film is well directed in leisurely fashion by John Lee Hancock who smartly allows Thompson and Hanks to dominate proceedings, and punctuates the film with charming musical moments as Travers tuts disapprovingly at the notion of songs as part of her story and gets positively annoyed about the notion of animated penguins.
The production design and costumes are top-notch, but the joy of the film is really Emma Thompson's funny and moving performance. The final scenes of her attending the film's premiere are delightfully staged while in a lovely coda over the closing credits their is audio of the real P.L. Travers admonishing the team at their first read-through of their Mary Poppins script, accompanied by photographs of the author on her trip to the world of Disney.
Production companies: Ruby Films, Essential Media & Entertainment, BBC Films, Hopscotch Features, Walt Disney Pictures
Distribution: Walt Disney Pictures
Producers: Alison Owen, Ian Collie, Philip Steuer
Executive producers: Paul Trijbits, Christine Langan, Andrew Masson, Troy Lum
Screenplay: Kelly Marcel, Sue Smith
Cinematography: John Schwartzman
Editor: Mark Livolsi
Production designer: Michael Corenblith
Music: Thomas Newman
Main cast: Emma Thompson, Tom Hanks, Colin Farrell, Paul Giamatti, Jason Schwartzman, B.J. Novak, Bradley Whitford, Annie Rose Buckley, Ruth Wilson, Rachel Griffiths, Kathy Baker