The Screen International Film Summit (October 13) provides access to the key figures in the restructuring of the UK Film industry and delivers insight from the leaders whose strong, diversified businesses offer lessons that will help you direct your film strategy.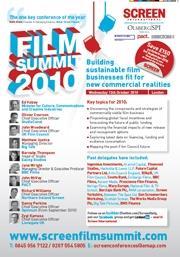 Weds, Oct 13, 2010 in London.
6 COMPELLING REASONS TO ATTEND:
** Hear Ed Vaizey address the audience and have the chance to ask your questions.
** Uncover the components and strategies of commercially viable film business.
** Pinpoint global fiscal incentives and identify key investment opportunities.
** Examine the financial impacts of new release and recoupment options.
** Explore the latest data on financing, funding and audience consumption.
** Map the post-UK Film Council future and forecast the future of public funding.
KEY SPEAKERS INCLUDE:
** Ed Vaizey, Minister for Culture, Communications and Creative Industries.
** Olivier Courson, Chief Executive Officer, StudioCanal.
** John Woodward, Chief Executive Officer, UK Film Council.
** Barnaby Thompson, Managing Director, Ealing Studios.
** Zygi Kamasa, Chief Executive Officer, Lionsgate UK.
** Jane Wright, Managing Director and Executive Producer, BBC Films.
** Danny Perkins, Chief Executive Officer, Optimum (from September 2010) …and many more.
For more information, visit the website.