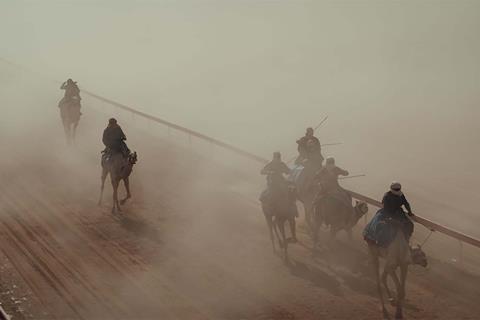 If the recent past is any indication, the as-yet-elusive Arab blockbuster will probably come from Saudi Arabia. Since the reopening of cinemas in the Kingdom in 2018, the Saudi homegrown industry has burgeoned and audiences are hungry for local films. The 2022 wrestling comedy Sattar surpassed $10m at the local box office and the 2020 title Shams Al-Ma'arif (literally The Book Of Sun) by the Godus brothers, though delayed by the pandemic, was streamed globally on Netflix.
Now Hajjan, produced by the King Abdulaziz Center for World Culture (Ithra) through the Ithra Film Production programme, along with Mohamed Hefzy of Egypt's Film Clinic and Rula Nasser of Jordan's Imaginarium Films, is screening at Toronto International Film Festival in the Discovery section.
Written by Saudi Arabia's Mufarrij Almajfel with Egyptian screenwriter Omar Shama, Hajjan is directed by Egyptian filmmaker Abu Bakr (AB) Shawky, whose 2018 film Yomeddine screened in Competition at Cannes and was Egypt's submission for best international feature film at the 91st Academy Awards.
Desert tales
Hajjan, which means "camel jockey" in Arabic, follows the coming-of-age story of a young boy, Matar, and his camel Hofira. When tragedy strikes, young Matar takes up camel racing to keep his beloved Hofira and comes up against various rivals and the ruthless Jasser.
"It is a story that includes elements of Arabic folklore, mixed with the genre of a western," according to Shawky. "I always wanted to do a desert epic and bring that format to the Middle East, and at the same time make it our own by using elements of Arabic folklore — the desert, good vs evil and racing camels."
The adventure was shot in Tabouk, in northwest Saudi, along with additional locations within NEOM and in Wadi Rum, Jordan. Ithra was instrumental in making sure this local story felt global. "From the start, we knew we wanted to create something special with this film that speaks to the international community," explains Majed Z Samman, head of cinema at Ithra.
"It was important to partner with experts from the region that had experience within the international market," he adds. "We chose to work with both Mohamed Hefzy and Rula Nasser on this project."
As for selecting a director, Samman says: "AB Shawky was our first choice and the rest is history, as they say."
Hefzy describes working with Ithra as "a great experience", and they have "been nothing but supportive all the way". The collaboration also offered "a good budget to work with, [one] that could help us to reach for higher quality", the Egyptian producer adds.
Both Hefzy and Shawky admit the idea of camel racing was the only hook they needed to sign on for the film. "It was a world I hadn't explored before, and I felt like it hadn't been explored cinematically yet," says Shawky. Hefzy was also drawn to what he calls a "new world for me, this new culture I had to learn and the great tradition of camel racing", which is present throughout the Gulf region.
Unsurprisingly, the camels did not make it easy for the Hajjan filmmakers. "The biggest challenge of making this film was the camels," reveals Samman. "But the amount of support we got from Neom during the filming in Tabouk made things a lot easier and, with the experienced film crew on board, luckily things went smoothly."
Hajjan stars Abdulmohsen Alnemr, Alshaima'a Tayeb and Omar Alatawi (the latter will soon be seen in Desert Warrior opposite Anthony Mackie and Ben Kingsley). Hefzy explains they worked alongside "great casting directors who were originally Jordanian but had done lots of work in Saudi Arabia and even Tabouk" to find their cast, which ended up being a mix of experienced actors and newcomers.
Hajjan is one of more than 20 films produced via the Ithra Film Production programme. "Ithra is a pioneer in the Kingdom's film industry," says Samman. "We have been providing opportunities for aspiring and established filmmakers since 2016, and ours was the first cinema to open to the public in KSA."
After its Toronto world premiere, Hajjan is set for a wide release in 2024 — which the United Nations has designated the International Year of Camelids.
Contact: Ithra

The King Abdulaziz Center for World Culture (Ithra) — meaning "enrichment" in Arabic — was built as part of Saudi Aramco's vision to be the Kingdom's leading cultural and creative destination for talent development and cross-cultural experiences.
View full Profile